Only two teams in NFL history have made the playoffs with a losing record – the 2010 Seattle Seahawks and 2014 Carolina Panthers both managed to sneak into the NFL Playoffs with 7-9 records.
This season, there's a good chance it will happen again (for those of you looking for some solid NFL betting tips). Which NFC East team will be the lucky squad to do it, though? Let's take a look at the candidates.
1. Philadelphia Eagles (3-4-1) : the best of the worst
The Eagles are currently leading the division, and although their record is a pedestrian 3-4-1, it looks much better thanks to two straight wins. Philadelphia is only two years removed from a Super Bowl victory, the first in franchise history, but the quarterback who actually manufactured that run is no longer around. Former backup Nick Foles took over for an injured Carson Wentz late in the season and orchestrated an unlikely hot streak in the playoffs. He almost did it again the following season, again taking over for an injured Wentz late in the season and going 1-1 in two playoff games.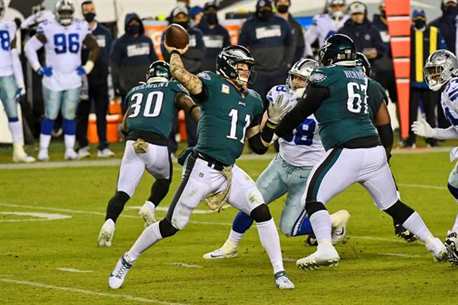 Now, with Foles gone, the Eagles are relying solely on Wentz, a former No. 2 pick in the draft and things … are not going great. Wentz is coming off of a strong performance a year ago. He played in all 16 games for just the second time in his career, threw for more than 4,000 yards, and had 27 touchdowns with just seven interceptions while completing 64 percent of his passes.
This season, he's completing a career-low 58 percent of his passes with 12 touchdowns and 12 interceptions. He's also fumbled five times and lost one of them.
The problem isn't just Wentz, though. The Eagles struggle to protect him. He's been sacked 30 or more times in four of his five seasons in the league. He's already been sacked 32 times in eight games this season – on pace to be sacked an insane 64 times!
Wentz's combined 44 sacks and interceptions put him on a historic pace to come close by only four others in modern NFL history.
Defensively, the Eagles are good enough to contend – they're second in the league in sacks with 28 and among the top half of the league in takeaways. They also do some things well on offense – they're 11th in the league in rushing despite their offensive line's issues and despite the fact they they've often been playing from behind.
The Eagles are flawed, and pressure is already mounting on the team to consider benching Wentz, but they still don't have the issues that their division rivals are dealing with.
2. Washington Football Team (2-5) : The franchise with no name
This was supposed to be a year of transition for the franchise with no name, and as their record suggests, it has been. But what wasn't predicted was how bad the rest of the division would be and at 2-5, Washington is right in the thick of the race. Their defense has been solid – they've actually given up the fewest points of any team in the NFC East.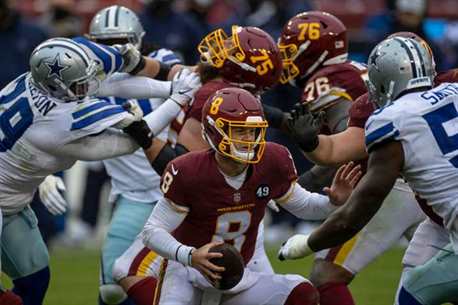 The biggest issue for Washington? Instability at the quarterback position. Last year's first round pick, Dwayne Haskins, has already been benched, and since he was drafted by a previous front office and coaching regime, he probably doesn't figure into the team's long-term plans anymore. Kyle Allen has become the starter, and the fact that he played for current coach Ron Rivera the previous two seasons in Carolina should figure in his favor long-term. He's completing 68 percent of his passes with four touchdowns and one interception, all improvements over Haskins' performance. But the team also has veteran and feel-good story Alex Smith, who the team reportedly hopes wins the starting job at some point this season. Whether he is trying to take his job or not, Smith has reportedly been happily playing a mentoring role to Allen as his backup.
For now, Washington will rely on its defense and hope whoever is in at quarterback can play mistake-free football often enough to stay competitive or possibly overtake the up-and-down Eagles in the near future.
3. Dallas Cowboys (2-6) : America's (least favorite) team
The Dallas Cowboys entered the season as a favorite to win the NFC East and possibly compete for a bye in the first round of the NFL Playoffs. Instead, they lost franchise quarterback Dak Prescott to an ankle injury for the season. Prescott's replacement, former Cincinnati Bengals starter Andy Dalton, has also missed the team's most recent game, a loss to the Eagles, with a concussion.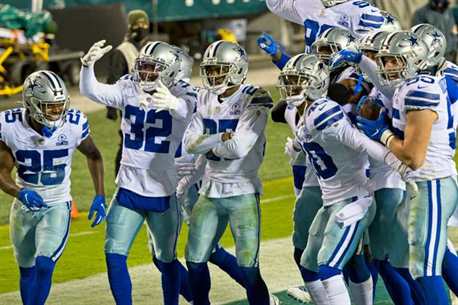 Not that Dalton was playing well – he has just one touchdown and three interceptions since taking over for Prescott. Ben DiNucci started his first NFL game against Philadelphia and, although he didn't turn the ball over, he was sacked four times, averaged just 4.5 yards per attempt, and he has fumbled three times in three appearances this season.
Still, despite no solution at quarterback, the Cowboys do have the offensive talent to turn their season around (though we don't recommend betting on it, they don't make football odds that high). Ezekiel Elliot is seventh in the league in rushing (though his 3.9 yards per carry are a career-low). He has also caught 34 passes out of the backfield. The Cowboys also have a talented group of receivers – Amari Cooper, CeeDee Lamb, and Michael Gallup are one of the most talented trios in the league, and if either of the team's quarterbacks can settle in and get comfortable throwing them the ball, the Cowboys are a good bet to get hot in the second half of the season.
4. New York Giants (1-7) : The Second worst team in Ny
Poor, poor Daniel Jones. He was sprinting his way to what looked like an easy touchdown after fooling the entire Philadelphia Eagles defense with a fake, then before he knew it, he was a meme.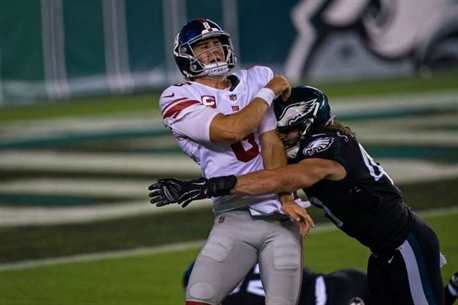 The Giants are the second lowest scoring team in the league (with the crosstown New York Jets the only team worse than them at putting points on the board). Jones is completing 62 percent of his passes, but he has been sacked 20 times, thrown seven interceptions and lost a fumble.
The team's fortunes were further sunk when they lost star running back Saquon Barkley for the season with a torn ACL. This was always going to be a rebuilding year for the Giants, but they were hoping for better after Jones had a promising rookie year last season. They're likely the only team in the East that is truly out of the race already.