Playing a season during a global pandemic has proven challenging for all major professional and college sports leagues, and the NFL is no different. Though the NFL started its season mostly on-time and looks on track to be able to get its full 2020-21 season in, several teams have had to adjust. Cleveland Browns star Myles Garrett is the latest star player to be added to the reserve/COVID-19 list, and several games have already been moved or rescheduled to account for mini-outbreaks within organizations.
But while the pandemic has added new uncertainty to the season, one thing that has always made the NFL season notoriously unpredictable is the impact of injuries. Professional football is a violent game, and it is rare for any star player to make it through his career without missing significant time due to major injuries. This season has been no different. Here are five injuries that have profoundly impacted not only what the playoffs will look like, but also NFL betting odds.
1. Dak Prescott (quarterback) Dallas Cowboys
Prior to his season ending with an ankle injury in the fifth game of the season, Dak Prescott was completing 68 percent of his passes (a career-high) and on pace to throw for more yards than any season in his career. Those numbers were significant for the Cowboys – Prescott's replacements have thrown for just three touchdowns and are completing less than 60 percent of their passes in the four games (all losses) since Prescott's injury. Prescott personally also suffered the injury at the worst possible time – he's playing for a new contract next season. The plus side, if there is one, is that his absence has made it clear just how valuable he is to the Cowboys.
But in this season in particular, the results on the field of not having him have been catastrophic. The NFC East is comically bad and features some of the most bizarre football odds in recent memory. The Cowboys had issues even with Prescott healthy (they were just 2-3 in the five games he played), but with Philadelphia leading the division with just a 3-5-1 record, it's hard to imagine Dallas not being the favorite to put things together and win the East with a healthy Prescott in the lineup. Dallas isn't completely out of it thanks to the poor play of the rest of the division, but their replacements for Prescott have offered no hope that the team can put together even a modest win streak to get back into the division title race.
2. and 3. Nick Bosa (defensive end) and Jimmy Garopollo (quarterback), San Francisco 49ers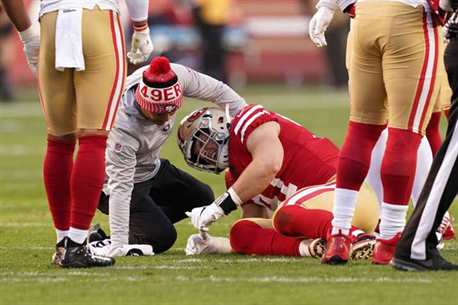 There is a long history of Super Bowl runners-up having difficulty following up on their success in subsequent seasons. The 49ers have definitely under-performed expectations, but their division is partially to blame for that. The NFC West is clearly the best division in football top-to-bottom. All four teams have a positive point-differential – the only division in football where that is true.
The 49ers have been impressive considering injuries to their defensive star and starting quarterback from that Super Bowl team. Nick Bosa, the key to their ferocious pass rush, has played in only one game after tearing his ACL. The defense has gone from one of the best in the league to pedestrian without him.
Garopollo has played in six games and has been hobbled by a high ankle sprain and has missed four games. Garopollo was more of a caretaker quarterback than a franchise quarterback last season, but without him, the instability at the position has caused inconsistencies with the offense. Garopollo hasn't played since Nov. 1, and the team is reportedly reconsidering his long-term prospects as their playoff hopes dwindle. Still, the 49ers are competitive at 4-6 and as any savvy NFL betting buff should know, could conceivably climb back into the Wild Card race. However, they have zero margin for error.
4. Drew Brees (quarterback), New Orleans Saints
Granted, we don't know the implications of this one just yet. Brees will miss at least three weeks and possibly more with broken ribs and a collapsed lung. The Saints currently are 7-2 and have a half-game lead for first in the NFC South over Tampa Bay. They're tied with Green Bay for the best record in the NFC. With only one team receiving a first-round bye in this year's playoffs, New Orleans has little margin for error with Brees out.
The Saints have won without him before. The team went 5-1 with him out of the lineup last season. But the quarterback who stepped in, Teddy Bridgewater, is no longer a Saint and this year's prospects are not quite as confidence-inspiring. The team will go with Taysom Hill, a unique athlete who the team has often used in special formations for his speed and athleticism over the past few seasons. But Hill has actually thrown only 18 passes in his career. The team had signed former No. 1 pick Jameis Winston in the offseason to replace Bridgewater and give them a more experienced passer in the event Brees went down. So, the fact that they've committed to starting Hill doesn't exactly show great confidence in Winston.
It's not time to panic yet for a talented Saints team, but this injury definitely impacts NFL odds and makes an even bigger impact at the top of the NFC standings.
5. Saquon Barkley (running back), New York Giants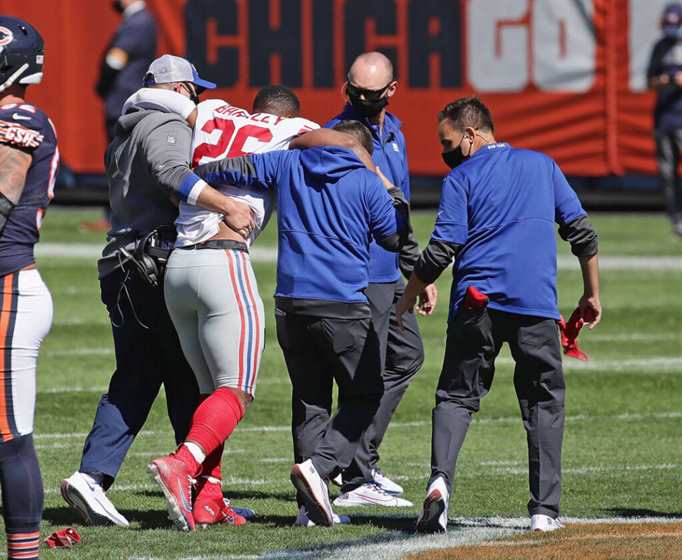 The New York Giants are still rebuilding, so the fact that they're not a playoff contender this season isn't necessarily a surprise. But the overall poor quality of the NFC East means they could've been a contender.
Two factors that are tied together are working against them: second-year quarterback Daniel Jones hasn't taken as big a step forward as had been hoped, and running back Saquon Barkley has missed most of the season with a torn ACL.
Barkley was a security blanket for Jones during his impressive rookie season. Barkley was obviously a threat as a runner, rushing for over 1,000 yards and nearly five yards per carry. But he also caught 52 passes and four touchdowns. Wayne Gallman has picked up some of the slack as a ball carrier, but the Giants have just not been able to replace what Barkley brings to the passing game. In two games, Barkley had 6 catches. Gallman has had 13 catches in 9 games.
That absence has made Jones more turnover prone – he has nine interceptions and just eight touchdown passes this season. Missing a reliable security blanket when he can't find a receiver downfield has had a huge impact on his production. And at 3-7, with the division-leading Eagles at 3-5-1, it's conceivable that a healthy Barkley would have the Giants as a contender for the division title this season.