The Tennessee Titans benched former No. 1 pick Marcus Mariota last October and replaced him with Ryan Tannehill, who looked like a first round bust in his own right after the Miami Dolphins gave up on him.
Instead, the Titans rallied and made the playoffs, then pulled off upsets over the New England Patriots and Baltimore Ravens to advance to the AFC championship game.
Tannehill was a steadying presence last season, completing 70 percent of his passes with 22 touchdowns and six interceptions in 12 games. But he'd never approached numbers like that before in his career, so the Titans still entered this season with questions about the quarterback position. Through five games, Tannehill has answered them.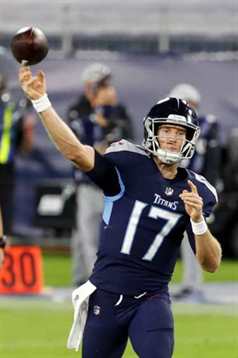 The Titans are 5-0, and Tannehill is completing just under 70 percent of his passes again with 13 touchdowns and two interceptions. He's never thrown more than 27 touchdowns in a season, but is on pace for 39 this season.
He's not alone, though. Star running back Derrick Henry undoubtedly takes pressure off of the passing game. Henry has rushed for 588 yards (4.8 per carry) and six touchdowns. He's on pace to rush for more than 1,800 yards on the season.
Tannehill does a good job spreading the ball around to a collection of receivers. Adam Humphries leads the team with 21 catches, but five players each have 15 or more catches. Kalif Raymond has been a reliable big play threat. He has only eight catches, but averages more than 20 yards per reception.
The offense only has two turnovers on the season, both interceptions, and have not lost a fumble. The defense has nine takeaways.
But, even with talent all over the field, Tannehill is the story. Between last season and the five games this season, he's now played more than a full season as Tennessee's starter. Since the first game of 2019 through now, no quarterback has a higher rating league-wide than Tannehill.
The Titans have beat only one team with a winning record (Buffalo) in their hot start, but they'll have a real test this week against Pittsburgh, one of the league's three other undefeated teams. If Tennessee beats the Steelers, they'll be a clear frontrunner to enter this year's playoffs with a bye rather than having to upset higher seeded teams as they did a year ago.