The Seattle Seahawks are always on the verge of being forgotten in a division that features the Los Angeles Rams and their star-studded roster, a 49ers team that is coming off of a Super Bowl appearance, and a Cardinals team that has one of the league's most exciting young players in quarterback Kyler Murray.
But what none of those teams have is the league's best quarterback: Russell Wilson.
Wilson has won a Super Bowl, played in another, and has watched the Seahawks completely retool from their Legion of Boom era and become a Super Bowl contender once again. This season, he's completing nearly 80 percent of his passes and has 14 touchdowns with just one interception. He's thrown five touchdown passes in his last two games, and his 14 touchdown passes in the first three games of the season broke the record of 13 that Patrick Maholmes set last year.
Wilson was coming off of an MVP-caliber season last year, when he completed 66 percent of his passes and had 35 touchdowns with just six interceptions. He's on pace to obliterate those numbers this season. He's also on pace to beat the career-best 4,200 yards he passed for in 2016.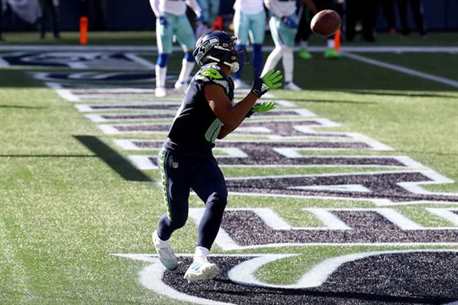 Wilson's chemistry with his wide receivers has been impressive thus far. Veteran Tyler Lockett is a frequent target. He's caught 24 passes, including four for touchdowns. Lockett does a good job of serving as a security blanket for Wilson, consistently getting small chunks of yardage (he averages just over 10 yards per reception).
When the Seahawks need something big, though, DK Metcalf is the guy. Metcalf has only caught 12 passes this season, but three have gone for touchdowns and nearly all of them have been big plays. He's averaging nearly 25 years per catch, and caught the game-winning touchdown pass against Dallas – particularly fulfilling for him because a premature celebration in the first half cost the team a touchdown. Metcalf had the ball stripped just before crossing the goal line, and the ball bounced out of the end zone, giving Dallas the ball.
Metcalf is already almost halfway to his touchdown total from last year (seven) and he's averaging nearly 10 more yards per catch.
The Seattle defense is giving up points (their 86 is the most of any division leader), but they're also getting takeaways – they have created six turnovers while the offense has turned the ball over only two times.
Seattle plays in the toughest division in football, so holding onto the division lead will be difficult. But Wilson shows no signs of slowing down his historic production. Expect the Seahawks to be a factor in the playoffs this season.