The Chicago Bears have gone 20-12 the last two years, and have one playoff appearance to show for it. They've started this season 3-0. And they have a quarterback controversy.
The team has heavily invested in Mitchell Trubisky. He was the second overall pick in the 2017 first round, but hasn't lived up to the expectations. He hasn't been terrible, exactly. He completed over 60 percent of his passes, threw for over 3,000 yards each season, and has thrown 41 touchdowns against 22 interceptions over the last two seasons. Those are pedestrian numbers, but the team has had some success, and they're 3-0 this season.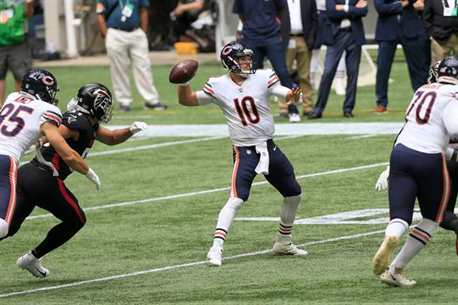 But Trubisky will always be measured by what he's not. He was taken in the same first round that star quarterbacks Patrick Maholmes and Deshaun Watson were taken behind him. He'll likely never approach what either of those players has done statistically, and on a team with a potentially championship-level defense led by stars Khalil Mack and Akiem Hicks.
Trubisky won the starting job again this season, but it was clear the team wouldn't be particularly patient with him. Veteran backup Nick Foles was brought in to push him, and after Trubisky completed just 59 percent of his passes through three games, Foles relieved him in the third game of the season and promptly threw three touchdown passes – half the total that Trubisky had the entire two+ games he's played.
Seeing a quarterback get benched on a 3-0 team is rare, but the Bears aren't benching Trubisky for just any backup. Foles helped propel the Philadelphia Eagles to a Super Bowl win when he took over for an injured Carson Wentz in 2018, and he would've been the starter in Jacksonville last year had an injury not given Gardner Minshew an opening to take that job.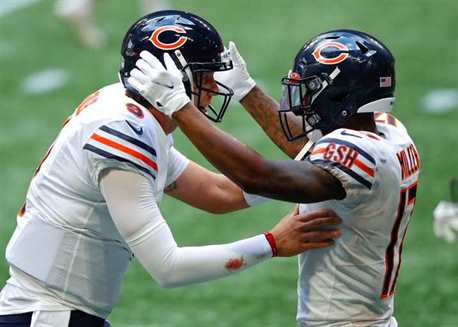 Foles was named the starter after Chicago's comeback win over Atlanta, and he'll have some weapons to play with as he tries to solidify his place in the lineup. Wide receiver Allen Robinson has often been frustrated playing with Trubisky and with his contract, but he is one of the most talented receivers in the league. He's caught 18 passes for 231 yards this season, and should see more targets with Foles in the lineup. Tight end Jimmy Graham and deep threat Anthony Miller should both also see more opportunities with Foles, who is more willing to take chances downfield, in the lineup.
Of the seven 3-0 teams in the league, the Bears have scored the fewest points. Their defense has once again been good, and that has propelled them to wins. But they're in a division with an undefeated Packers team that is on a record-setting offensive pace, and in a conference with strong offensive teams like the Seahawks, Rams, Saints, and Tom Brady-led Buccaneers. Chicago has already made the playoffs before on the strength of their defense only to have their mediocre offense falter. The Bears are hoping Foles can take the offense from below average to merely pedestrian – which might be enough for this defense to take them to a deep playoff run.