The COVID-19 pandemic forced Major League Baseball and the National Basketball Association to dramatically change how both leagues finished their seasons. Amidst the many changes were modified playoff formats, both of which seemed to be popular among fans.
The National Football League was able to start and – hopefully – be able to play its entire season on approximately the same schedule a normal season would take place on. But the league did also make a needed change to its playoff format that will surely affect NFL betting on the postseason. Prior to the start of the season, the league agreed to add another Wild Card playoff spot to each league, giving the NFC and AFC each seven playoff teams.
The NFL is famously full of parity, and the change was long overdue. The league's number of playoff teams had not been expanded since 1990. In the 30 years since then, the league has added four expansion franchises but never increased its playoff field.
The most notable change will be at the top of the standings in each conference. Now, only one team per conference will get a first-round bye in the playoffs instead of two, and Wildcard Weekend will not feature three games per conference, with the No. 2 seed playing No. 7, No. 3 playing No. 6, and No. 4 playing No. 5.
The other big change should be fewer good teams missing out on the playoffs because of bad luck. All division winners make the playoffs – even when there are teams that didn't win other divisions with better records. As a result, as CBS Sports points out, "It appears that winning 10 games would almost guarantee a playoff spot moving forward. Since 2002, 10 different 10-win teams failed to make the playoffs. Under the league's new format, only the 2010 Buccaneers would have still missed out on the postseason, with the other nine 10-win teams qualifying for the postseason."
But what does that mean for this season? Let's take a look at each league, and who the candidates are for those final playoff spots.
AFC : A Grab bag of worthy contenders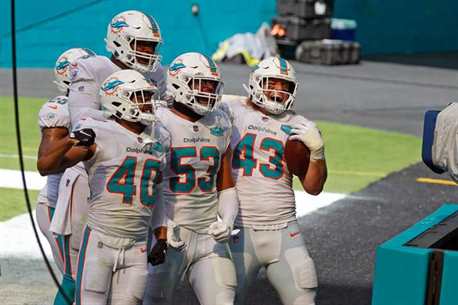 The Kansas City Chiefs and Pittsburgh Steelers both have two game leads in their respective divisions, and barring something catastrophic, both should be competing for the No. 1 overall seed and the first-round bye at season's end.
The Tennessee Titans and Indianapolis Colts are tied in the AFC South with 5-2 records, and the Buffalo Bills have a one-game lead in the AFC East. Add in the 5-2 Baltimore Ravens and, for now, six teams look to be in great position for playoff spots:
Steelers
Chiefs
Bills
Titans
Colts
Ravens
That seventh spot is where things get interesting, though. The Cleveland Browns would have it if the season ended today with their 5-3 record. And the Browns would actually love if the season ended right now, but since it doesn't, they have to play the rest of the season without injured star Odell Beckham Jr and continue to rely on the struggling Baker Mayfield.
The Las Vegas Raiders are 4-3, but their -16-point differential suggests that record could be inflated. They also can't seem to figure out how to follow the league's COVID-19 protocols. The Miami Dolphins are also 4-3, and their +58-point differential suggests they could actually be a real threat in the playoffs.
The Denver Broncos are 3-4 and still have an outside shot.
But let's not overlook the most interesting dark horse just because they're struggling at 2-5. The New England Patriots are fading in the AFC East race, but they still have a solid defense, arguably the greatest coach of all-time in Bill Belichick, and a quarterback in Cam Newton who is a former MVP, even if he's struggled to fit into the Patriots offense so far. No team would want to face New England in a playoff matchup even in an off-year, and the seventh playoff spot gives them at least a glimmer of hope they can make a run at it by season's end.
NFC : lipstick on a pig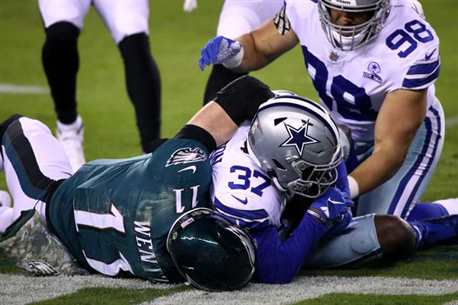 The NFC race is far more complicated, since a strong case could be made that no NFC East team belongs in the discussion. But someone has to win the division and for now, all division winners automatically make it. The top four teams based on who is leading their divisions right now are:
Seattle Seahawks
Green Bay Packers
Tampa Bay Buccaneers
Philadelphia Eagles
Then, there's a group of four teams that are within one game of each other:
Arizona Cardinals
New Orleans Saints
Los Angeles Rams
Chicago Bears
And, just to make things even more fun (for fans and those setting this season's postseason NFL odds), last year's Super Bowl runner-up San Francisco 49ers are 4-4 and still very much alive, especially considering their ferocious defense. In fact, a strong case could be made that any team in the loaded NFC West would be running away with the division lead in the NFC East.
Of that group of playoff contenders, the Cardinals are over-performing preseason predictions just a bit, and the Bears still have major issues at quarterback. The Saints and Rams are both veteran-laden teams with players who have been a part of big playoff runs.
The seventh playoff spot was meant to help improve opportunities for good teams, but this year's NFC race might immediately give it a tough test. Throw in the amount of uncertainty currently permeating through the league and this year's postseason will make for some of the most interesting NFL betting in recent memory.