At this point in the NFL season every team has completed over half of their schedule and we have had a definitive look at determining which teams are good (like the Steelers), and which teams are not (ie. the Jets). But, for some reason, the Week 11 NFL slate features an incredibly high number of spreads that present great values. Let's go through this week's NFL odds to find the seven NFL bets that everyone should be placing this week.
It should not be a terribly hot take to say that the 6-3 Browns are better than the 3-5-1 Eagles, even if Philadelphia is in first place in the NFC East and the third-place Browns are in a brutal fight for a wild card spot in the AFC.
Since the better team is at home and only a 3.5 favorite, this seems like smart money to bet on the Browns, especially with that moneyline. At +100, you are actually doubling up your money if the Browns cover. If you would prefer a line of Cleveland at -3, you can get it, but with a -118 moneyline, as opposed to an even 100.
Here's the difference between two teams whose strengths are their pass rush: the Browns have a great offensive line and the Eagles have a terrible o-line. To wit, Carson Wentz has been sacked a league-high 35 times, while Baker Mayfield has only been dropped 12 times all season.
Okay, yes, the Panthers have lost five games in a row. And yes, they will be missing their best player, Christian McCaffrey, this week. But the Panthers five game skids, includes near road wins against the Super Bowl contending Chiefs and Saints. The Panthers have actually only played two games against teams with losing records, beating the Chargers and losing to the Falcons, both teams that are arguably better than the 4-5 Lions.
With a line of only -1.5, you are essentially asking a Panthers team that has had more impressive results than Detroit, to beat a slightly inferior team at home, all for -110. This game comes down to the coaching Matt's. The Panthers new coach Matt Rhule is possibly the brightest young coaching star in the league, while the Lions coach Matt Patricia is likely coaching for his job over the final stretch this season.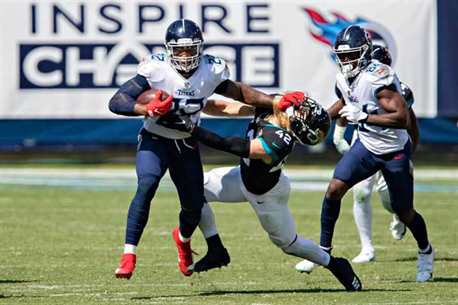 Are we sure the Ravens are better than the Titans? Granted, Tennessee did not look good in last week's 34-17 Thursday night loss to the Colts, a team that Baltimore has already beaten. But the Ravens are starting to be exposed for their lack of offensive depth, when you combined their league-worst receiving corps, with the loss of star left tackle Ronnie Stanley. Baltimore lost to a Patriots team that was coming off a short week, where they themselves almost lost to the Joe Flacco-led Jets.
If these teams are even then why is the line at 6.5 at only -110, where you would need to only bet $110 to make $100. The people who make the NFL odds are giving the Ravens too much credit, and the Titans too little. This matchup is between teams with matching 6-3 records, and both teams have a losing record against the spread this season, so the 6.5 point line makes any Titans bet an excellent value here.
This line feels way too high, even if FanDuel is giving you a deal at -7 with a -106 moneyline, since it is only five points on most sites. How are the Drew Brees-less Saints seven points better than a competent Falcons team?
Here's the thing, we know that Matt Ryan is much better than Jameis Winston. We've seen the two face off for years. But that was when Jameis Winston had years of experience with Tampa Bay's offense. Is it actually reasonable to expect Jameis to be comfortable running Sean Payton's offense in his first game as New Orleans starter? The key here is the unknown, if Jameis plays poorly, the Falcons are probably going to win. If Jameis looks comfortable, the Falcons still have an excellent chance to cover this spread.
The Cardinals have already beaten the Seahawks this season, they technically lead the NFC West over Seattle and yet, Arizona is getting three points at -100 here? What are we missing? The NFL odds for this game are 2.5 and 3.5 elsewhere, but the +3 at -100 is the best value.
Since their first matchup in Arizona, the Cardinals have gotten better, while Seattle is struggling. While that game saw an epic 37-34 finish in overtime, there just isn't enough evidence that Seattle should be favored over Arizona, especially by 3.5 points. Kyler Murray is improving by the week, and may have even passed Russell Wilson in the MVP race. This game leans Arizona, so taking the 3 points seems incredibly sensible. If this game was played in front of a packed stadium at CenturyLink Field, the line wouldn't be any higher, so you're essentially getting a neutral field game for road game prices.
Wait, you can double your money essentially by taking the Dolphins to beat Denver by only 4 points? What's the catch? The Dolphins are good, the Broncos are not. Home field advantage has been relatively meaningless this season. So, why is this line so low? On an ordinary week this spread would be an incredible value, but the Broncos starting QB Drew Lock might not play this week.
If you take Miami at -3.5 you could be getting in that bet against Brett Rypien. The fact that the line hasn't moved much tells you that the people who make the NFL odds don't think there's a difference between Lock and Rypien, but it's not clear if that's true. Rypien started against the Jets in Week 4 and while Denver did put up 37 points in that game, Rypien did not play well at all, throwing three questionable interceptions against the worst team in the NFL. This line feels too low, so bet on Tua and feel comfortable going into Sunday.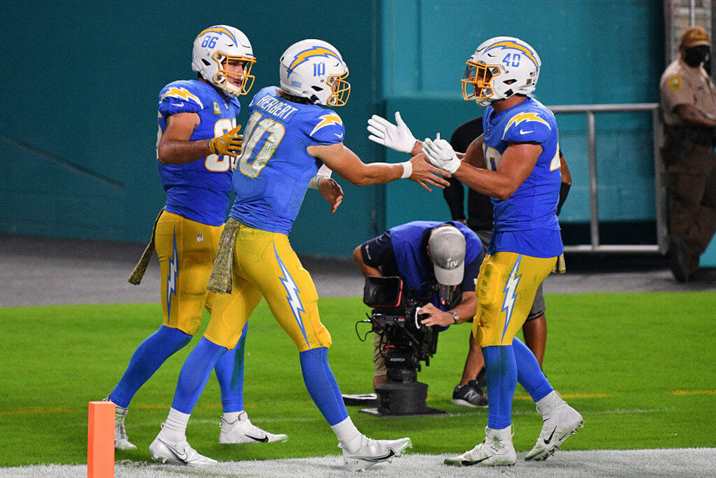 The winless Jets have been losing games this season by an AVERAGE of over 16 points per game. While some books have this line as high as 9 points, Points Bet is offering a line of 6, which is essentially free money. Frankly, even nine points is one of the best NFL bets of the season. The Chargers are 2-7, but they're one of the most talented 2-7 teams in recent memory, having been outscored by only 19 points in 9 games, and they're a solid 5-4 against the spread. Alternatively, the Jets are not just bad in the games, they're 2-7 against the spread, as well. The moneyline odds for this bet are -105, but there's no number you should shy away from for this lock of the week.