Since the year 2000, nine Super Bowl runners up have failed to make the playoffs the following season. Will the San Francisco 49ers be next?
The 49ers made it to the Super Bowl last season on the strength of an aggressive defense, and the core piece of that unit, Nick Bosa, is young and has not yet even entered his prime. However, the team's strength hinges on a healthy (and active) Bosa, something the team will sorely miss in 2020.
But what about the pieces around him? Veteran players like Richard Sherman, who is in the twilight of his career and is out with an injury. Kerry Hyder Jr is also nearing the end of his prime, and several defensive players, including Dre Greenlaw, Ahkello Witherspoon, and Emmanuel Moseley, are dealing with injuries.
The team's offense wasn't the strength of their run last season, but they've also dealt with injuries early in the season. Quarterback Jimmy Garopollo missed this week's game with an injury, and All-Pro tight end George Kittle has also been out with a strained knee. The team has also played without running backs Tevin Coleman and Raheem Mostert at times this season.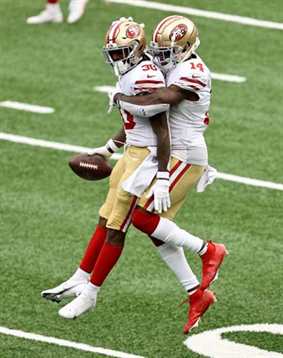 Still though, the 49ers have managed a 2-1 record. Backup quarterback Nick Mullens has completed 70 percent of his passes in two games, and running back Jerrick McKinnon is averaging nearly 7 yards per carry with two touchdowns on 20 carries.
The 49ers defense has also shown no signs of slowing down. They've allowed just 46 points this season, second-best in the NFL.
Still though, the 49ers face tough odds in getting back to the playoffs. They play in the toughest division in football, and are currently tied with the Rams and Cardinals at 2-1, trailing the first-place Seahawks, who are 3-0.
If Garopollo returns healthy and can take another step forward as a passer, the team could compete for a division title. Garopollo often served as a game manager last season, but the team has enough weapons – especially Kittle – to excel with a more explosive quarterback.
The team has games against the struggling Eagles and Dolphins in the next two weeks, so if they're 5-1 heading into showdowns with the Rams, Patriots, Seahawks, Packers, and Saints (combined record 11-4), they'll feel a lot better about their chances of avoiding the curse.