The Dallas Cowboys lost quarterback Dak Prescott for the season after he suffered a compound fracture and dislocated ankle in a win over the New York Giants earlier this month.
The Cowboys, currently leading the NFC East and a favorite to make the playoffs before the injury have now turned to veteran Andy Dalton, who is in his first season as a backup with Dallas. Dalton had an up and down career as a starter with the Cincinnati Bengals, but he's certainly experienced. Although he's winless in his playoff career, Dalton did lead the Bengals to five straight playoff appearances from 2011-2015. He'll also be asked to do less on a Dallas team that has a bigger star at running back in Ezekiel Elliott than Dalton ever had to work with in Cincinnati.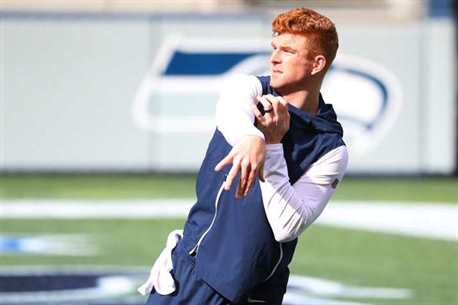 Dalton's completed 62 percent of his passes in his career, with 204 touchdowns against 118 interceptions. The Bengals cut ties with him after last season when he had just 16 touchdown passes with 14 interceptions and completed less than 60 percent of his passes.
Prescott is a much more precise passer than Dalton. He was completing 68 percent of his passes this season before the injury and has completed 64 percent in his career. He also takes better care of the ball – he's thrown just 40 interceptions total in five seasons as a full-time starter.
Prescott threw for a career-best 4,902 yards last season and 30 touchdown passes. He was on pace to surpass that yardage total this season prior to the injury.
But beyond the on-field implications, Prescott represents a cautionary tale for athletes. Prescott has been the team's full-time starter since his rookie season. As a fourth-round pick, he's significantly out-performed what he's been paid in his career, but hadn't been rewarded with a long-term deal. He was playing this season under the team's franchise player tag and could be a free agent in the offseason, so his injury could potentially hinder his market value before he was ever able to maximize what he's brought to the team on the field.
Players constantly risk injury, particularly in the NFL, and often face criticism for holding out or voicing frustrations about contracts. Prescott's situation shows exactly why they do – in a blink of an eye, even a brilliant NFL career and the earning potential that goes along with it can be dramatically altered.