Early in his career, Tom Brady won so much as an unheralded late draft pick, that he was dogged by insinuations that he was a system quarterback. Over time, he won so much, playing so many different styles, and often in such clutch and spectacular ways, that those whispers faded away. But his partnership with Bill Belichick in New England, the coaching stability in the organization, and the talent he was often surrounded with still cannot be discounted.
And it is also fair to wonder if he can rely on those same things now that he's a member of the Tampa Bay Buccaneers.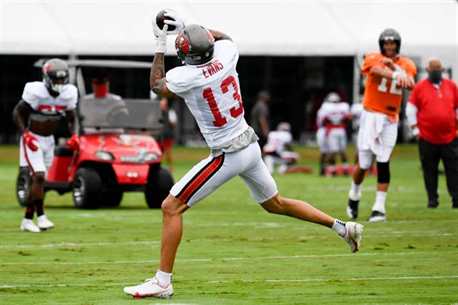 Tampa has been one of the league's worst franchises for much of their history, but they are coached by an offensive-minded coach in Bruce Arians who has excelled with veteran quarterbacks in the past. Arians' Carson Palmer-led Cardinals team made it all the way to an NFC Championship Game appearance.
But Arians' system also puts quarterbacks at risk. When he was offensive coordinator in Pittsburgh and Indianapolis, both Ben Roethlisberger and Andrew Luck took a lot of hits, and Palmer also had injury issues in Arizona. Brady is far less mobile and older than Luck and Roethlisberger, too, so there's a good chance he could face more pressure than he is used to.
The good news for Brady is that the Bucs are at least trying to keep him upright. The team quickly invested in its offensive line in the offseason after signing Brady.
They also invested in some weapons, including one he's quite familiar with. Rob Gronkowski came out of retirement to join the team. He also … uh … was briefly a professional wrestler before he also left that to return to football. O.J. Howard gives Brady something familiar – his New England teams frequently had two tight ends who were good receivers, and he'll have that luxury now in Tampa as well.
The team brought in former Jaguars star Leonard Fournette. Fournette has had injury issues throughout his career, but he's a multi-talented weapon out of the backfield and should be a big beneficiary of Brady's ability to find backs for short passes. LeSean McCoy, also a member of the backfield, has long been one of the best pass catchers out of the backfield as well.
Receivers Mike Evans and Chris Godwin give Brady a couple of good deep threats as well.
Tampa Bay certainly brought in talent to support their investment in Brady. Now Brady will have to make sure him in a Bucs jersey isn't remembered like Joe Montana in a Chiefs jersey or Michael Jordan in a Wizards jersey.