The Kansas City Chiefs didn't just impressively win the Super Bowl last season. They did it while looking bored at times.
The Chiefs made comebacks in both the AFC Championship and the Super Bowl, have a young quarterback who is already a Super Bowl champion and the favorite to win the MVP award this season. They also return most of their weapons from last year's team and one of the fastest teams in the league added even more speed in running back Clyde Edwards-Helaire. Just what this team needed, another hard-to-defend weapon.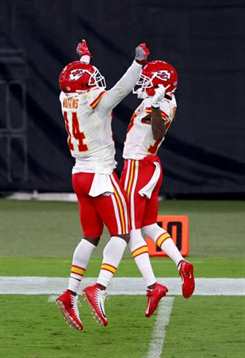 The Chiefs are now 3-0 after a rather comfortable Monday Night Football win over reigning MVP Lamar Jackson and the Baltimore Ravens on September 28. So, the bigger question for Kansas City becomes more than can they repeat as champions: can they do it while going undefeated?
The only team to go undefeated over a 16-game regular season was the 2007 New England Patriots, who made it all the way to the Super Bowl before losing.
The Chiefs have out-scored opponents by 31 points, which is fifth in the league. They've given up 60 total points, which puts them sixth in the league. Maholmes is completing nearly 70 percent of his passes, and he's thrown 9 touchdown passes with no interceptions through three games. The team only has two total turnovers in those games, and the defense has three takeaways and 10 sacks. They have arguably the best offensive player in the league in Maholmes and the best defensive player in the league in Chris Jones.
The Chiefs certainly won't have an easy go of it if they're going to finish the season without a loss. Their next three opponents are the Patriots, Bills, and Raiders, who have a combined 7-2 record. But the schedule gets significantly easier after that tough stretch, so if the Chiefs emerge after those games with a 6-0 record, expect the talk of a perfect regular season to heighten for a proven, championship team that doesn't appear to have any real flaws.