The New England Patriots have won 11 straight AFC East titles, but are playing their first season in 20 years without arguably the greatest quarterback of all-time, Tom Brady.
Brady's replacement, Cam Newton, has brought new dimensions to the team's offense, and New England still looks like one of the best teams in the league this season. They're off to a 2-1 start and should be a lock to make the playoffs for the 12th straight season.
The new personnel shouldn't be a hindrance, but a new contender in the AFC East could be. The Buffalo Bills are currently leading the division after a 3-0 start. The biggest reason the Bills are off to a hot start is that young starting quarterback Josh Allen is maturing quickly. Allen, in his third season, was an adequate game manager a year ago, throwing for more than 3,000 yards with 20 touchdowns and 9 interceptions.
This season, though, he's already halfway to that touchdown total in just three games. He's thrown 10 touchdown passes with one interception, and he's completing 71 percent of his passes – a huge improvement over his 58 percent completion percentage a year ago. Allen is second in the league in touchdown passes behind Russell Wilson and he's a legitimate MVP candidate thus far.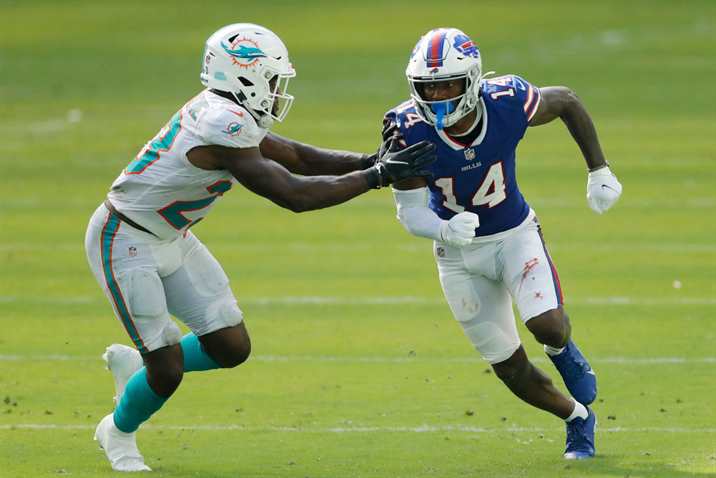 Stefon Diggs has helped with Allen's ascension. Diggs was acquired by the Bills from Minnesota in the offseason, and he's caught 20 passes for 288 yards and two touchdowns. Cole Beasley has caught 15 passes and John Brown has two touchdown receptions, giving Buffalo a potent receiving corps. Running back Devin Singletary has also caught 11 passes out of the backfield.
The team's defense is putting pressure on opposing quarterbacks, with eight total sacks, and they have four takeaways.
The knock on the Bills' record would be that they haven't played tough competition as of yet. Their three wins are against teams with a combined 3-6 record, and the Rams are the only team in that group with a winning record so far.
The next three weeks will go a long way in determining if Buffalo is for real. They play the Raiders, Titans, and Chiefs – those teams are a combined 8-1, with Tennessee and Kansas City both undefeated.
But the real test will be in week eight when the Bills play New England. By that time, if the Bills are able to be competitive with the elite teams they're playing in the next three weeks, they'll be tested and ready to prove that they have the talent to wrestle the division title away from the Patriots this season.