The New England Patriots were in an unenviable position when it became clear that Tom Brady, arguably the greatest quarterback of all-time, would be leaving the team in the offseason. They had to replace one of the most legendary athletes in sports history, one who was still a productive player, and someone they didn't have an in-house backup for.
But, luckily, a former league MVP surprisingly hit the market this summer, and the Patriots quickly signed Cam Newton, though without the promise that he'd be the starter when they opened the season. Newton's pedigree certainly suggests that he shouldn't have to compete for jobs – he's led a team to the Super Bowl, won the MVP award, and is still only 31-years-old. But, playing behind a porous offensive line much of his career, there is a lot of wear on him. He played in just two games last season due to injury. Prior to that, he'd been sacked 29 or more times each season he'd been in the league. As one of the league's top running quarterbacks, he's also been hit a lot on running plays.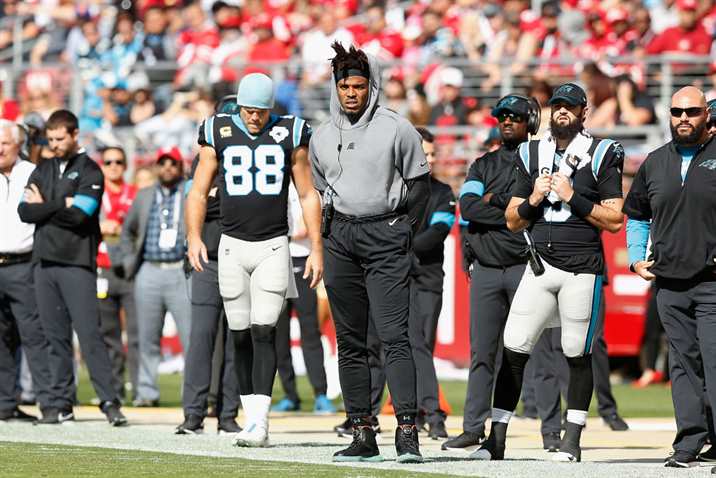 His talent and accomplishments can't be questioned, but New England also had other options, including a veteran in Brian Hoyer who has nowhere near Newton's talents, but as a longtime backup in New England, is familiar with coach Bill Belichick's system. Belichick has had success with system backups before – Matt Cassel won 11 games in place of Brady when Brady missed a season due to injury.
But even if there was competition, the desire was always that Newton would win and prove that he's still capable of being a productive NFL player. That seems to be what has happened. The Patriots named Newton their week one starter, and he's reportedly played so well the team is already close to signing him to a contract extension. Newton had signed a 1 year/$1 million contract with the Patriots in the offseason, a bargain for a player with his track record.
Newton's performance alone hasn't been the only thing that has drawn praise. Assistant coaches and teammates have raved about his work ethic.
But how will Newton fit in a system that may not have been designed for Brady, but over time morphed into one that showcased his talents and hid his weaknesses well?
In Carolina, he was forced to do a lot more than he'll be asked to in New England. The Patriots have significantly more offensive talent, particularly on the offensive line, to protect him. Julian Edelman might be the best wide receiver Newton has ever played with, and New England also has a strong running game.
Plus, Newton's ability to scramble will add another dimension to New England's offense – Brady wasn't particularly fast or able to use his legs to make plays the way Newton can.
Following a legendary player is never an easy position to be in, but Newton has been in the spotlight since he won the Heisman Trophy at Auburn and followed that up by being the No. 1 pick in the NFL Draft. He won't be phased by that pressure, and if he stays healthy, he could easily regain his status as one of the league's elite quarterbacks.