The AFC West is home of the defending Super Bowl Champions, a team playing its first season in a new city, and a team starting a promising rookie quarterback, but there isn't much drama in the AFC West this season – other than the Raiders' struggles to comply with COVID-19 protocols. Here's a look at the AFC West halfway through the season.
Chiefs (8-1) : The League Prom Queen
The Chiefs may not be threatening for a perfect season anymore, but they're still about as close to flawless as a team can get. They lead the league in points scored (286) and point differential (+103). Patrick Mahomes has thrown 21 touchdown passes with just one interception. He probably won't reach his MVP season total of 50 touchdown passes, but he continues to assert himself – quickly – as one of the greatest quarterbacks the game has seen, and he's still just getting started in his career.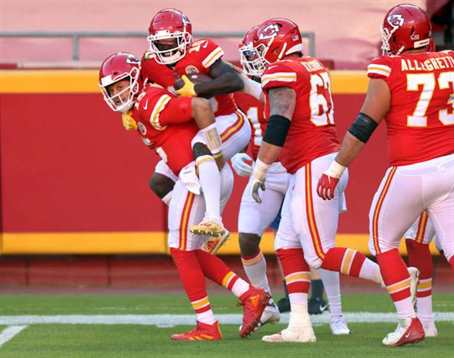 Rookie running back Clyde Edwards-Hellaire has already become one of the league's most dynamic young running backs, with 572 rushing yards and 204 receiving yards in eight games.
As if Mahomes and the prolific offense need more possessions, the defense also leads the league in turnover differential at +9.
The Chiefs are already in playoff form, too. The have wins over 6-2 Baltimore and the AFC East-leading Buffalo Bills. They're one game behind the undefeated Pittsburgh Steelers, but if the Steelers falter, Kansas City should be able to overtake them and get the AFC's first round bye in this year's playoffs.
The Chiefs looked unbeatable in their run to the Super Bowl last season, and nothing that has happened this season should make anyone doubt their ability to repeat. The fact that the Chiefs currently lay claim to the best NFL odds to win Super Bowl LV only serves to reinforce their dominance. Factor in their impressive 5-2 record against the spread and the Chiefs are fodder for football betting.
Raiders (5-3) : The Dr. Jekyll and Mr. Hyde Team
The Raiders can claim something no one else in the league can this year – they're the only team to beat the Kansas City Chiefs. In week five, Derek Carr out-dueled likely MVP Patrick Mahomes by throwing for 347 yards and three touchdowns.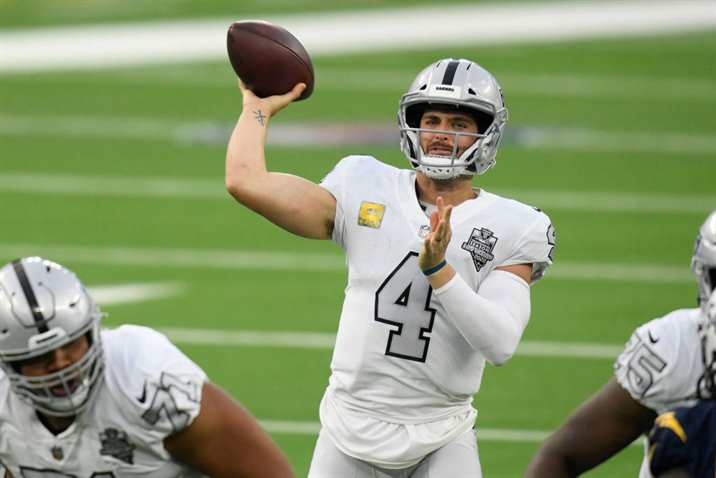 The win wasn't a total shock for the Raiders, though. They've played one of the more difficult schedules in the league and also have a win over the 5-2 New Orleans Saints. But they've also been blown out by a struggling New England Patriots team and Tampa Bay.
Carr has been brilliant this season, completing more than 70 percent of his passes with 14 touchdowns and two interceptions. Josh Jacobs is only averaging 3.5 yards per carry, but he has rushed for more than 500 yards with five touchdowns.
The team does have a –18-point differential, though – they're one of only two teams in the league that has a record above .500 with a negative point differential.
More concerning for the Raiders is a matter of public health rather than football. The Raiders have had multiple violations of league policy, but coach Jon Gruden continues to insist the Raiders are doing a "heck of a job" handling the pandemic.
Broncos (3-5) : Can they stay in the playoff hunt?
The Denver Broncos have won three of their last five games and been more competitive after an 0-3 start, but their problems start at the quarterback position.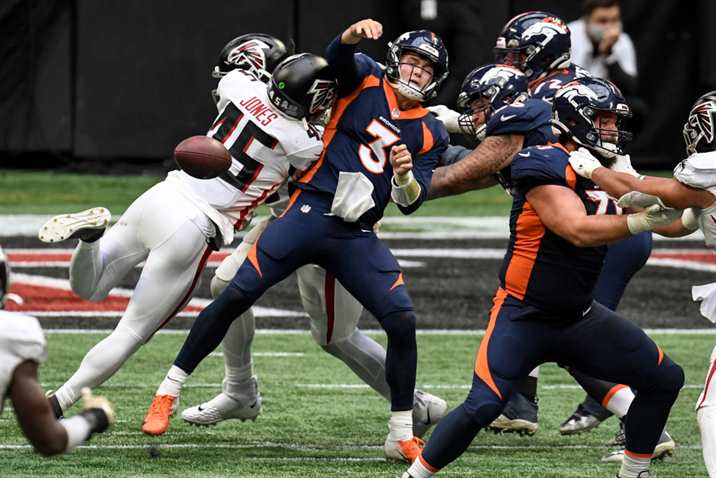 The Broncos have played three different quarterbacks this season – Drew Lock, Jeff Driskell, and Brett Rypien. They've combined for nine touchdowns and 11 interceptions. Rypien has been the most accurate, but also the most turnover-prone with four interceptions in 40 attempts.
For now, Lock seems to have won the starting job, and performed better of late. He's thrown five touchdowns with just two interceptions the last two weeks, and threw for a career-best 313 yards in a loss to Atlanta on November 8.
Melvin Gordon III and Phillip Lindsay are leading a solid ground game. Gordon averages 4.2 yards per carry and has rushed for 375 yards, and Lindsay has rushed for 287 while averaging over six yards per carry.
The Broncos still have slim playoff hopes, but their schedule over the next four weeks is brutal – they play the Raiders, Dolphins, Saints, and Chiefs, who would all be playoff teams if the season ended right now. They need at least a split and probably to win three of those four to stay in the playoff hunt.
Chargers (2-6) : The squad that can't catch a break
The Los Angeles Chargers weren't expected to contend this season, so their 2-6 record isn't necessarily surprising. But it is disappointing.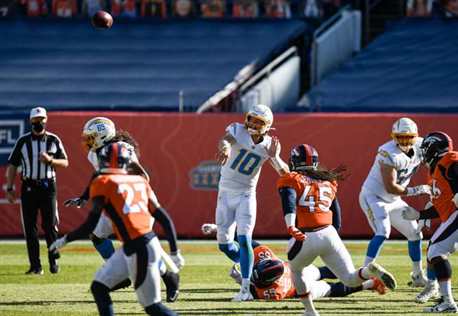 The Chargers have made a habit of losing close games, much to the chagrin of football betting enthusiasts. They have two overtime losses (including one to the defending Super Bowl champion Chiefs) and all five of their losses have been by seven points or less. If a few breaks had gone their way, they'd be in the thick of the wildcard race.
Rookie Justin Herbert has already asserted himself as one of the best young quarterbacks in the league. He's thrown 15 touchdown passes with five interceptions in just six games and he's completing 67 percent of his passes. Keenan Allen has 53 catches and is on pace for a 100-catch season.
The team also has three running backs who have rushed for 185 yards or more, and the defense has been good enough to keep them competitive.
At 2-6, the Chargers have little margin for error, but they have shown they have the talent to compete with some of the league's best teams, so seeing them get hot and make a run at a playoff spot wouldn't be a total surprise.