NFC North
The NFC North is perhaps the only division in football where it wouldn't be a shock if any of the four teams won the division – or finished in last place.
The Green Bay Packers, Minnesota Vikings, Chicago Bears, and Detroit Lions all have significant talent and strengths, but all possess the sort of major flaws that could derail a season. Here's a look at how each team stacks up this season.
Packers: Aaron Rodgers is one of the greatest quarterbacks of his era, and has constantly begged for the team to surround him with more weapons. Instead, the team used a first-round pick to draft what appears to be his future replacement in Jordan Love. The team's coaching staff is more comfortable with a conservative offense that prioritizes the run game and limits Rodgers' improvisation abilities. Rodgers has been a notoriously moody star in his career, and the clash in approaches could be a storyline all season if Green Bay starts slow.
Vikings: Minnesota lost key players from its stout defense, and its secondary in particular is unproven. But the Vikings still should have a strong enough defense to keep the team competitive. A lot is riding on whether or not Kirk Cousins can be more than an adequate game manager who struggles against elite teams. Cousins often puts up gaudy stats, but those numbers are often feasting on mediocre or worst teams. The good news is, the entire division is mediocre this season, so Cousins should have a chance to have the Vikings in contention for the NFC North title.
Bears: Khalil Mack is arguably the biggest impact player at any position in the division, and the Bears added another great pass rusher in Robert Quinn, so the defensive line should be a nightmare for opposing quarterbacks all season. The Bears also have significant questions at quarterback, though. Former first round pick Mitch Trubisky has not panned out. The team brought in veteran Nick Foles, who has had miracle playoff runs with the Philadelphia Eagles but has faltered every time he's been elevated to full-time starter, most recently in Jacksonville. Trubisky doesn't make enough big plays and Foles is often a mistake-prone gambler, so it's not clear which player the Bears offense is in better hands with.
Lions: Perhaps the only team in the division without questions at the quarterback position is the Lions. Matthew Stafford is fully entrenched as the team's starter, and with weapons that include Kenny Golladay and Marvin Jones, expect the offense to put up big numbers – if the offensive line can protect Stafford. The Lions took cornerback Jeff Okudah with the third pick in the draft and he looks like he could be a future star, but the team was among the worst in the league at getting pressure on the quarterback last season. If that continues, expect the young secondary to get picked apart regularly.
Predicted Finish: 1. Packers 2. Vikings 3. Bears 4. Lions
NFC South
Well, the NFC South certainly doesn't lack star power. Future Hall of Famer Drew Brees leads a deep Saints team that is a Super Bowl contender. Christian McCaffery is a do-it-all force for the Carolina Panthers. All 11 projected starters for the Falcons were former first round picks. And, oh yeah, the Tampa Bay Bucaneers added a pair of Hall of Famers in Tom Brady and Rob Gronkowski. Here's a look at how the division stacks up this season.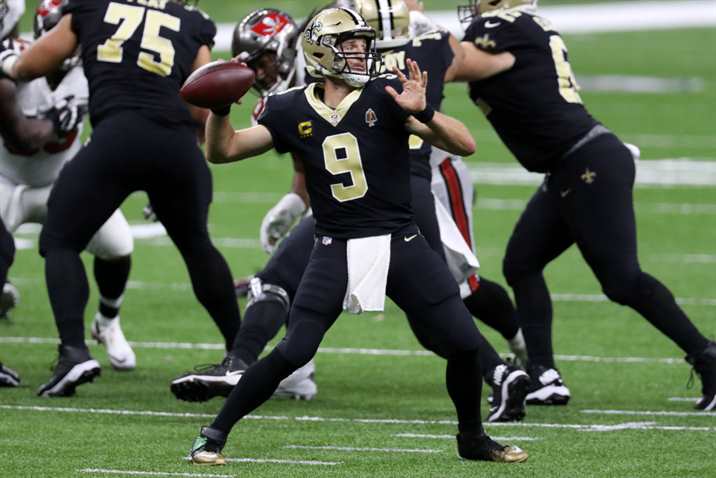 Saints: Brees is entering his 20th season, but the balanced Saints offense is still humming along. Expect star running back Alvin Kamura to continue to get more touches as a way to take pressure off of Brees. The team's defense, which finished middle of the pack last season, has too much talent to not be better than that this season. Minimal improvement by the defense combined with the weapons on offense should keep the Saints contending for a Super Bowl.
Bucaneers: The Bucs added Brady, Gronkowski, and Leonard Fournette to their offense, and those moves unsurprisingly have received the bulk of the attention. Tampa needed to improve its offense, and they brought in arguably the greatest player of all time to do it. But don't overlook the needs on defense. The Bucs were among the worst in the league defensively. If that doesn't improve, it's unrealistic to expect Brady, in a new offense, to work enough magic to keep them competitive in a tough division.
Falcons: Can the Atlanta Falcons sustain the momentum they closed last season with? The Falcons finished 6-2 down the stretch, helping them finish a respectable 7-9 aver a 1-7 start. Their defense improved over that stretch and, in the offseason, they added former NFL Offensive Player of the Year Todd Gurley to the backfield. Gurley was also a college star at Georgia. Atlanta still has all of the pieces that nearly led them to a Super Bowl title recently, so seeing them return to that form wouldn't be a surprise.
Panthers: With Cam Newton gone, McCaffery is the new face of the franchise. Teddy Bridgewater was brought in to replace him. Bridgewater looked great in place of Brees last year in New Orleans, and now he'll get a longer audition to prove he's still a capable NFL starter. Most eyes will be on Carolina's defense – the team didn't draft a single offensive player in the draft. That young defense will likely struggle this year, but it will give the team a chance to build a strong foundation for future seasons.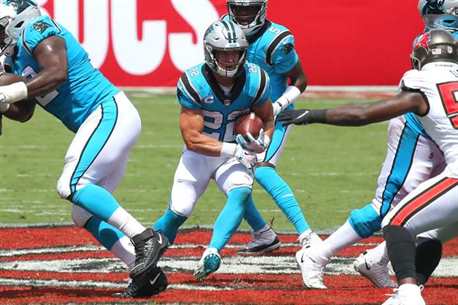 Predicted Finish: 1. Saints 2. Falcons 3. Bucs 4. Panthers
NFC West
All four NFC West teams have the talent to make deep playoff runs. But with just six playoff spots in the entire conference, at least one and maybe two West teams will likely be left out. Here's a look at what should be the most exciting division race in football next season.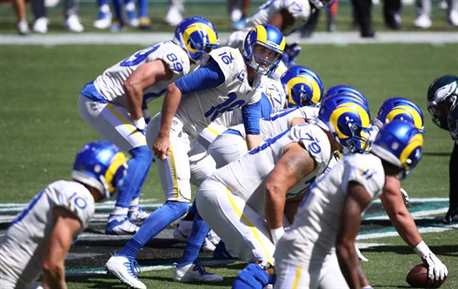 49ers: The 49ers were within one quarter of winning a Super Bowl last season, before Patrick Maholmes led a fourth quarter comeback that included 21 unanswered points to erase a 10-point San Francisco lead. Despite the disappointing end, the 49ers are in a good position to get back, thanks to an absolutely killer defense led by Nick Bosa. They put pressure on the quarterback and excel at creating turnovers, which makes up for the offense's occasionally mediocre performances.
Seahawks: Russell Wilson continues to be one of the league's best quarterbacks, and Seattle has successfully rebuilt another strong defense even as all of the key pieces from their Legion of Boom era have left the team in recent years. The Seahawks are continuously predicted to be the team that will slide as the rest of the West has improved, but every year, Wilson finds ways to keep the team winning close games and getting to the playoffs.
Cardinals: Kyler Murray had an impressive rookie season and should give the Cardinals one of the most fun-to-watch quarterbacks in the league for years. This season, he also has an elite target. The team acquired DeAndre Hopkins from Houston, and his presence in the lineup should give Murray a more dangerous weapon than he played with at any point last season. The Cardinals will likely continue to struggle on defense, so they're probably not quite a playoff team yet in this division, but they're rapidly closing the gap.
Rams: After a Super Bowl appearance, the Rams missed the playoffs last season. They also lost a mainstay from their team in star Todd Gurley, who signed with Atlanta. But the Rams have two of the best defensive players in the league at their respective positions in Aaron Donals and Jalen Ramsey and enough offense to give them a chance in any game. The biggest question for the Rams will be whether or not quarterback Jared Goff can finally jump from a pretty good quarterback to one of the game's elite. If he does, they could easily win this division.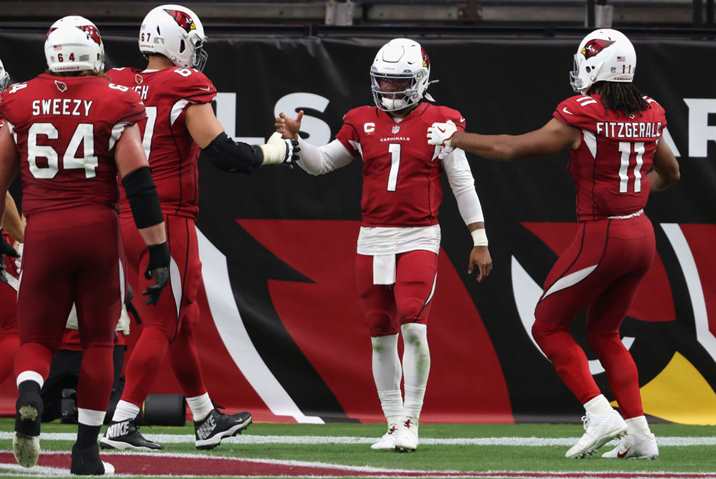 Predicted Finish: 1. Rams 2. Seahawks. 3. 49ers 4. Cardinals
NFC East
The division title seems to be a two-team race between Philadelphia and Dallas as Washington and New York are both in the midst of rebuilding projects, with new coaches and young quarterbacks. But that battle between the Cowboys and Eagles should include lots of fireworks – both teams have good quarterbacks who are surrounded by weapons and should score a lot of points.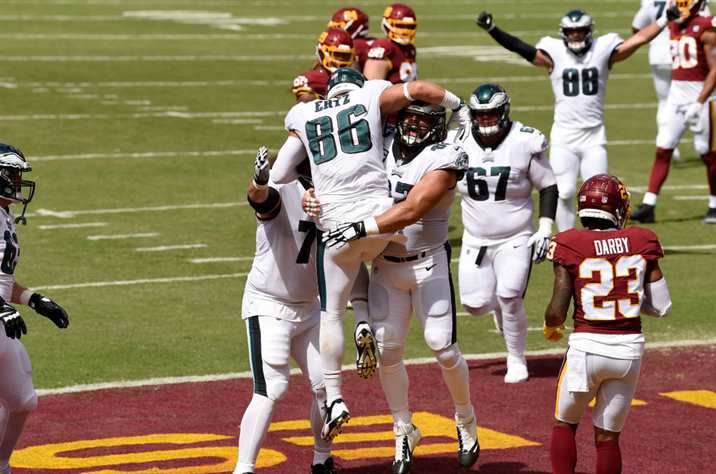 Cowboys: New coach Mike McCarthy will bring a new voice for the first time in Dak Prescott's career, and the team adds first round pick receiver CeeDee Lamb with a receiving corps that includes Michael Gallup and Amari Cooper. Factor in star running back Ezekiel Elliott, and it's easy to picture the Cowboys as Super Bowl contenders this season.
Eagles: The Eagles have their own trio of speedy receivers in Jalen Reagor, DeSean Jackson, and John Hightower for Carson Wentz to throw to. The team also has a strong defensive line that includes Javon Hargrave, Brandon Graham, and Fletcher Cox, and when they get pressure on the quarterback, one of the best cornerbacks in the league in Darius Slay will now be in the secondary hunting interceptions. Wentz's health is always a question mark, but if he can stay on the field, the Eagles could win this division.
Washington: After finally announcing they'd drop the team's racist nickname in the offseason, the "Washington Football Team" has yet to pick out a new name, so they'll have that awkward nomenclature for the foreseeable future. The team has a new coach in Ron Rivera, and a young quarterback in Duane Haskins that was selected by a different regime, so it remains to be seen how committed the team will be to Haskins' development if he struggles this season.
Giants: The Giants brought in former Cowboys coach Jason Garrett as offensive coordinator to help second-year quarterback Daniel Jones improve at getting rid of the ball quicker. Jones does have one nice luxury – running back Saquon Barkley is great at catching passes out of the backfield, and Garrett has always utilized his backs in the passing game, so expect Jones to look for Barkley on more intermediate routes.
Predicted Finish:
1. Eagles 2. Cowboys 3. Giants 4. Washington