AFC North
Lamar Jackson and the Baltimore Ravens – Big Truss! -- should once again be the team to beat in the AFC North, but things suddenly look much less bleak for rival teams in the division than they did a year ago when the Ravens steamrolled their way to a division title. Here's what to expect from each team this season.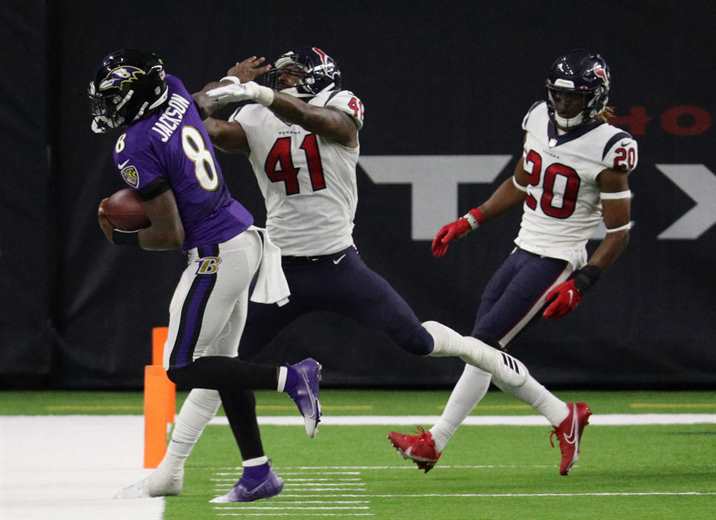 Ravens: Although Jackson has already become one of the league's most dynamic stars, he's far from a one-man show in Baltimore. But after a disappointing playoff loss to the Tennessee Titans that saw the Titans effectively neutralize Jackson and the Ravens offense, expect Baltimore to face many teams who try to copy that strategy this season. The Ravens have veteran running back Mark Ingram and will pair with Ohio State rookie J.K. Dobbins. Those two should combine with Jackson to provide the Ravens with one of the best ground games in the league, and that will hopefully open up more opportunities for Jackson to throw to a fast, but unproven, receiving corps.
Steelers: The biggest acquisition the Steelers made in the offseason was, simply, health. Ben Roethlisberger enters the season healthy after missing last season with injury, and he also decided to play after considering retiring. Roethlisberger, even at 38, is a more capable quarterback than anyone that have in-house to replace them. The offense might not be as talented as others he's played with, but Pittsburgh's defense led by TJ Watt and Minkah Fitzpatrick should keep them in plenty of games and give Roethlisberger a chance to win them.
Browns: Cleveland went all-in a year ago, acquiring star Odell Beckham Jr in an attempt to pair quarterback Baker Mayfield with an elite quarterback. However, an overmatched coaching staff and a disappointing season from Mayfield derailed those plans. The Browns are now hoping that a new, offense-focused coach combined with improvements to the offensive line and a new tight end in Austin Hooper can take some of the pressure off of Mayfield and restore some of the promise he showed as a rookie.
Bengals: No. 1 pick Joe Burrow is here to try and turn around the Bengals, but even if Burrow proves to be a competent NFL quarterback immediately, the team still has a lot of deficiencies to fill, particularly on defense. But Burrow does have more weapons than the typical rookie joining a losing team – AJ Green is one of the best receivers of his generation, and running back Joe Mixon is a solid receiver out of the backfield.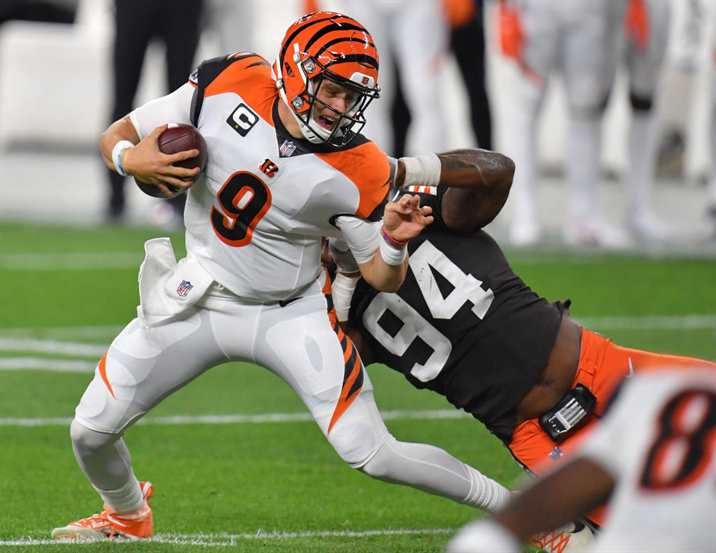 Predicted Finish: 1. Ravens 2. Browns 3. Steelers 4. Bengals
AFC South
Tom Brady got the bulk of attention for changing teams in the offseason, but another sure Hall of Fame quarterback also has a new home after spending his entire career in one place. Phillip Rivers joins the Indianapolis Colts, hoping to lead them to a division title in the wide-open AFC South. Here's how each team looks as the season starts.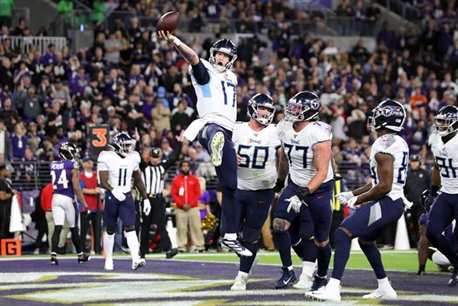 Titans: The Titans were faced with a difficult decision in the offseason. Former backup Ryan Tanehill had improbably taken over for former No. 1 pick Marcus Mariota, steadied the team, and led them to the playoffs and a strong playoff run that included an impressive upset over the 14-2 Ravens in round two. But Tanehill wasn't brought in as a long-term answer at quarterback, and one of the greatest quarterbacks of all-time, Tom Brady, who happens to also be a former teammate of Titans coach Mike Vrabel was available in the offseason. Ultimately, the Titans decided to stick with Tanehill and lock him into a long-term contract to see if his play down the stretch last season is sustainable. Tennessee has one of the game's best offensive players in running back Derrick Henry and a ferocious defense that shut down Lamar Jackson in the playoffs, so expect Tennessee to be the favorite to win this division.
Colts: Indianapolis brought in Rivers to be a veteran force on a team with young weapons at wide receiver and running back. Rookie Jonathan Martin, in particular, should bolster an already strong Colts running game, which should take pressure off of Rivers. Colts coach Frank Reich was also Rivers' offensive coordinator for three years in San Diego, so their working relationship could translate into the Colts ascending into a playoff team this season.
Texans: Perhaps no team in the division is under more pressure than the Texans. They traded star receiver DeAndre Hopkins in the offseason, for dubious reasons, and are replacing him with less talented receivers. That's … not great news for young franchise quarterback DeShaun Watson. Coach and GM Bill O'Brien is making the roster over in his image, but keeping Watson healthy and happy is vital to any long-term success he's going to have. The Texans are hoping one or both of Brandin Crooks or Randall Cobb can regain their form from LA and Green Bay respectively and replace the production they lost in the Hopkins trade.
Jaguars: While the top three teams in the division are somewhat interchangeable in terms of predictions, consensus seems to be this year will be another struggle for the Jaguars. Gardner Minshew gets his turn as the next in a line of quarterbacks auditioning to be the team's long-term solution (following Blaine Gabbart, Blake Bortles, and Nick Foles). Foles was signed to a big contract after successfully leading the Eagles to a Super Bowl, got hurt, and had Minshew steal his spot. He completed over 60 percent of his passes and had 21 touchdowns with just six interceptions as a rookie, so if he builds on that promise, Jacksonville could surprise this season. He'll get a new target this season in rookie receiver Laviska Shenault, but the team recently parted ways with former star running back Leonard Fournette, so how the backfield looks without him will be interesting.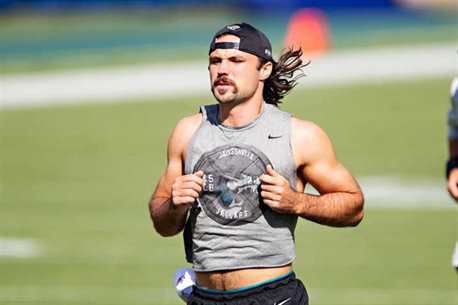 Predicted Finish: 1. Colts 2. Titans 3. Texans 4. Jaguars
AFC East
Arguably the greatest quarterback of all-time left the division, but the Patriots replaced Tom Brady with a former MVP in Cam Newton. There is enough talent for a team to finally overtake New England as the class of the AFC East, but the other three teams are all still developing their young franchise quarterbacks, so it remains to be seen how quickly the Patriots can be supplanted. Here's how the AFC East stacks up this season.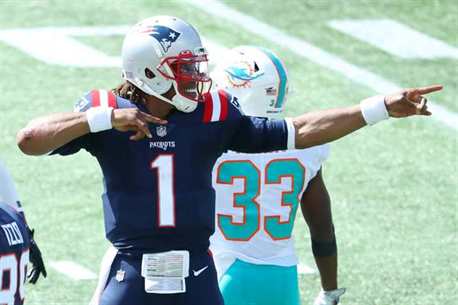 Patriots: Newton won the starting job in New England, impressed his teammates, and his rewards will be plenty – he'll be playing for the best coach he's ever played for; he'll have the best receiver he's ever played with in Julian Edelman; and – most importantly – he'll be playing behind an offensive line that should be able to protect him. He was sacked 30 or more times each of his full seasons in Carolina while New England's offensive line always kept Brady well-protected. Newton has likely lost some of the athleticism he was known for early in his career, but having a balanced supporting cast for the first time in his career should make up for that.
Bills: The Bills had a good enough defense to make up for the fact that young quarterback Josh Allen occasionally makes catastrophic mistakes. As he heads into his third season – and gets an elite receiver in newly acquired Stefon Diggs to work with – the Bills will need more from him if they're going to be more than just the surprise playoff team they were a year ago. The Bills have one of the best defenses in the league, including a secondary led by newly highest paid defensive back Tre'Davious White. That should be enough to keep them in the mix for the division title.
Dolphins: Last year, the Dolphins were clearly tearing down their roster for a rebuild, but they surprised by not being … as terrible as projected, I guess? Some media outlets even predicted they could finish 0-16. Instead, they were merely conventionally bad, but still had draft luck – their franchise quarterback, Tua Tagovailoa. Tagovailoa slipped a bit in the draft, and the Dolphins quickly snapped him up. He'll sit for a while, though, as the team has a capable veteran starter in Ryan Fitzpatrick who they'll make Tagovailoa beat out to win the job. The Dolphins won't contend this year, but they should be more fun to watch.
Jets: The Jets went 7-9 last year, an overachieving mark for a team still in a rebuild. Much like the Bills, how high their ceiling is largely depends on what Sam Darnold becomes. Is he a mistake-prone, erratic quarterback? Or are the elite flashes he's show a predictor of future stardom? The Jets used a first round pick on a left tackle to provide better protection for Darnold, and hope this could be a breakout season for him.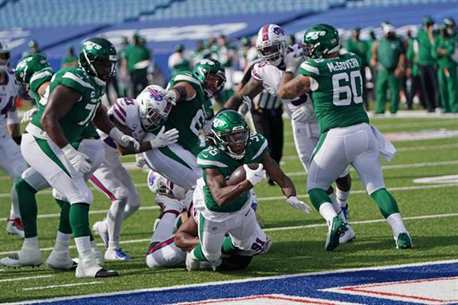 Predicted Finish: 1. Bills 2. Patriots 3. Dolphins 4. Jets
AFC West
The Kansas City Chiefs won a Super Bowl last season, and happen to have the game's best quarterback. Oh, and Patrick Mahomes is only 24. That's … not great news for the rest of his division, but here's a look at how they stack up.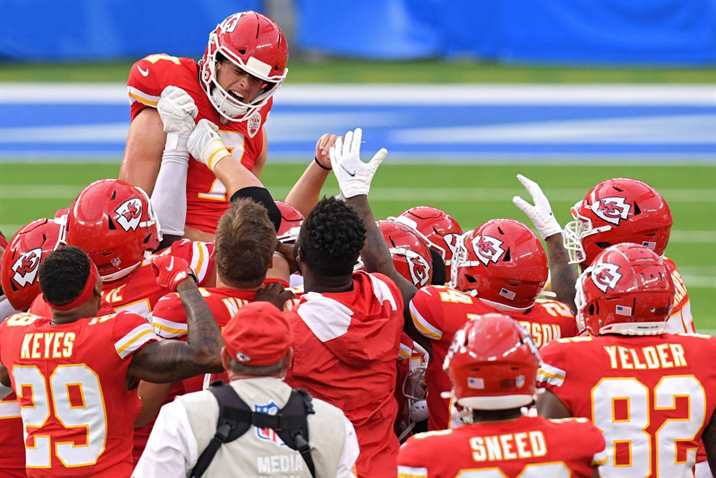 Chiefs: Mahomes didn't just lead the Chiefs to a Super Bowl last year, he did it in ways that often make the game look easy. He makes throws that no other quarterback can make, including a few that no other quarterback should even attempt to make. He's surrounded by speed and weapons at every position, and coached by Andy Reid, who is perfectly suited to cater to Mahomes' unique skills. Oh, and not that they needed more speed, but the team added lightning fast running back Clyde Edwards-Helaire in the first round of the draft, so expect him to be used creatively all over the field.
Raiders: The Raiders will be playing their first season in Las Vegas and have a quarterback in Derek Carr who has somehow survived Jon Gruden purging an entire roster that was a playoff team a few years ago in favor of draft picks. Now, though, the team is stocked at several positions and Carr has become one of the league's best quarterbacks. The Raiders won't be better than the Chiefs, but they should be in the Wild Card hunt all season.
Broncos: Drew Lock is tentatively the team's quarterback of the future after winning four of five games to close out last season. A pair of rookie receivers in Jerry Jeudy and KJ Hamler add to an already strong receiving corps, and the team also added former Charger running back Melvin Gordon in free agency. The team's biggest question is on defense. Von Miller is still around as one of the best defensive players of his era, but he's older and the once fearsome defense around him is more pedestrian now. The Broncos have enough offense to be fun to watch but not enough defense to contend.
Chargers: The Chargers parted ways with longtime franchise quarterback Phillip Rivers in the offseason and seem to have immediately found his replacement with first round pick Justin Herbert. Herbert will likely have to beat out veteran Tyrod Taylor, but if he does, he'll have more weapons than your average rookie quarterback – tight end Hunter Henry and wide receiver Keenan Allen are two of the best in the league at their respective positions. The team will miss Gordon's production in the backfield, though.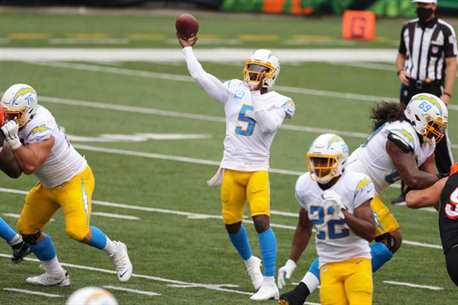 Predicted Finish: 1. Chiefs 2. Raiders 3. Broncos 4. Chargers