Tom Brady is making it look easy.
Brady, 43, is supposed to be in the twilight of his career and is playing his first season with the Tampa Bay Buccaneers. He is arguably the greatest quarterback of all-time and spent his entire career with one franchise until a late-career decision to head to Florida when both he and the New England Patriots and coach Bill Belichick both seemed determined to prove they could win without the other.
There are plenty of football examples that we'll get to in a moment, but the only real comparison for how weird Brady looks not wearing a New England uniform is Michael Jordan in a Washington Wizards jersey. Much like Brady did with the Patriots, Jordan's Bulls became multi-time champions and a model franchise in their sport. Then, in need of a new challenge, Jordan came out of retirement and spent two nondescript seasons with a Wizards franchise that had no recent history of success and couldn't be nudged by Jordan spending a couple of years in his 40s screaming at Kwame Brown.
The Bucs haven't won a lot lately, either. And with questions about whether their once-porous offensive line could protect Brady, this had all of the makings of a Jordon on the Wizards situation.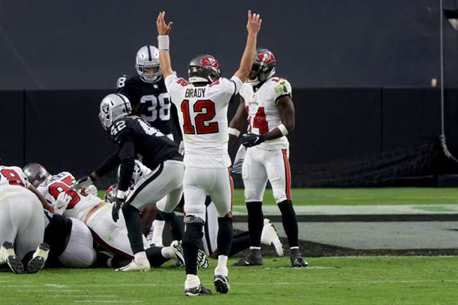 It hasn't been, though. Brady has led Tampa to a 6-2 record and first place in the NFC South. Through eight games, he has thrown 20 touchdown passes – a pace that would almost double the 24 he threw last year if he keeps it up. He's also on pace to throw for more yards than he has since 2017. His 103.1 quarterback rating would be his highest since 2016 and his third highest this decade. He's also completing a higher percentage of his passes than he has since 2017.
He's not just having a good season, or a surprising season – some NFL writers even debated whether or not Brady is capable of winning the NFL MVP award at age 43. That would make him the oldest player to win the MVP award since … Tom Brady won it at age 40 in 2017. (So if you're in the market for some interesting NFL betting opportunities, a futures bet on Tom Brady for league MVP still has value!)
Brady's replacement in New England, Cam Newton, is another former MVP who left his longtime team in the offseason and landed with Brady's Patriots. Things haven't gone well, though. Newton is completing 66 percent of his passes, but has just two touchdowns with seven interceptions. This has put the Patriots at 2-5 and NFL odds buffs are giving Belichick and co. longshot odds to make the playoffs.
NFL history is filled with Hall of Fame quarterbacks like Brady and Newton switching teams. Here's a look at how six of them compared.
Peyton Manning : The Colt who became a bronco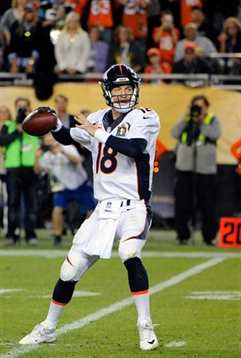 Manning left his first franchise, the Indianapolis Colts, after a serious injury and managed four seasons with the Denver Broncos. Three of those four seasons were the All-Pro production that was customary of Manning before injuries got the best of him in the fourth and ultimately forced his retirement. But hey, he did lead the Broncos to a Super Bowl win in that last season, so it's hard to say his stop in Denver wasn't a success.
Joe Montana : old new blood in kc
After 14 seasons with the San Francisco 49ers, Joe Montana spent two years with the Kansas City Chiefs. Montana certainly brought excitement to the Chiefs franchise, and the team did make two playoff appearances (including an AFC championship game appearance in 1993) but Montana's stats were pedestrian – he threw just 29 touchdown passes combined over two seasons.
Brett Favre and Kurt Warner : Third Time's a charm?
Why am we combining them? Well, because they both had a similar path – they left franchises they'd won Super Bowls with, each made a brief and underwhelming pit stop in New York (Favre with the Jets and Warner with the Giants) before finding a more successful second act. Favre had a couple of All-Pro seasons and playoff success with the Vikings and Warner helped lead the Cardinals to a Super Bowl appearance.
Joe Namath : One forgettable season
Joe Namath is forever remembered as a Jet, but he played one forgettable season with the Rams at the end of his career, completing less than 50 percent of his passes and throwing three touchdown passes with five interceptions. The Rams did win their division that season, but Namath only played in four games.
Johnny Unitas Finds the bench instead of open receivers
The legendary Colts quarterback was briefly a Charger, appearing in four games before being benched in favor of another Hall of Famer Dan Fouts. This was Unitas' age 40 season, and it's important to remember that while he and most normal quarterbacks have their best days as players behind them by that age, Brady was winning an MVP in his age 40 season.