Every November in college football, fanbases of struggling teams across the country start calling for their athletic director to fire their team's head coach. Big money alumni can threaten to withdraw support of the program and frustrated alumni show their displeasure by refusing to renew their season tickets (which they probably did not use this season, anyway).
But which college football coaches are on the hottest seats? Let's count the coaches who have the strongest odds of being replaced:
10. Jeremy Pruitt : Tennessee
Pruitt was hired without having any head coaching experience, after defensive coordinator stints at Florida State, Georgia, and Alabama, and he has yet to show that he was ready to be an SEC coach in his first job. The Vols went 5-7 in Pruitt's first season, and looked like they were turning a corner in 2019 when they went 8-5 and won the Gator Bowl, but things have gone south in 2020 for Pruitt's Vols. The third-year coach is unlikely to get the axe this early in his tenure, but if things don't turn around he might be at the top of the betting odds and lists like this in 2021.
9. Lovie Smith : Illinois
Lots of people love Lovie Smith, but you can't love that W-L record he's had so far in Champaign. Now in his fifth season, Smith is 9-31 at Illinois and the team has shown no sign of improvement. The Illini topped out at 6-7 with a Redbox Bowl loss in 2019, but with a slow start in 2019, that seems like a stretch goal for Smith in 2020.
8. Les Miles : Kansas
Miles only lost 34 games in parts of 12 seasons at LSU, but has already lost 15 games in a season and a half as Kansas's head coach. Trouble was brewing when Kansas lost their first game to Coastal Carolina by 15 points at home, but that was the highlight of their season so far, as they have yet to come within 21 points of another opponent since. Things hit rock bottom for Miles this week in Norman, Oklahoma when they were humiliated 62-9 by the Sooners. Coaches rarely get the pink slip after two seasons, but Miles might buck the odds to accomplish that feat if the Jayhawks fail to win a game this season.
7. Kevin Sumlin : Arizona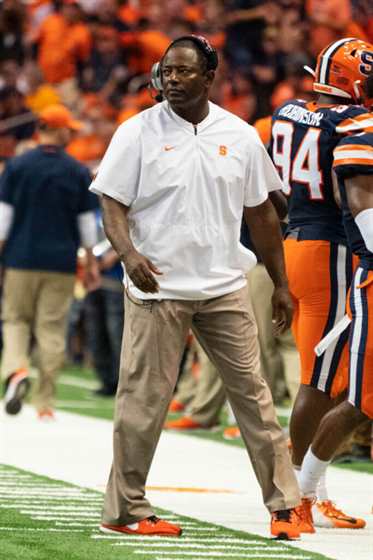 Before landing in Arizona, Sumlin had won everywhere he went, finishing at least two games over .500 in nine of his ten seasons as coach of Houston and Texas A&M. But, since he became HC of the Wildcats, Sumlin has yet to have a winning season. After going 5-7 in 2018, the Wildcats took a step back in 2019 with a 4-8 mark and lost their first game of their delayed 2020 season. Sumlin's only solace might be that the PAC-12's shortened schedule, coupled with an expensive buyout might buy him a fourth year in Arizona, but don't bet any moneyline odds on that happening just yet.
6. Dino Babers : Syracuse
In his 5th season coaching the Orange, Babers is having his worst season when he desperately needed to win. After starting his career at Syracuse with a pair of 4-8 seasons, Babers defied the odds in 2018, leading his team to a 10-3 win and a win in their only bowl appearance in the Babers era. Now, with a 1-7 start in 2020 a bowl game is out of the question, but Babers might need to win the remaining games on Syracuse's schedule, including a game in Notre Dame where they will be massive underdogs, to secure his spot on the sidelines for 2021.
5. Scott Frost : Nebraska
Unlike some of the coaches on this list, Frost experienced legitimate success in his first head coaching position, going 13-0 in his second season at Central Florida. Unfortunately, since he landed in Lincoln, Nebraska, he hasn't sustained anywhere near the same level of winning, the Cornhuskers have only won ten games during his two-plus year tenure as head coach. The primary thing keeping Frost around right now is that his contract reportedly runs through 2026, so it would be incredibly expensive to fire him.
4. Mike Bloomgren : Rice
It just might never happen for Bloomgren, who was hired out of Stanford and has failed to win games in three seasons at Rice. The 43-year-old coach went 2-11 in 2018 and followed that up with a 3-9 season in 2019. Bloomgren does have a win over Southern Miss so far in 2020, but it might take four or more wins to grant Bloomgren a fourth season.
3. Clay Helton : USC
Helton is no stranger to lists like this- unless he wins a national title at USC, Trojans fans will always be looking for a bigger name coach. After a Rose Bowl win in 2016, and an eleven win regular season in 2017, Helton has failed to take the Trojans to the level their fans are accustomed to, and an early hot start for USC has not quieted Helton's many critics.
2. Derek Mason : Vanderbilt
Unlike many SEC coaches who succeed as head coaches at lesser programs before joining the country's top league, Mason joined the Commodores as a first time coach. Mason is in his 7th season at Vanderbilt and is still looking for his first winning campaign. After making Bowl games at 6-6 in both 2016 and 2018, Mason took a step backwards in 2019 by going 3-9, and Vandy has completely fallen apart in 2020. With no out of conference games to pad their record, the SEC has fasted on Mason's team, which sits at 0-6, despite only playing one ranked team thus far. Even a 4-0 finish might not be enough to earn Mason an eighth shot at his first winning season.
1. Jim Harbaugh : Michigan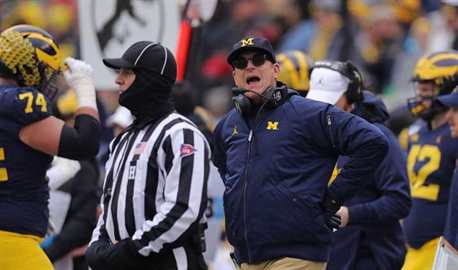 Why does Harbaugh have the best odds of being let go? Fans in Ann Arbor have had it with Harbaugh and have actually started betting on the Wolverines opponents to beat them, especially in the Wisconsin game where the Badgers were 7 point favorites against the spread but thrashed Michigan 49-11. At this point, it seems like there are better odds that Harbaugh will land in the NFL for the 2021 season than for him to return to Michigan.