One of the weakest NBA drafts in recent memory means that the college game has still retained a ton of talent from last season, highlighted by the undisputed preseason player of the year. Let's count down the top ten players in college basketball heading into the 2020-21 season.
1. Luke Garza, Iowa
Garza declared for the NBA draft but withdrew to return for his senior season where he is hoping to win a national title with the Hawkeyes. The center averaged 23.9 points per game, to go with 9.8 rebounds and almost two blocks per game. Garza shot over 54% from the floor, and hit over one three per game. Garz is incredibly consistent, he only scored in single figures once, and topped out with a 44 point game against Michigan. The people who set the college basketball odds agree, Garza is the heavy favorite to win all of the player of the year trophies.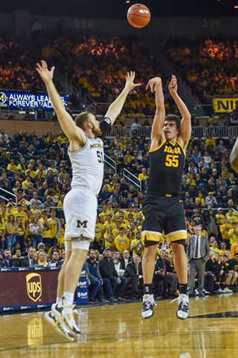 2. Jared Butler, Baylor
There will be a number of players with more impressive stats, but Butler is arguably the best player on the best NCAA team. Butler averaged 16.0 points per game as a sophomore, adding over three rebounds and assists per game, and chipped in on defense with 1.6 steals as well. The 6'3" guard upped his field goal percentage into the forties, while becoming a more efficient three point shooter (38.1%). If Butler makes another leap, Baylor could separate themselves from the Villanovas and Gonzagas of the world.
3. Marcus Zegarowski, Creighton
The 6'2" guard was already one of the most complete players in the nation as a sophomore. Zegarowski averaged 16.1 points per game for the Bluejays, and chipped in 5 assists, 3.8 boards, over one steal power game, while shooting solid percentages from the floor, the free throw stripe, and he's an excellent three point shooter (over 42 percent in both of his college seasons).
4. Remy Martin, Arizona State
Martin is only 6'0" but the senior has already had a huge impact at ASU. Martin averaged over 19 points, 4 assists and 3 rebounds per game last season, while upping all of his shooting percentages. Despite withdrawing for the NBA draft, Martin still has serious pro aspirations after this season, but first he hopes to end his Sun Devil career with a PAC-12 player of the year award, and maybe some national hardware as well.
5. Cade Cunningham, Oklahoma State
What is a freshman who only averaged 13.9 points as a senior and will now be playing for a team banned from postseason play doing on this list? Well, Cunningham isn't an ordinary freshman, he's a 6'8" point guard who is the consensus projection to be the top pick in the next NBA draft. The only reason he averaged so few points is that his high school team, which went undefeated, won games by almost 40 points per game, so there was little need for Cunningham to put up gaudy numbers.
6. Collin Gillespie, Villanova
Like Jared Butler of Baylor, Gillespie can stake his case as being the best player on the best team. As always, the Wildcats are absolutely loaded, but Gillespie will lead the way as the team's point guard. Last season Gillespie averaged 15.1 points, 4.5 dimes, and 3.7 rebounds for one of the nation's top teams. This year, he will combine with big man Jeremiah Robinson-Earl to make the nation's top inside-outside combination.
7. Corey Kispert, Gonzaga
After years of playing a supporting role for the Zags, this year it's Kispert's team and he might be ready to lead them to their first ever national title. Kispert's numbers last season are modest for a player on this list; 13.9 points, 4.0 rebounds, 2.1 assists, but the truth is he wasn't asked to do much playing on a stacked Bulldogs roster, and his peripherals are as good as anyone in the nation. Kispert hit 47.4% from the floor, over 80 percent from the line, and most impressively, he shot 43.8% from three.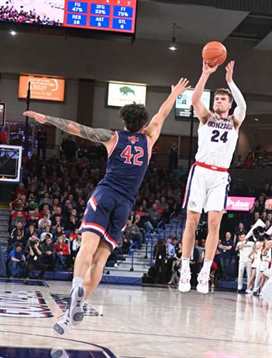 8. Oscar Tshiebwe, West Virginia
The 6'9" Congolese forward averaged over 11 points and 9 rebounds as a freshman for the Mountaineers, despite only playing 23 minutes per game. With a season under his belt, Tshiebwe could put up scary numbers as a sophomore, who already scores efficiently (55.2% from the floor) and blocks a shot per game.
9. Garrison Brooks, North Carolina
Brooks broke out as a junior for the Tar Heels on one of their worst teams in decades. Now, Brooks will be tasked with returning UNC to the tournament, if not right back to national title contention, though according to the people who set the college basketball odds that is unlikely. Brooks more than doubled his scoring average to 16.8 points per game and added 8.5 rebounds.
10. Trayce Jackson-Davis, Indiana
The Indiana native averaged 13.5 points and 8.4 rebounds as a freshman and now the Hoosiers offense will really run through the 6'9" Jackson-Davis. The big man hit 56.6% of his shots in his first season and blocked 59 shots in 32 games.