The first two picks of this year's NBA Draft blessed the league with ready-made stars in Zion Williamson and Ja Morant, whose teams will be battling for the eighth and final playoff spot in the Western Conference when the season restarts in July.
They also might be the best 1-2 pick combination since Oscar Robertson and Jerry West in 1960.
Robertson, one of the game's greatest point guards who averaged a triple double for an entire season (decades before Russell Westbrook made it his personal mission to make that seem boring), and West, the literal logo for the league, are obviously transcendent talents and insanely high (and perhaps unfair) benchmarks for players who are yet to finish their first seasons and aren't even of legal drinking age yet. But their rivalry, should a best-case scenario play out for the league when it restarts at Disney World, could be the bridge from the LeBron James era to the NBA's next golden age.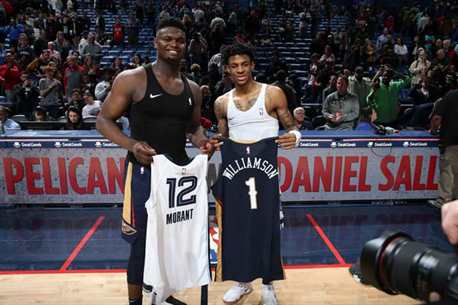 The sample size is small (particularly in Williamson's case), but the rookies have played leading roles for their respective teams from the moment they stepped on the court. The Memphis Grizzlies were expected to be rebuilding, and although Morant was a nice consolation prize to the prodigy Williamson with the second pick in the draft, he wasn't expected to be among the league's elite point guards this soon.
The Grizzlies, who own a 3.5 game lead over Williamson's New Orleans Pelicans for the final playoff spot, hovered around .500 all season thanks to the steady play of Morant. He leads the team in scoring and assists, and is one of the most efficient guards in the league shooting the ball at 47 percent overall and 40 percent from three-point range.
He has also become a vocal leader off the court, leading an effort to have a Confederate statue removed in Murray, Kentucky, where he played college basketball for Murray State.
As stable and reliable as Morant's play has been all season, Williamson's has been a burst. An injury sidelined him for much of his rookie season. Prior to his debut, it was unclear how ready he'd be to contribute post-injury and how he'd handle a minutes restriction. Those questions were answered as ferociously as one of his dunks.
"It is, simply, impossible to take your eyes off of either player every second they are in the game because both are constant threats to accomplish athletic feats that are superhuman."
In 19 games, Williamson is averaging 24 points and 7 rebounds per game. He rarely misses, making 59 percent of his field goals overall and 46 percent of his three-pointers.
Unlike Morant, Williamson joined a more veteran lineup that includes former All-Stars in Jrue Holiday and Brandon Ingram and established veterans like J.J. Redick and Derrick Favors. Still, it took no time to see Williamson is the focal point of the Pelicans' offense. The team responded to his presence by climbing back into a playoff race that seemed out of reach before he debuted.
Beyond their production, Williamson and Morant possess something unquantifiable that only a small handful of players throughout the league's history had. It is, simply, impossible to take your eyes off of either player every second they are in the game because both are constant threats to accomplish athletic feats that are superhuman.
It's certainly hyperbolic to compare them to players like Robertson and West, but it's also foolish not to acknowledge the groundwork they've quickly laid. With good health and a little luck on their (and the league's) side, it's easy to see their current battles for the Rookie of the Year Award and the eighth spot in the playoffs quickly morphing into battles for MVP trophies and the Western Conference title.