The Los Angeles Clippers certainly had a colorful season, though probably not for the reasons they'd hoped.
The team undoubtedly won last offseason, signing free agent star Kawhi Leonard and trading a slew of future first round picks plus young star Shai Gilgeous-Alexander for Paul George.
The Clippers never fully gelled during the regular season, though, as injuries to Leonard, George, Patrick Beverley, and Lou Williams at different times made it difficult to get their playoff lineup fully on the same page. Plus, the team added several acquisitions – Marcus Morris, Reggie Jackson, and Joakim Noah – right as the season was suspended, making the work of getting on the same page more challenging.
Still, the Clippers had too much talent to not be good. They were among the league's best teams all season, and appeared on track to meet their crosstown rival the Los Angeles Lakers in the Western Conference Finals. They stumbled a bit in the first round, needing six games to beat the undermanned Dallas Mavericks, but looked dominant in taking a 3-1 lead over the Denver Nuggets in round two.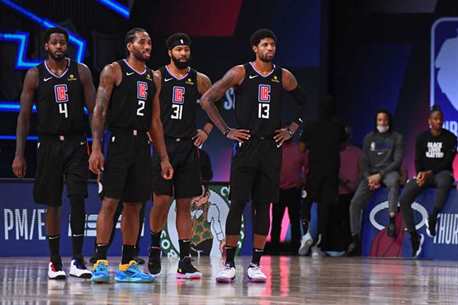 Then, things fell apart. The Nuggets came back from a 3-1 deficit to knock the Clippers out. George had an awful playoff performance, shooting 39 percent and continuing a string of underwhelming playoff performances dating back to his days with the Pacers and Thunder. George and Montezl Harrell openly argued during the game seven loss to Denver, and after the season ended, George's ra-ra speech to the team to hit the offseason committed to improving was met with some eye-rolls.
Collapses for title contenders – particularly ones that mortgaged so much of their future to win now -- don't happen without scapegoats, and the Clippers quickly found one in coach Doc Rivers. The longtime coach, who has won a championship in Boston and presided over Clippers teams that have won more than at any time in the franchise's history, quickly found a new landing spot in Philadelphia.
But Rivers might not be the only change. Harrell is a free agent, possibly one whose production as Sixth Man of the Year, prices him out of LA's budget. Morris and Jackson are also free agents, and JaMychal Green, a versatile and valuable reserve, has a player option at $5 million, which he might be able to beat on the market if he opts out.
The team also has some holes to fill. Ivica Zubac was a solid presence inside, but the Clippers lack depth behind him. Beverley is limited offensively, is getting older, and has a significant injury history, and if they lose Jackson in free agency, their backup options behind him are nonexistent. Leonard and George are both great players, but both miss significant time each season with injury, so depth behind them is critical.
Even the coaching staff could see more turnover beyond Rivers. Tyrone Lue, who won a championship in Cleveland, would seem to be an ideal choice to replace Rivers, but he's in demand for openings all over the league.
The Clippers bet hard on a talented core to win now, and don't have many future assets to find and develop cheap supporting talent. Every year that they don't get close to a championship is a year closer to that limited window closing. They'll have to quickly find a new coach and retool the roster if they're going to avoid another early playoff loss next season.