The Oklahoma City were arguably the most surprising team in the NBA this season.
After trading stars Russell Westbrook and Paul George in the offseason for a slew of future draft picks and an oft-injured and aging star in Chris Paul, the Thunder seemed destined for a lengthy rebuild.
Instead, they won 61 percent of their games, finished in fifth place in the Western Conference, took the Houston Rockets to seven games in the first round of the NBA Playoffs, had a retro season from Paul, saw second-year guard Shai Gilgeous-Alexander become one of the best all-around young players in the league, Billy Donovan was a Coach of the Year finalist, and suddenly looked like their rebuild plans might change from complete teardown to tweaking the roster as they continuously add young players thanks to their collection of future first round draft picks.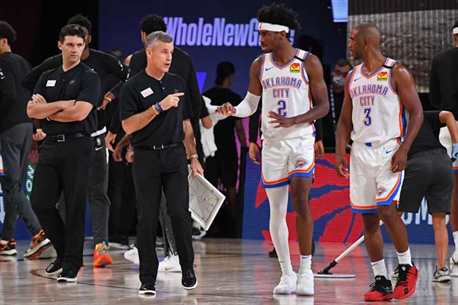 Or … would it?
Immediately after the season ended, the Thunder and Donovan announced they'd mutually agreed to part ways. There were rumors that Donovan didn't want to coach a rebuilding team, but the fact that Donovan later took a job with the Chicago Bulls, who are also in the midst of a rebuild, seems to suggest that wasn't the case. Donovan had won over 60 percent of his games as Thunder coach and made the playoffs each of his five seasons.
If the Thunder are indeed rebuilding, that would seem to suggest Paul might be the next player to leave. When the Thunder acquired him last year, Paul was coming off of several seasons of poor health and declining production. Combined with his max contract, he didn't seem to be a factor in the team's future plans, but he was also not movable – most teams wanted an asset like a first-round pick to take on his contract.
But after a bounce-back season where Paul again proved to be among the best point guards in NBA history, he might have renewed interest this offseason. One rumor that gained momentum after the NBA-leading Milwaukee Bucks were eliminated in the second round of the playoffs was that the Bucks could try to trade for Paul as a way to keep superstar Giannis Antetokounmpo happy. The New York Knicks also have reportedly thought about trading for Paul and bringing back former star Carmelo Anthony, who is a friend of Paul.
Paul may have rebuilt his value enough to bring back another first round pick – the Thunder already have 11 from 2020 to 2024.
The Thunder will also likely lose veteran forward Danilo Gallinari, a valuable offensive player and perimeter threat, and veteran center Steven Adams, a good rebounder and defensive player, could have significant value on the trade market in the last year of his contract.
Oklahoma City was a fun surprise team this year, exceeding nearly all predictions, but that doesn't mean the team's leadership has changed its stance on tearing down the roster and starting over.