The Minnesota Timberwolves will pick first in the NBA Draft, which takes place on November 18, after winning the Draft Lottery on August 20.
Although there is debate over what prospect best fits the team's needs, something that isn't up for debate is that the Timberwolves are in better position than most teams picking No. 1 with two young All-Stars in D'Angelo Russell and Karl-Anthony Towns already on the roster.
The dream scenario for the Timberwolves would be using the No. 1 pick for a super trade that lands Devin Booker in Minnesota. Booker is friends with Russell and Towns, and the trio has reportedly talked about uniting on a team in the past. But Booker, coming off of an All-Star season and an impressive run in the NBA bubble in which he led the Suns to an 8-0 record, is probably about as close to untouchable as it gets after that, and even if a trade were a possibility, it would probably take more than the four first round picks and elite prospect the Clippers gave up to get Paul George from Oklahoma City in the offseason – Booker is younger and already a better player than George.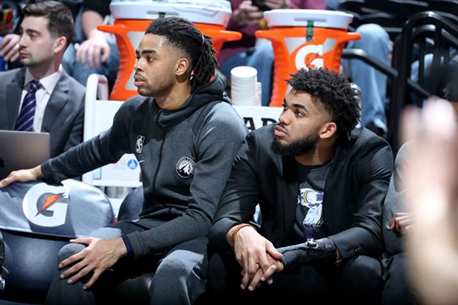 So, assuming the dream scenario of Booker is off the table and the Timberwolves use the pick, who do they take? The consensus top three prospects in the draft are shooting guard Anthony Edwards, point guard LaMelo Ball, and center James Wiseman. Wiseman is likely out of consideration for Minnesota since he plays the same position as Towns. But the two guards in that mix both offer intriguing options.
Edwards would slide in at shooting guard next to Russell, and give Minnesota a formidable trio of young wings with last year's lottery pick Jarrett Culver and Josh Okogie both showing flashes of potential. Edwards is a dynamic athlete and a great perimeter shooter – something that would certainly create more space for Towns inside and provide a target for Russell on his drives inside.
Speaking of Russell, he's technically a point guard and the team is locked into him for the foreseeable future. But that wouldn't necessarily dissuade them from taking Ball. Ball is a more natural passer than Russell, whose shoot-first tendencies also make him a fit at shooting guard. Drafting Ball, who has good size for his position, could easily allow Russell to slide over.
After the Timberwolves, another team full of established All-Stars picks second. The Warriors – with Steph Curry, Klay Thompson, and Draymond Green all healthy next season – figure to be a title contender again. They also don't have much use for rookie guards like Edwards or Ball with Curry, Thompson, and Andrew Wiggins locked into long-term contracts. So expect the Warriors to trade this pick, especially if the Timberwolves take Edwards at No. 1. Several teams would likely be interested in trading up for Ball. If they stay put and use the pick, though, Wiseman's shot-blocking abilities might make him an intriguing fit next to Green in the frontcourt.
The Charlotte Hornets pick third, and would love it if Wiseman falls to them at three. They've long been looking for a center who can block shots and run with their collection of young guards. Wiseman would be a perfect fit and a potential anchor for their defense for years to come.
Here is the full lottery order:
Timberwolves
Warriors
Hornets
Bulls
Cavaliers
Hawks
Pistons
Knicks
Wizards
Suns
Spurs
Kings
Hornets
Celtics (via a trade with the Grizzlies)