The NBA is still planning to restart the 2019-20 season at the end of July, and the unpredictability of the eight remaining regular season games will certainly impact races for league awards. But with much of the season complete, we certainly have enough data to guess at this year's recipients.
Most Valuable Player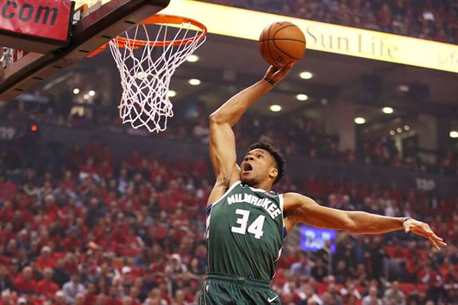 The favorite: Last year's winner, Giannis Antetokounmpo, has improved his scoring, rebounding, and three-point shooting while leading the Bucks to the NBA's best record.
The sentimental pick: LeBron James will be a sentimental favorite for a variety of reasons, starting with his production. He is averaging 26 points and a career-high 10 assists per game, serving as the Lakers primary point guard this season. If he wins, he'd be the oldest MVP in league history. His leadership for the Lakers and the league after Kobe Bryant's tragic death earlier in the season while playing through his own grief also certainly bolsters his case.
Others in the running: James Harden is once again leading the league in scoring; Luka Doncic has been a do-it-all force for the surprising Mavericks; Kawhi Leonard is leading the Clippers to what could be a LA vs. LA showdown in the Western Conference Finals.
Rookie of the Year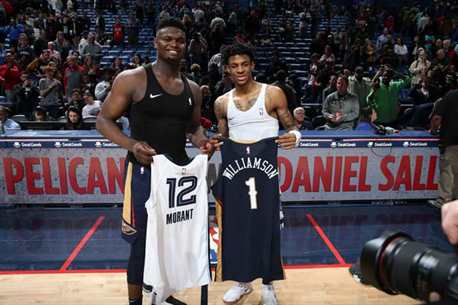 The favorite: Ja Morant has led the surprising Grizzlies to playoff contention sooner than anyone expected. He's leading the team in scoring and assists, and Memphis has a 3.5 game lead over their closest competitor for the eighth seed.
The phenom: Practically speaking, Zion Williamson shouldn't have a chance at this award, having only played in 19 games. However, those 19 games were elite. He's averaging 24 points and 7 rebounds per game, shooting nearly 60 percent and making nearly 50 percent of his three-pointers. He was an instant star for the Pelicans and, even if he doesn't win, he'll be one of the league's biggest stars very soon.
Others in the running: Who are we kidding? This is a two-person race.
Most Improved Player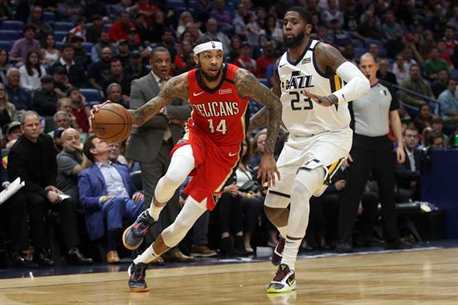 This is the hardest award to predict year-to-year, and this year is even more difficult with a collection of players with compelling – and different – cases.
Up and comers: After being sent to the Pelicans in the Anthony Davis trade, Brandon Ingram morphed into an elite wing scorer and earned and All-Star nod. Shai Gilgeous-Alexander had a similar jump after being shipped out of LA, from the Clippers to the Thunder in the Paul George trade. His scoring and defense have Oklahoma City as a surprise playoff team. Luka Doncic improved on his rookie season and is a legitimate MVP candidate in his second year, which should be more than enough to deserve this award as well. And last year's winner, Pascal Siakam, has a case to be a back-to-back winner after playing a key complementary role to Kawhi Leonard last year and then moving into the spot as the Raptors' No. 1 option this year. Jayson Tatum emerged as Boston's top option, an All-Star, and one of the league's best young wings. Bam Adebayo and Domantas Sabonis both made All-Star appearances for the first time, and Heat player Duncan Robinson has become one of the league's most deadly three-point shooters. So … take your pick from any number of worthy candidates here.
Coach of the Year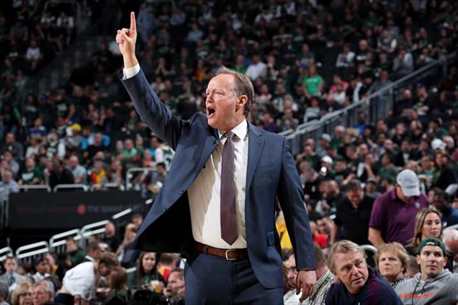 The favorites: Mike Budenholzer's Bucks have the NBA's best record and were a threat to hit 70 wins much of the season, before it was cut short. Frank Vogel has – perhaps surprisingly – kept a star-studded Lakers team drama-free much of the season, no small feat considering how hard a time some coaches have had keeping LeBron James satisfied. Nick Nurse won a championship in his first season as a head coach last year, lost one of the league's best players in Kawhi Leonard, and still have the second-best record in the East and one of the league's best defenses.
Worthy of consideration: Erik Spoelstra has molded a team that features two undrafted players (Duncan Robinson and Kendrick Nunn) in its rotation into one of the East's best; Nate McMillan has the Indiana Pacers primed to be a surprise at Disney World if Victor Oladipo returns to full health; and Billy Donovan, Rick Carlisle, and Taylor Jenkins have the Thunder, Mavericks, and Grizzlies in playoff contention when few predicted them to be there this season.