Milwaukee Bucks
The Milwaukee Bucks hold a 6.5 game lead for first place in the Eastern Conference with eight games to play, so they've likely wrapped up the East's best record. But with no homecourt advantage left to play for, the Bucks are now simply trying to tune up for the playoffs and draw the best possible first round opponent. Milwaukee will need the work when entering the bubble though – they're one of several teams that have had to shut down practice facilities in recent weeks because of coronavirus concerns.
Here is a look at how the Bucks stack up heading into the restart.
Schedule: July 31 vs. Celtics; Aug. 2 vs. Rockets; Aug. 4 vs. Nets; Aug. 6 vs. Heat; Aug. 8 vs. Mavericks; Aug. 10 vs. Raptors; Aug. 11 vs. Wizards; Aug. 13 vs. Grizzlies
Strengths: Having the reigning MVP – and possibly the favorite to win it again – in Giannis Antetokounmpo is a nice place to start. Antetokounmpo is leading the team in scoring, rebounding, and assists, just as he did a year ago. The Bucks are far from a one-man team, though.
Khris Middleton is coming off his second straight All-Star season and is making 42 percent of his three-pointers. The Bucks have good perimeter shooting (four players in their rotation shoot 36 percent or better from three) and they defend well. They're also deep at every position, so if they are forced to deal with roster depletions at any point in the restarted league schedule, they should have players who can capably fill in.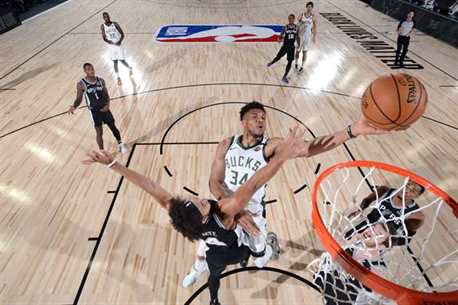 Weaknesses: Ideally, the Bucks will be able to get Brook Lopez going when the regular season restarts. Lopez remade himself as a perimeter-oriented big man last season, hitting 37 percent of his threes and helping create driving lanes for Antetokounmpo with his range. However, this season that number has dipped to 29 percent. Getting Lopez going from the perimeter will make the Bucks' high-scoring offense even more dangerous.
X-factor: Antetokounmpo's production is a given. The real question for the Bucks is how much support will he get in the playoffs? He'll face increased scrutiny and physicality from opposing defenses, which will put more pressure on his supporting cast. One player who could use a strong playoff showing is Eric Bledsoe. Bledsoe's shooting dipped from 48 percent to 41 percent in last year's playoffs. Milwaukee needs his contributions on both ends of the floor if they're going to break through and make their first Finals appearance this season.
Outlook: The Bucks have breezed through two straight regular seasons and have the league's best (and still improving) player. The key to keeping him long-term will be measured by their ability to take the next step and compete for a championship this season. Anything short of that will be a major disappointment for them.
Toronto Raptors
How does a team in a major North American city win its first NBA championship, lose a star player in free agency and seamlessly replace him from within, remain one of the best defensive teams in the league, have a 15-game winning streak, survive a laundry list of injuries to key players, and enter the playoffs with almost no attention? Welcome to following the Toronto Raptors.
Here is a look at how the Raptors stack up heading into the restart.
Schedule: Aug. 1 vs. Lakers; Aug. 3 vs. Heat; Aug. 5 vs. Magic; Aug. 7 vs. Celtics; Aug. 9 vs. Grizzlies; Aug. 10 vs. Bucks; Aug. 12 vs. 76ers; Aug. 14 vs. Nuggets
Strengths: Any conversation about the Raptors starts with their defense. They're second in the league in defensive rating, are second in opponents' field goal percentage allowed 43 percent, and defend the three-point line better than any team in the league.
They're also one of the league's deepest teams, thanks to their ability to develop from within. Pascal Siakam, the league's most improved player last season, became a legitimate No. 1 option this season. Norman Powell, Fred VanVleet, and Terrance Davis are all valuable rotation players despite being second round or undrafted players. And steady veterans Kyle Lowry, Marc Gasol, and Serge Ibaka round out a balanced rotation.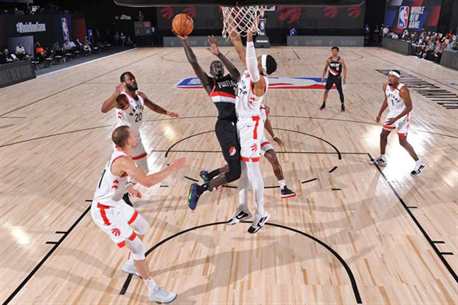 Weaknesses: Siakam broke out during last year's playoffs as the second option to Kawhi Leonard. With Leonard gone, is Siakam ready to be the go-to player on a championship contender? The good news for him is he'll have plenty of support – Lowry and Gasol have both been All-Stars and are capable of taking big shots in pressure situations. But despite the quality of the team's lineup, make no mistake that the Raptors won last year's title on the strength of Leonard's otherwordly performances. Siakam is talented and capable, but asking him to fill Leonard's shoes is not an easy – or fair – request.
X-factor: OG Anunoby moved into the starting lineup this season and made solid contributions, shooting 50 percent overall, making 38 percent of his threes and playing solid defense. But the former first round pick has shown flashes of taking another step forward, and if he can go from being a nice rotation player to a reliable offensive option during the league restart, the Raptors championship chances will dramatically improve.
Outlook: For a defending champion in the midst of a great season, the Raptors have successfully avoided the drama many champions trying to repeat encounter. As the first team to enter the bubble and begin practicing, can that quiet combined with being the first to acclimate to the new environment give them a leg up on their competitors?
Boston Celtics
The Boston Celtics bounced back nicely from a tumultuous 2018-19 season and saw Jayson Tatum emerge as one of the league's brightest young stars. But Tatum, who is eligible for a lucrative contract extension at season's end, also is among the players who have a lot to lose as they risk their health during the season restart. Could that prove to be a distraction in a season that has otherwise been free of them for Boston?
Here is a look at how the XXX stack up heading into the restart.
Schedule: July 31 vs. Bucks; Aug. 2 vs. Trail Blazers; Aug. 4 vs. Heat; Aug. 5 vs. Nets; Aug. 7 vs. Raptors; Aug. 9 vs. Magic; Aug. 11 vs. Grizzlies; Aug. 13 vs. Wizards
Strengths: Tatum blossomed into a legitimate go-to scorer, No. 1 option and All-Star for the Celtics this season, which makes their roster highly intriguing in the playoffs because Tatum actually has a lot of support around him. Kemba Walker is also an All-Star and fully comfortable carrying an offense. Jaylen Brown is one of the league's most versatile guards offensively and defensively, and Gordon Hayward bounced back nicely after spending last season recovering from a serious leg injury.
More importantly, for when Boston gets deeper into the playoffs, Brown and Marcus Smart give the Celtics two exceptional and strong perimeter defenders to throw at the league's most dynamic wing players.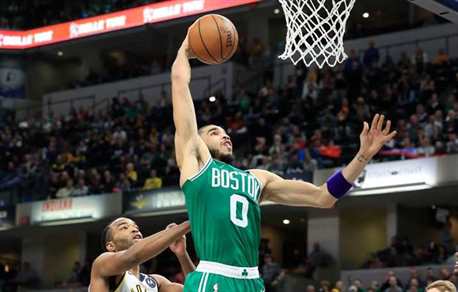 Weaknesses: The team is somewhat untested up front. Daneil Theis, Semi Ojeleye, and Robert Williams III have all had promising moments, and veteran Enes Kanter is a reliable scorer (though a porous defensive player) and rebounder, but bigger teams in the league should be able to exploit Boston's frontcourt and create mismatches.
X-factor: Hayward, who will likely have to leave the team for the birth of his child sometime in September, bounced back this season after a poor 2018-19 season that saw his scoring and three-point shooting dip. His versatility and ability to serve as a No. 1 option in a pinch take pressure off of Tatum, so if he can carry over his regular season success into the playoffs, the Celtics could be very dangerous.
Outlook: The Eastern Conference is wide open, and while the Celtics might not have the best player on the court in a series against Toronto or Milwaukee, neither of those teams boast a top four as good as Boston's.
Miami Heat
The Miami Heat are among the NBA teams that have had to close their practice facility due to positive tests for coronavirus. Entering the bubble allows the team to start practicing again.
Here is a look at how the Heat stack up heading into the restart.
Schedule: Aug. 1 vs. Nuggets; Aug. 3 vs. Raptors; Aug. 4 vs. Celtics; Aug. 6 vs. Bucks; Aug. 8 vs. Suns; Aug. 10 vs. Pacers; Aug. 12 vs. Thunder; Aug. 14 vs. Pacers
Strengths: The Heat signed one of the league's prized free agents last offseason in Jimmy Butler, but the key to their improvement as one of the East's best team this season has actually been due to internal development.
Undrafted players Kendrick Nunn and Duncan Robinson have both emerged as productive starters. Robinson has become one of the league's best three-point shooters. And do-it-all center Bam Abedayo made the All-Star team for the first time and serves as a rim protector on defense and facilitator on offense.
But as the team gears up for the playoffs, the team's veterans should be well-positioned to take over. Butler, Andre Iguodala, and Jae Crowder give the team three rugged and versatile perimeter defenders, while point guard Goran Dragic is a productive shooter and passer. As long as Robinson and Nunn continue their strong perimeter shooting, the Heat should be in a good position to make a run in the East playoffs.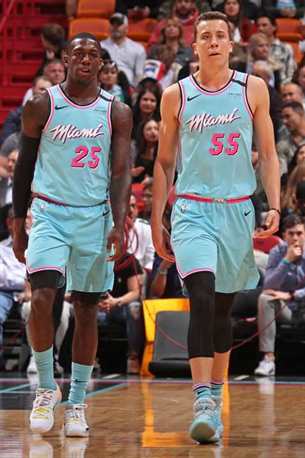 Weaknesses: Outside of Dragic, the team's backcourt is relatively inexperienced. Nunn, Robinson, and Tyler Herro give the team three rookies in its regular guard rotation. None of those players are known for their defense, either, so Butler and Iguodala will likely have to slide over from the small forward spot to guard some of the East's dynamic guards.
Butler has struggled from the three-point line this season, hitting just 25 percent from distance. Crowder has also shot poorly from three for the season at 32 percent. And Iguodala has barely played after spending much of the season on the Memphis inactive list before a trade brought him to Miami mid-season.
X-factor: Nunn and Robinson had better seasons, but the Heat have a lot of upside in their other rookie, Herro. Herro had an up and down rookie season and missed significant time with injuries. But he's also a confident, big shot maker whose fearlessness and 39 percent three-point shooting should come in handy in the playoffs. Herro is streaky, but had a handful of explosive performances off of Miami's bench this season and should get opportunities for the Heat down the stretch. If he plays well, he gives the team four guards who are all elite perimeter shooters.
Outlook: Butler is an established star, and Abedayo gives the Heat one of the most unique and difficult players to gameplan for in the East. Those two, mixed with shooters and veterans in a neutral setting make Miami a dangerous opponent for any team in the playoffs.
Indiana Pacers
It's good news and bad news for the Pacers, as the team will be without star player Victor Oladipo, who elected not to play in Orlando, but should be bolstered by having Malcolm Brogdon in the lineup. Brogdon tested positive for coronavirus earlier this summer, but he's expected to be cleared to play.
Here is a look at how the Pacers stack up heading into the restart.
Schedule: Aug. 1 vs. 76ers; Aug. 3 vs. Wizards; Aug. 4 vs. Magic; Aug. 6 vs. Suns; Aug. 8 vs. Lakers; Aug. 10 vs. Heat; Aug. 12 vs. Rockets; Aug. 14 vs. Heat
Strengths: The Pacers played much of this season without Oladipo, but got by just fine. Bargain offseason acquisition T.J. Warren led the team in scoring and shot 53 percent overall and 37 percent from three-point range. Free agent signee Brogdon helped take over Oladipo's responsibilities as a facilitator. And big man Domantas Sabonis developed into an All-Star and a double-double machine. Factor in Myles Turner, and the Pacers may not have a traditional franchise player, but they do have four very good players who are all matchup problems and are all capable of having big offensive nights.
The team also has a lot of depth, even with Oladipo out. Aaron Holiday, Justin Holiday, Jeremy Lamb, Doug McDermott, and T.J. McConnell are all capable to stepping into bigger roles if needed.
The team is solid defensively, and Turner is one of the league's best rim protectors, averaging 2.2 blocks per game.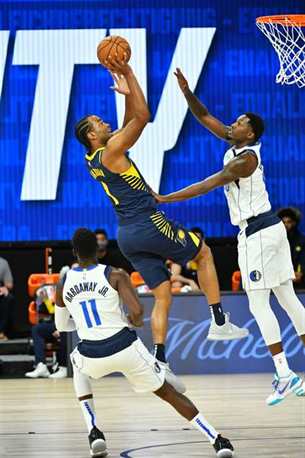 Weaknesses: The Pacers lack a clear go-to scorer who consistently creates his own shot. Warren emerged as an efficient scorer this season and Sabonis continues to improve, but neither is a traditional isolation star, which teams that make deep playoff runs typically need.
Brogdon has also struggled shooting the ball much of the season. In Milwaukee, he was on the verge of being a 50-40-90 player, but with the Pacers, he's scored more but on less efficient shooting. He's making just 43 percent of his shots overall and 31 percent of his three-pointers. With Oladipo out, Brogdon will have to pick up his offense.
X-factor: Brogdon is a good answer here, but Turner is also a high upside player who didn't quite take the leap forward this season many expected. Turner's shooting, three-point shooting, scoring, and rebounding are all down from last season despite a slight uptick in minutes. When he's playing well, he gives the team a rim-protecting, athletic, stretch big who would be a matchup problem for most teams. If he can put together a big playoff run, Oladipo's loss won't be as significant.
Outlook: Indiana has an intriguing young roster and coach Nate McMillan gets more out of it than perhaps any coach of a top team in the East. But minus their star, the Pacers are probably a year away from making a serious run.
Philadelphia 76ers
Prior to the season shutting down, the 76ers had lost Ben Simmons indefinitely with an injury and were struggling. Now, Simmons has healed (and got noticeably more muscular) and Joel Embiid is rested and (grudgingly, judging by his hazmat suit) joining the team in Orlando.
Here is a look at how the 76ersstack up heading into the restart.
Schedule: Aug. 1 vs. Pacers; Aug. 3 vs. Spurs; Aug. 5 vs. Wizards; Aug. 7 vs. Magic; Aug. 9 vs. Trail Blazers; Aug. 11 vs. Suns; Aug. 12 vs. Raptors; Aug. 14 vs. Rockets
Strengths: Philadelphia's top three players – Simmons, Embiid, and Tobias Harris – are as good as any trio in the league. Injuries have hampered Simmons and Emiid throughout their careers, so the Sixers are one team that could actually benefit from extended rest.
The Sixers are also surrounded with great perimeter shooters in Glen Robinson III, Alec Burks, Shake Milton, and Josh Richardson. The spacing they provide helps create room for Embiid to operate inside and compensates for the fact that Simmons is not a comfortable perimeter shooter.
Embiid's size at center and Simmons' size at point guard also make Philadelphia one of the most difficult teams to defend.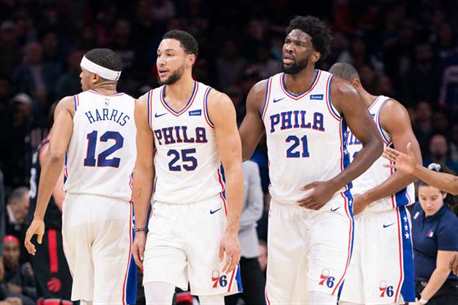 Weaknesses: Health is always a question mark for Philadelphia, but the biggest question for them will be how they perform in a setting where they're always on the road. The Sixers are the league's best home team at 29-2. Even a pedestrian rode record would have them among the league's best teams, but the team has struggled to a 10-24 mark away from home. How will they adjust to being away from their home arena permanently? Their talent is unquestioned, but until they consistently perform in a road environment, there will be plenty of skeptics about how far they advance in the playoffs.
X-factor: Al Horford was one of the biggest free agent signings of the offseason and was supposed to give Philadelphia a legitimate big four. Instead, Horford has struggled and even been unplayable at times. At his best, Horford is one of the league's best defensive big men, a high IQ player, and a productive perimeter threat. If the extended rest allowed him to recharge and approach his normal production levels, the Sixers become a dangerous team in the bubble.
Outlook: Even with their flaws, Simmons and Embiid are two legitimate stars who give Philadelphia a fighting chance in a series against any team in the league.
Brooklyn Nets
The Nets enter the Orlando bubble almost unrecognizable. Already without star free agent signing Kevin Durant, the team also will be without Kyrie Irving, Spencer Dinwiddie, Taurean Prince, and DeAndre Jordan. They also made a coaching change just before the season was suspended, so Jacque Vaughn will get an extended look in a strange environment.
That doesn't mean they won't be intriguing, though. Veteran gunners Jamal Crawford and Michael Beasley were added to the roster as was G-League standout Donta Hall.
Here is a look at how the Nets stack up heading into the restart.
Schedule: July 31 vs. Magic; Aug. 2 vs. Wizards; Aug. 4 vs. Bucks; Aug. 5 vs. Celtics; Aug. 7 vs. Kings; Aug. 9 vs. Clippers; Aug. 11 vs. Magic; Aug. 13 vs. Trail Blazers
Strengths: There will be a lot of interest in the return of Crawford, one of the best sixth men and ballhandlers in NBA history. He's sat out the entire season and scored 51 in the last game he played in a season ago, so he'll likely be eager to prove he has some miles left in his career.
But the reality is this will be Caris LeVert's time to break out. LeVert has shown flashes of brilliant play in his career – including his own 51-point performance in March – but has had an awful time with injuries. He was just getting back into game shape when the season was suspended, so the extended rest should've allowed him to fully heal and now he'll get plenty of shots as the focal point of Brooklyn's offense. Finding out if he's another star the team can build around will be the biggest goal for the Nets.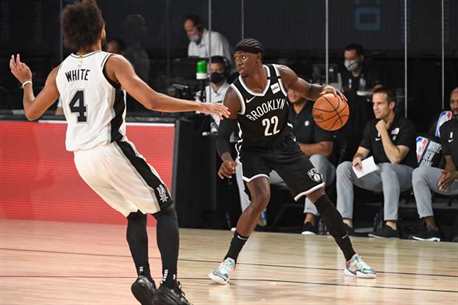 Weaknesses: Working several new players into the lineup while preparing for the playoffs and all under a new coach should prove to be plenty challenging for the Nets. With both Irving and Dinwiddie out, the team also lacks a true point guard/facilitator on the roster. Much of those responsibilities will likely fall to Crawford, who isn't exactly known for setting up shots for others. With Beasley replacing Prince's role, and without Jordan to protect the rim, the defense is likely to suffer as well.
X-factor: Jarrett Allen was one of the league's most exciting young big men a season ago with his combination of athletic dunks and absolutely fearless shot blocking abilities. Allen's reward? The team signed an older player who plays the same position and forced him to split minutes this season. With Jordan now out, though, expect a heavy dose of Allen and a collection of highlight reel plays.
Outlook: Even with most of their regulars missing, the Nets stand very little chance of losing their playoff spot, and a win against Washington in their second game will all but guarantee they sneak into the playoffs.
Orlando Magic
Can an actual Disney story happen right at Disney World? It's unlikely the Orlando Magic can pull off any major playoff upsets, but the only home team in the bubble certainly has enough intriguing talent to push the East's top teams.
Here is a look at how the Magic stack up heading into the restart.
Schedule: July 31 vs. Nets; Aug. 2 vs. Kings; Aug. 4 vs. Pacers; Aug. 5 vs. Raptors; Aug. 7 vs. 76ers; Aug. 9 vs. Celtics; Aug. 11 vs. Nets; Aug. 13 vs. Pelicans
Strengths: The Magic are a solid defensive team and spent much of the season among the league leaders in opposing scoring. That's due in part to the slow pace the team plays at, but they also have a good mix of size, athleticism and length on their frontline in Evan Fournier, Aaron Gordon, and Nikola Vucevic.
Offensively, they struggle to score (again, partially because of their pace), but it's not for a lack of scorers. Vucevic is a former All-Star who has long been one of the better scorers around the basket and has extended his range out to the three-point line. Fournier is a slasher who excels in the mid-range. Gordon struggled most of the season, but was starting to put things together in the second half of the season and gives the team a legitimate third options on offense when he's playing well.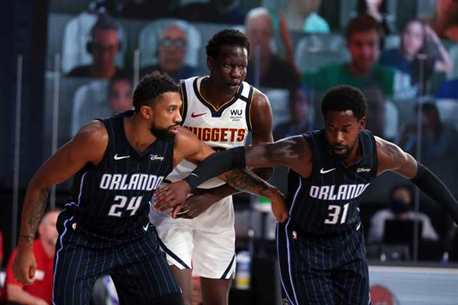 Weaknesses: Outside of Terrance Ross, the Magic don't have much perimeter shooting. Stretch big Jonathan Isaac is still injured and unlikely to play in Orlando. D.J. Augustin is capable, but only hit 34 percent of his threes this year, and backup point guard Michael Carter-Williams isn't a perimeter threat.
The team also plays slow, which keeps scores close, but that also impacts their come-from-behind ability when opponents get out to big leads early.
X-factor: Former No. 1 pick Markelle Fultz showed flashes this season of the promise that made Philadelphia trade up to select him, a welcome development for a player who at one time looked like he was in danger of quickly flaming out of the league. With extended rest and playing in an environment close to home, Fultz is an intriguing young candidate to have a breakout performance in the Orlando bubble.
Outlook: The Magic aren't contenders, but they have enough intriguing young talent to make things tough on the elite teams, and being closer to home than most should have some intangible comforts and advantages for them.
Washington Wizards
The Wizards just barely snagged an invite to the Orlando bubble, trailing the Magic by 5.5 games for the final playoff spot. Then when star Bradley Beal announced he wouldn't be playing, and the common question in response was, "Why is Washington here again?" But the Wizards are here, and this is how they stack up heading into the restart.
Schedule: July 31 vs. Suns; Aug. 2 vs. Nets; Aug. 3 vs. Pacers; Aug. 5 vs. 76ers; Aug. 7 vs. Pelicans; Aug. 9 vs. Thunder; Aug. 11 vs. Bucks; Aug. 13 vs. Celtics
Strengths: Although the Wizards are extreme longshots to make the playoffs, the Orlando bubble minus stars Beal and John Wall gives Washington a chance for a long look at promising rookie Rui Hachimura. Hachimura missed a lot of time with injuries this season, but showed flashes of potential and could be a nice complementary piece to Beal and Wall when both are healthy next season. He hit 40 percent of his three-pointers in the last 10 games before the season was suspended.
Another young player who could see significant action is Moe Wagner. Wagner is a stretch big who was productive in his first season as a rotation player after the Lakers moved him in a salary dump in the offseason. With Davis Bertans electing not to play in Orlando, Wagner should see his minutes increase.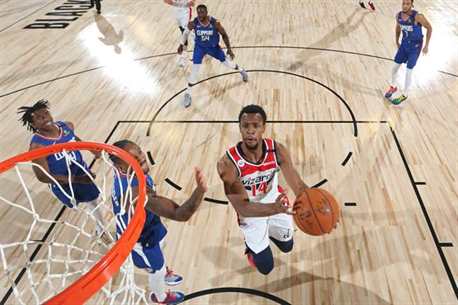 Weaknesses: Washington's backcourt is in shambles. Beal and Wall are out, and Gary Payton II tested positive for coronavirus shortly before the team departed for Orlando, so they'll be without him as well. That leaves journeyman Ish Smith, Shabazz Napier, and Troy Brown Jr. as the team's primary guards.
Losing both Beal and Bertans also significantly weakens Washington's perimeter shooting. The Wizards are likely to struggle to score throughout their eight games in Orlando.
X-factor: Smith has been a competent backup point guard throughout his career, and now the veteran will get a chance to be a No. 1 option on a team. He's the one player on the Wizards' roster who can create shots for himself and others, and he figures to have the ball in his hands a lot for shorthanded Washington.
Outlook: The Wizards would've needed a miraculous effort and Orlando or Brooklyn falling apart to have a shot at the playoffs, even at full health. Expect Washington to play hard and take an extended look at young players, but they're simply overmatched in the Orlando bubble.