With the NBA restart just around the corner, which teams are poised and primed to make a deep run? Take a look at strengths, weaknesses, schedule, and x-factors to get a better understanding of how your squad stacks up in the league's (arguably) toughest conference.
Los Angeles Lakers
When the 2019-20 NBA season restarts on July 31, the Los Angeles Lakers may have the second-best record in the league, but they could be the favorites to win the 2020 NBA Championship.
The Lakers enter the Disney World bubble leading the Western Conference, with a comfortable 5.5 game lead over the Los Angeles Clippers. They are three games behind the NBA-leading Milwaukee Bucks for the top overall record. With all games being played in the same location, homecourt advantage is no longer a factor, but getting favorable matchups in the first round of the NBA Playoffs certainly is.
Here is a look at how the Lakers stack up heading into the restart.
Schedule: July 30 vs. Clippers; Aug. 1 vs. Raptors; Aug. 3 vs. Jazz; Aug. 5 vs. Thunder; Aug. 6 vs. Rockets; Aug. 8 vs. Pacers; Aug. 10 vs. Nuggets; Aug. 13 vs. Kings
Strengths: The Lakers feature two MVP candidates in LeBron James and Anthony Davis. James is a sentimental choice, as he would be the oldest player in league history to win MVP and he continues to add to his arsenal – he's averaging a career-best 10.6 assists per game as the Lakers' primary ballhandler this season. Davis, meanwhile, is leading the team in scoring, rebounding, and blocked shots.
But the Lakers are far from a two-man team. The team is well-suited to playoff basketball with rugged perimeter defenders in Danny Green, Alex Caruso, Kentavious Caldwell-Pope, and Avery Bradley, complemented by strong rim protectors in Davis, Dwight Howard, and JaVale McGee.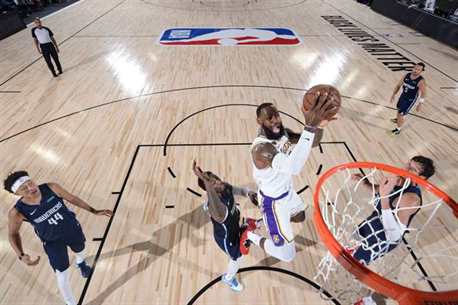 Weaknesses: Do the Lakers have enough playmaking outside of James? James has played point guard out of necessity. Veteran Rajon Rondo has struggled, and none of the other rotation players on the team are typical point guards. That puts immense pressure on James to facilitate, and if he needs more rest – which he might in what will be a sprint of a finish to the restarted season – the Lakers offense struggles.
X-factor: Kyle Kuzma. As the lone holdover from the Lakers' brief youth movement prior to acquiring James and Davis, Kuzma was expected to serve as a third scoring option to take pressure off of Davis and James and stretch the floor with this three-point range. Instead, he's making just 33 percent of his threes and has had a season full of up-and-down performances. But when he's on, Kuzma is capable of scoring efficiently from range and around the basket with his height and collection of crafty moves. Perhaps no Laker is under more pressure to have a big performance as the season restarts – if he struggles in the playoffs, the Lakers could look to move him in the offseason.
Outlook: Holding onto the No. 1 seed in the West could benefit the Lakers in a number of ways. First, with the Clippers unlikely to fall lower than third, the Lakers could avoid their intra-city rival until the Western Conference Finals. They'd also likely draw an easier first round opponent – currently projected to be the young and playoff untested Memphis Grizzlies. If they fall to the second seed, likely first round opponents would include former MVP James Harden and the Rockets, MVP candidate Luka Doncic and the Mavericks, or veteran Chris Paul and the Oklahoma City Thunder.
Los Angeles Clippers
When the NBA season paused in March, the Los Angeles Clippers were just starting to get comfortable re-integrating injured stars into the lineup and mixing in some trade deadline acquisitions into the rotation. When play restarts July 30, they'll have to begin that process again with some uncertainty around another star. Sixth man scoring machine Lou Williams has said he's only "50-50" on whether he'll join the Orlando bubble and play. If he doesn't, his offense leaves a big scoring void behind stars Kawhi Leonard and Paul George.
Here is a look at how the Clippers stack up heading into the restart.
Schedule: July 30 vs. Lakers; Aug. 1 vs. Pelicans; Aug. 4 vs. Suns; Aug. 6 vs. Mavericks; Aug. 8 vs. Trail Blazers; Aug. 9 vs. Nets; Aug. 12 vs. Nuggets; Aug. 14 vs. Thunder
Strengths: The Clippers enter the season restart with perhaps the best perimeter defense of any team in the league. Leonard and George have long been two of the NBA's best wing defenders, and Patrick Beverley is tenacious and pesky against opposing point guards. Throw in physical forward Marcus Morris, acquired at the trade deadline, and the Clippers have no shortage of players capable of making things difficult for LeBron James and any other star forward remaining teams have to offer.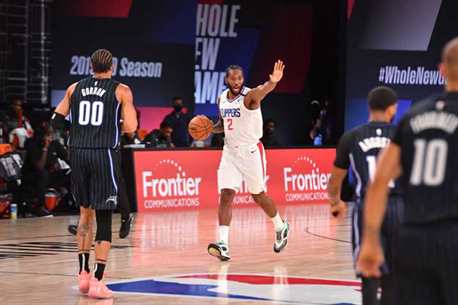 Weaknesses: Outside of Leonard, George, and Williams, the Clippers have inconsistent offensive options. Montrezl Harrell is a dynamic spark plug and efficient scorer, but doesn't create his own shots. Morris has struggled shooting the ball from three-point range since the team acquired him. And the team's overall health is always a question mark. Leonard, George, and Beverley have all missed significant time due to injury, and reserves Joakim Noah and Reggie Jackson have long injury histories.
X-factor: If Williams is unable to go, Jackson could get a big opportunity to contribute. The Clippers brought in Jackson after he was bought out by the Pistons after the trade deadline. Jackson has struggled with serious back injuries for parts of the last three seasons, but in nine games with the Clippers, he's looked like his old self – including making 45 percent of this three-pointers. When healthy, Jackson is a great pick and roll guard and was at one time pre-injuries one of the best fourth quarter scorers in the NBA. With or without Williams, he should get plenty of chances to take offensive pressure off the team's stars as the season ends.
Outlook: The Clippers trail the Lakers by 5.5 games for first place, so getting the top seed in the playoffs is probably out of the question with only eight games left. However, there is a big advantage to them staying in second or third place in the West. If they fall to fourth (they only have a 3-game lead over the fourth place Jazz), that could mean they'd have to face the Lakers in the second round rather than in the conference finals if they hold their current spot.
Denver Nuggets
The Denver Nuggets have been near the top of the Western Conference standings all season, but how would they fare without their franchise center?
Nikola Jokic tested positive for coronavirus in June and is still in Europe, although Nuggets coach Mike Malone said that Jokic has recovered and should be able to rejoin the team in Orlando. Nearly all elements of Denver's offense rely on Jokic's unique mix of passing and scoring abilities, so the team would look drastically different if forced to play without him. But should he be ready to play and at full strength, fans will also get to see a different, slimmed down version of Jokic that briefly had the internet buzzing when pictures of his new physique surfaced last month.
Here is a look at how the Nuggets stack up heading into the restart.
Schedule: Aug. 1 vs. Heat; Aug. 3 vs. Thunder; Aug. 5 vs. Spurs; Aug. 6 vs. Trail Blazers; Aug. 8 vs. Jazz; Aug. 10 vs. Lakers; Aug. 12 vs. Clippers; Aug. 14 vs. Raptors
Strengths: Jokic is obviously the hub that Denver's offense runs through. The big man leads the team in scoring, rebounding, and assists. But although he's the team's only All-Star, the Nuggets are far from a one-man show. They have as much overall depth as any team in the league, a microwave scorer in Jamal Murray, a steady, defensive-minded wing in Gary Harris, a veteran scorer and rebounder in former All-Star Paul Millsap, one of the league's most consistent backup point guards in Monte Morris, and a sharp-shooting stretch four in Jerami Grant. Nearly every player Denver puts on the floor has range – the Nuggets are among the best three-point shooting teams in the league at 36 percent overall.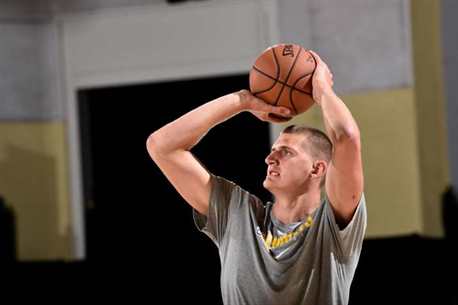 Weaknesses: The lack of a second star could prove problematic for Denver in the playoffs. Murray often serves as Denver's second scoring option on offense, but he's streaky and can combine brilliant play with cold shooting. As defenses toughen in the playoffs and key on Jokic, can Murray (or another player) ascend and become the second star Denver will need to get past the West's elite star-laden teams?
X-factor: It is questionable how much he'll factor into the team's rotation, but arguably no player on the Nuggets' roster outside of Jokic has more star potential than Michael Porter Jr. He has been in and out of Malone's rotation all season, but has provided great production in spurts when he's had consistent minutes. He averaged 12.3 points per game in February and reached double-figures in 10 of 15 games. Denver's rotation is crowded, and Malone might be unlikely to trust stressful late-season minutes to a rookie, but potential-wise, Porter gives the Nuggets a lot of upside should their offense get bogged down.
Outlook: Denver is currently third in the West, unlikely to catch the Lakers for first, but still with a chance to overtake the Clippers for second place. They trail the Clippers by 1.5 games. But the Nuggets also have little margin for error – they only have a four-game lead on seventh place Dallas, so they could fall all the way into a much less favorable first round matchup if they play poorly in their eight remaining games.
Utah Jazz
Forget the impact on the NBA for a minute. No team had more of a national impact on the seriousness of the COVID-19 outbreak than the Utah Jazz.
Jazz center Rudy Gobert tested positive before a game in March, sparking the cancellation of that game and, eventually, the postponement of the NBA season. It also helped heighten awareness in America and, arguably, helped the federal government and business community start taking the pandemic response more seriously.
Now, Gobert and the Jazz get the chance to restart their season and chase a championship.
Here is a look at how the Jazz stack up heading into the restart.
Schedule: July 30 vs. Pelicans; Aug. 1 vs. Thunder; Aug. 3 vs. Lakers; Aug. 5 vs. Memphis; Aug. 7 vs. Spurs; Aug. 8 vs. Denver; Aug. 10 vs. Mavericks; Aug. 13 vs. Spurs
Strengths: There are no secrets to the Jazz success – they win with defense and shooting. The Jazz are the league's best three-point shooting teams and, anchored by Gobert's rim protecting presence in the middle, a strong defensive team. Third-year guard Donovan Mitchell has emerged as one of the league's bright young stars, and gives Utah a potential franchise player who, despite his youth, has already been tested and produced strong playoff performances.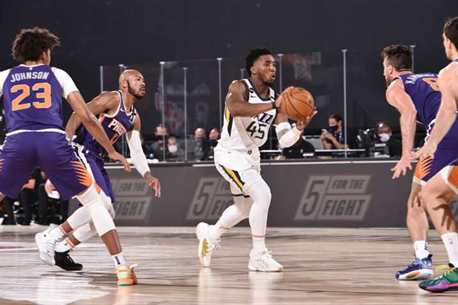 Weaknesses: Gobert wasn't the only Jazz player infected. Mitchell also tested positive for coronavirus shortly after Gobert, and Gobert's initial flippant attitude (before he tested positive, he was widely criticized for jokingly licking reporters' microphones during a press conference) allegedly caused a rift between the team's two stars. Mitchell recently told reporters that they've since patched things up.
The team will also be without sharpshooting guard Bojan Bogdanavic. Bogdanovic took a lot of pressure off of Mitchell with his scoring ability and leaves a huge void in Utah's lineup that Joe Ingles, Jordan Clarkson, and Royce O'Neale will all likely play a role in filling.
X-factor: Mike Conley was one of the biggest acquisitions in the offseason when the Jazz acquired the former Memphis star, but Conley hasn't had an easy first season in Utah. He's struggled with a variety of injuries and hasn't fit as seamlessly into the lineup as predicted. However, with some extended time off to rest and heal, if he can play anywhere near the level he did in Memphis – where he was one of the league's best point guards and helped the Grizzlies through some tough playoff battles – he will be extremely valuable to the Jazz, particularly with Bogdanovic out.
Outlook: The Bogdanovic injury and the tension between Gobert and Mitchell will make the Jazz an easy pick to lose some ground in the competitive West. Homecourt advantage in the playoffs is no longer a factor, but falling a spot or two could mean the Jazz draw a more difficult first round opponent than they'd like.
Oklahoma City Thunder
Maybe the league's most surprising team will have an opportunity to continue sneaking up on teams when the NBA season restarts.
After trading Paul George and Russell Westbrook in the offseason for a collection of draft picks, the Thunder appeared to be playing for the future. Instead, a collection of resurgent veterans and improving young players have Oklahoma City right in the thick of the West playoff race.
Here is a look at how the Thunder stack up heading into the restart.
Schedule: Aug. 1 vs. Jazz; Aug. 3 vs. Nuggets; Aug. 5 vs. Lakers; Aug. 7 vs. Grizzlies; Aug. 9 vs. Wizards; Aug. 10 vs. Suns; Aug. 12 vs. Heat; Aug. 14 vs. Clippers
Strengths: The Thunder are well-balanced, but there's no doubt they are a guard-dominant team. Chris Paul, Dennis Schroeder, and Shai Gilgeous-Alexander combine to average nearly 60 points and 14 assists per game, and each bring a different skillset. Paul is one of the NBA's best point guards of all-time, particularly when it comes to running a halfcourt offense. Schroeder is lightning fast and excels at beating players off the dribble. Gilgeous-Alexander has emerged as a versatile scorer and a very good rebounder from the guard position. Though the trio is small, the Thunder will undoubtedly provide matchup problems for most other teams in the backcourt because of how unique each player is.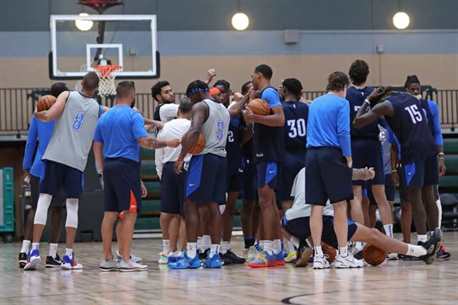 Weaknesses: Other than Steven Adams, the Thunder struggle to rebound. That shouldn't be an issue playing against other small teams, but some of the West's top teams – including the Lakers, Nuggets, and Jazz – all boast big frontcourts that the Thunder could face matchup problems against.
X-factor: Danilo Gallinari is one of the veterans on the Thunder having a retro season. He's second on the team in scoring and, most importantly, as a power forward, provides some balance to the team's guard-heavy attack. If Gallinari can successfully draw opposing bigs away from the basket, it will open up driving lanes for Paul, Shroeder, and Gilgeous-Alexander.
Outlook: The Thunder are currently fifth in the West standings, and there are a couple of interesting playoff scenarios involving Paul's former team. If they move up to third (they're currently 2.5 games behind Denver), they could matchup against their former star and league MVP in Westbrook while Paul renews frosty acquaintances with his former teammate Harden. And if the Thunder fall to seventh, a potential matchup with Paul's former Clippers team awaits.
Houston Rockets
Perhaps no team was more built for the 8-game sprint in the NBA restart than the Houston Rockets. The Rockets play the most star-dominant game of any team, with James Harden and Russell Westbrook taking turns attacking with reckless abandon. And the Rockets also play a short rotation – literally and figuratively. The starters play big minutes, and most of the season, the team played with 6-foot-6 PJ Tucker as their tallest player on the court. So adjusting to a playoff chase when teams traditionally shorten their rotation should be nothing new for Houston, plus now their stars are rested.
Here is a look at how the Rockets stack up heading into the restart.
Schedule: July 31 vs. Mavericks; Aug. 1 vs. Jazz; Aug. 3 vs. Nuggets; Aug. 5 vs. Lakers; Aug. 7 vs. Grizzlies; Aug. 9 vs. Wizards; Aug. 10 vs. Suns; Aug. 12 vs. Heat; Aug. 14 vs. Clippers
Strengths: It's no secret what the Rockets are going to do. Harden and Westbrook are going to get large volumes of shots, and the rest of the players on the roster exist to basically space the court, defend and rebound. Harden finished another MVP caliber season this year, and Westbrook was rejuvenated in Houston. Those two will collectively have opposing defenders on their heels and in foul trouble most nights.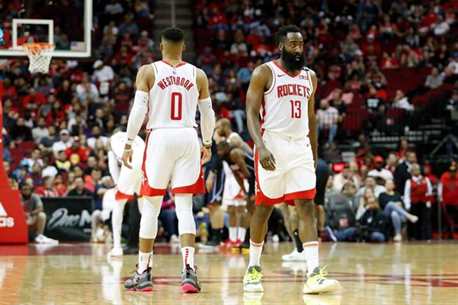 Weaknesses: Houston plays small often – Westbrook, a guard, is the team's leading rebounder. The Rockets typically concede a rebounding disadvantage as long as the team is playing at a fast pace and getting shots/free throws for Harden and Westbrook. If one or the other struggles, though, Houston's roster has a collection of role players who aren't really adept at stepping into a prominent scoring role.
The team will be without Thabo Sefalosha, who elected not to play in the Orlando bubble, but Houston replaced him with veteran Luc Richard Mbah a Moute. Mbah a Moute is a former Rocket, so he should fit in seamlessly.
X-factor: Robert Covington, acquired midseason, is a do-it-all forward who can play multiple positions. And it's a good thing he can, because Houston often asks him to, sometimes simultaneously. Covington is a good shooter, a solid rebounder, a good shot blocker and the team's best perimeter defender. He'll likely draw tough assignments throughout the playoffs against some of the West's many star wings.
Outlook: Houston is currently in sixth place in the West, with a chance to move up. They trail third place Denver by 2.5 games, and even have an outside chance at the second place Clippers (four games back). But there's a good chance Houston is the team most of the top teams in the West are trying to avoid in the first round. The Rockets have had an up and down season, but Harden and Westbrook are two of the hardest to defend players in the league, and both have led teams to deep playoff runs. They'd be a strong upset pick in the first round against several higher-seeded teams.
Dallas Mavericks
The Dallas Mavericks enter the playoffs led by a future league MVP in Luka Doncic. Do they have enough support around him to make a run this year, though?
The Mavs are perimeter heavy, shooting 37 percent from three-point range, one of the best marks in the league. The team will have to rely on that outside touch to make up for some frontcourt deficiencies to make a move in the standings.
Here is a look at how the Mavericks stack up heading into the restart.
Schedule: July 31 vs. Rockets; Aug. 2 vs. Suns; Aug. 4 vs. Kings; Aug. 6 vs. Clippers; Aug. 8 vs. Bucks; Aug. 10 vs. Jazz; Aug. 11 vs. Trail Blazers; Aug. 13 vs. Suns
Strengths: In just his second season, Doncic emerged as a legitimate MVP candidate, averaging nearly 29 points, 9 rebounds, and 9 assists per game. Doncic's only weakness is his perimeter shooting (he hits just 32 percent from three-point range), but the Mavs have plenty of weapons to offset that lack of range in Tim Hardaway Jr., Seth Curry, Maxi Kleber, and more.
More important for the Mavs' prospects, Kristaps Porzingis finally began returning to form in the second half of the season. Porzingis, recovering from a torn ACL, had struggled much of the season but caught fire after January. In February and March, he averaged nearly 25 points, 11 rebounds and 3 blocks per game.
Doncic is big for a point guard, and Porzingis as a 7-foot-3 inside-outside threat, give the Mavs two of the most difficult to defend players among potential playoff teams.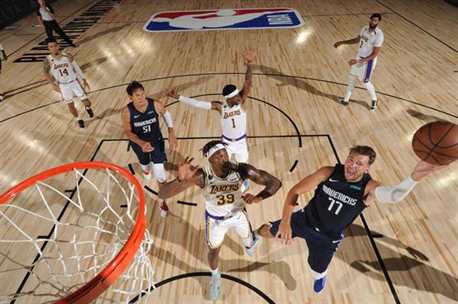 Weaknesses: Behind Porzingis, the Mavs lack size. Dwight Powell is out for the year with a torn Achilles tendon. His replacement, Wille Cauley-Stein, opted out of playing in Orlando because his wife is due to have a baby soon. Dallas is also thin in the backcourt, with Jalen Brunson and Courtney Lee both out with injuries, although the team did sign veteran Trey Burke to help.
X-factor: Hardaway Jr. has become one of the league's best three-point shooters and a reliable third scoring option for the Mavericks. He makes more than 40 percent of his threes, and with Curry (who shoots 45 percent), he gives Dallas the option to go small around Doncic and fill the court with floor-spacers.
Outlook: The Mavericks didn't quite clinch a playoff spot, but with a seven-game lead over eighth place Memphis and only eight regular season games left, they're all but assured a spot. Right now, they're facing a potential first round matchup with the Clippers, the Mavs' lack of size on the wings could be problematic against Kawhi Leonard and Paul George.
Memphis Grizzlies
The Memphis Grizzlies are one of the NBA's youngest teams and also solidified themselves as one of the league's most surprising this season, ascending and holding onto the eighth playoff spot in the competitive Western Conference much of the season.
Their reward? During the NBA restart, the race for that eighth spot will be the most-watched part of the remaining regular season game, and even if the Grizzlies hold on, they might still have to play a mini-tournament unless they can build a lead bigger than four games over their closest competitors for the spot. Currently, the Trail Blazers and Pelicans are 3.5 games back. If either team finishes within four games, the Grizzlies would have to beat that team again to clinch the playoff spot.
Here is a look at how the Grizzlies stack up heading into the restart.
Schedule: July 31, vs. Trail Blazers; Aug. 2 vs. Spurs; Aug. 3 vs. Pelicans; Aug. 5 vs. Jazz; Aug. 7 vs. Thunder; Aug. 9 vs. Raptors; Aug. 11 vs. Boston; Aug. 13 vs. Bucks
Strengths: Rookie point guard Ja Morant is the likely Rookie of the Year and one already one of the league's most dominant playmakers. Plus, he's used the time off during suspended play to bulk up – he's reportedly gained about 12 pounds of muscle since March.
Morant isn't the team's only threat, though. They have a well-balanced inside-out combination in the frontcourt. Sharpshooting Jaren Jackson Jr. Is a nearly 40 percent three-point shooter and a valuable rim protector on defense, while center Jonas Valanciunas gives the team a brutish inside presence who gobbles up rebounds and has even added a reliable three-point shot to his once solely back-to-the-basket game. The team also gets strong contributions from guard Dillon Brooks and has had contributions from reclamation project Josh Jackson (a former lottery pick who was given up on by Phoenix) and steady forward Kyle Anderson.
Should the team play the Lakers in the first round as expected, Jackson Jr. and Valanciunas give the Grizzlies enough size to combat the Lakers' big frontline.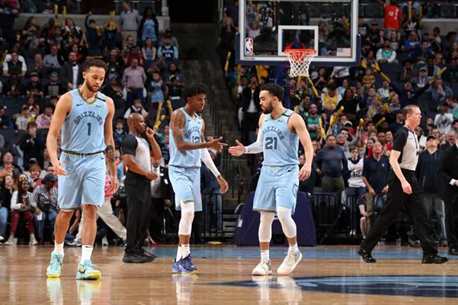 Weaknesses: Youth and inexperience will likely be the biggest hurdle for Memphis. Few players on the roster have playoff experience, and combined with a matchup against a motivated Lakers team, Memphis would be in a tough position in the first round.
X-factor: Memphis was just about to get a look at Justise Winslow before the NBA suspended play in March. Winslow was acquired midseason from the Miami Heat for Andre Iguodala and still offers a lot of upside, but injuries prevented him from debuting with the Grizzlies before play stopped. Winslow struggled for the Heat this season, but prior to that had back-to-back seasons where he hit 38 percent from three-point range. He can play multiple positions offensively and, most importantly for the Grizzlies, defend multiple positions on defense. Facing a likely first round matchup against LeBron James and the Lakers, a versatile wing defender like Winslow would be a huge asset if he's healthy and can contribute.
Outlook: The Grizzlies will find out right away how competitive the race for the eight spot will be. Five other teams are vying for the final playoff spot, and Memphis re-opens the season against three of them – Portland, San Antonio, and New Orleans. That gives the Grizzlies a great chance to build some distance and avoid having to defend their spot in a play-in tournament.
Portland Trail Blazers
The Trail Blazers started slow this season after a strong playoff showing a year ago, but star guard Damian Lillard at times singlehandedly dragged the team back into the playoff race, playing through injuries to himself and several teammates.
Now, with several months of rest, could a veteran Portland team be the best bet to overtake the young Memphis Grizzlies for the final playoff spot in the West?
Here is a look at how the Trail Blazers stack up heading into the restart.
Schedule: July 31 vs. Grizzlies; Aug. 2 vs. Celtics; Aug. 4 vs. Rockets; Aug. 6 vs. Nuggets; Aug. 8 vs. Clippers; Aug. 9 vs. 76ers; Aug. 11 vs. Mavericks; Aug. 13 vs. Nets
Strengths: Lillard went on a MVP-like run in January, scoring 30 or more points in 11 of 13 games, including 40 or more in six of those games and 50 or more in three. When a calf injury slowed him down and caused him to miss time, backcourt mate C.J. McCollum picked up the slack, with 25 or more points in seven of the next nine games.
Veteran Carmelo Anthony has also had flashes of his old self since Portland signed him. That trio is one of the highest scoring groups in the league, and with Hassan Whiteside inside to get buckets around the rim, plus bigs Jusuf Nurkic and stretch big Zack Collins both fully healthy and ready to return, offense shouldn't be a problem for Portland.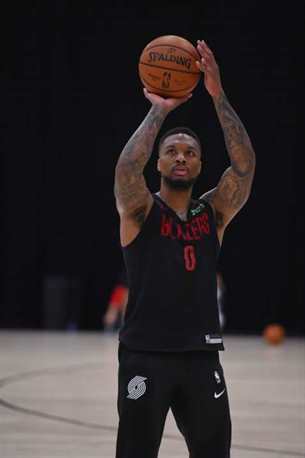 Weaknesses: The Blazers do have trouble stopping teams. Although Whiteside is valuable as a rim protector, he's slow-footed defensively and struggles to step out onto the perimeter against some of the league's top stretch big men. Lillard, McCollum, and Anthony have never been known for their defense. Portland will have to rely on its ability to outscore teams, they won't be getting a lot of stops.
The team will also be without veteran forward Trevor Ariza, one of the team's most defensive-minded players. Ariza elected not to play in the league's Orlando bubble.
X-factor: Minus Ariza and injured wing Rodney Hood, the team will look for Gary Trent Jr. to give productive bench minutes and scoring. Trent saw an uptick in his minutes and responded with double figures in four of seven games prior to the NBA suspending the season. He's streaky, however, and if he struggles, the Blazers have other options – Anfernee Simons and Nassir Little are two promising bench players who could steal minutes from Trent if he struggles in Orlando.
Outlook: Portland's closest competitors for the final playoff spot – Memphis and New Orleans – are much younger teams, so the Blazers should have an advantage when it comes to experience. They trail Memphis by 3.5 games and open the restarted season against the Grizzlies, so they could put some pressure on immediately with a win.
New Orleans Pelicans
Ja Morant of the Grizzlies had a consistently good, runaway case for Rookie of the Year. Until the Pelicans' Zion Williamson debuted. It only took Williamson 19 games of dominance to cast doubt on Morant's seemingly airtight case for the award.
And now, since the NBA suspended play, Williamson has become the latest cover model for the next NBA 2k video game and debuted a noticeably more muscular physique. So it's clear the NBA would have no objection to a clear future star helping his team grab a playoff spot and a first round matchup with the star-laden Lakers.
Here is a look at how the Pelicans stack up heading into the restart.
Schedule: July 30 vs. Jazz; Aug. 1 vs. Clippers; Aug. 3 vs. Grizzlies; Aug. 6 vs. Kings; Aug. 7 vs. Wizards; Aug. 9 vs. Spurs; Aug. 11 vs. Kings; Aug. 13 vs. Magic
Strengths: Williamson is obviously the team's prized future star, with good reason. In 19 games, he averaged nearly 25 points and 7 rebounds per game while shooting 59 percent overall and 46 percent from three-point range. That's a small sample size, but there's no reason to believe he won't continue that pace with three months off to train and continue recovering from the injury that cost him most of his rookie season. But the Pelicans have more than one star.
Brandon Ingram made the All-Star team in his first season in New Orleans and is a slashing, relentless dynamo on offense. Jrue Holiday's role has decreased a bit this season, but he's still a good shooter and facilitator and one of the best defensive point guards in the league.
A collection of role players that includes J.J. Redick, Lonzo Ball, and Derrick Favors make the Pelicans a deep and dangerous team should they sneak into the playoffs.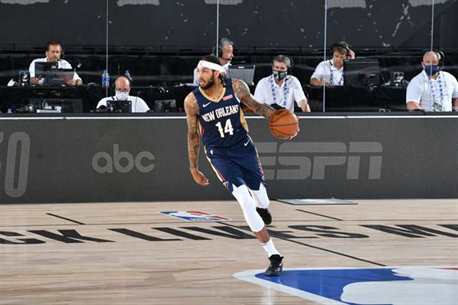 Weaknesses: For all of their tantalizingly exciting moments, Williamson and Ingram are both untested as No. 1 options on a potential playoff team, and they also are still getting used to each other. Ingram's ascension happened largely with Williamson out of the lineup. They still have to figure out a way to share the ball effectively and ensure both players get enough shots to be involved in the offense.
X-factor: Josh Hart is still a young player, but carries himself like a 10-year NBA veteran. Hart doesn't stand out in any one area in particular, but he's a steadying force on the team, a solid shooter and, most importantly, a good perimeter defender who will likely play an important role in slowing down LeBron James should the Pelicans sneak into the playoffs.
Outlook: The Pelicans inherited an extremely favorable schedule. After opening against the Clippers and Jazz, their remaining six games are against teams that are currently eighth place or lower in their respective conference standings. They have a good chance to use that schedule to make a strong push toward Memphis. And remember – they don't have to overtake the Grizzlies. Because of the format, they only have to be within four games in the standings to force a play-in tournament. If they do, they would then need to beat Memphis in two straight games to steal their playoff spot away.
Sacramento Kings
When the Sacramento Kings lost 15 of 18 games in December and January, few would've predicted they'd still have a chance at the playoffs with eight games remaining.
And yet … the Kings trail the Memphis Grizzlies by just 3.5 games for the final playoff spot in the West. And with a 13-7 record over their last 20 games, they're arguably in as good a position as any team to steal that spot away.
Here is a look at how the XXX stack up heading into the restart.
Schedule: July 31 vs. Spurs; Aug. 2 vs. Magic; Aug. 4 vs. Mavericks; Aug. 6 vs. Pelicans; Aug. 9 vs. Rockets; Aug. 11 vs. Pelicans; Aug. 13 vs. Lakers
Strengths: The Kings' strong stretch before the season was suspended coincides with ascendant play from young guard De'Aaron Fox. Fox, one of the fastest guards in the league, averaged nearly 24 points and 6 assists per game in March while shooting almost 50 percent overall. Fox's weakness is his three-point shooting, but his backcourt mates Buddy Hield and Bogdan Bogdanovic more than make up for that.
Hield makes nearly 40 percent of his threes and Bogdanovic is hitting 36 percent of his. Add in scoring from veteran forwards Harrison Barnes and Jabari Parker, and the Kings have several formidable scoring options on offense. Fox's ability to push the pace and find lanes thanks to his floor spacers will put pressure on any defense they encounter in the West.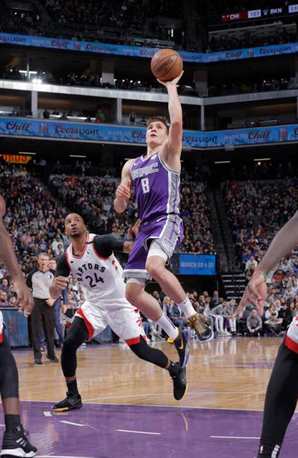 Weaknesses: The Kings won't stop many teams defensively. Fox is an active defender and averages 1.4 steals per game and Barnes has been an above average defender much of his career, but Hield is an undersized shooting guard, Parker has never been good defensively, and the team lacks size up front. They'll struggle to stop nearly any team they play.
X-factor: Two frontcourt players returning from injury could significantly bolster the lineup if they play during the restart. The Kings were without both Marvin Bagley III and Richaun Holmes with longterm injuries when the season was suspended. Both could be recovered and available in Orlando. Holmes is an active interior presence who finishes well and protects the rim on defense. Bagley is a still-improving former lottery pick who, not long ago, was selected ahead of current All-Stars Luka Doncic and Trae Young. If one or both are available, the Kings chances improve significantly.
Outlook: Sacramento's schedule works heavily in their favor – their first seven games are against teams that are currently sixth place or lower in their conference. Their only game against an elite team is the last regular season game against the Lakers. That draw gives them a good chance to make a run at the final playoff spot.
San Antonio Spurs
The San Antonio Spurs have been one of the two or three top franchises in the NBA for approximately three decades, and they have a 22-straight season playoff streak to show for it.
However, that streak is in serious jeopardy as the Spurs enter the Orlando bubble for the NBA restart trailing Memphis by four games, and severely shorthanded.
Here is a look at how the Spurs stack up heading into the restart.
Schedule: July 31 vs. Kings; Aug. 2 vs. Grizzlies; Aug. 3 vs. 76ers; Aug. 5 vs. Nuggets; Aug. 7 vs. Jazz; Aug. 9 vs. Pelicans; Aug. 11 vs. Rockets; Aug. 13 vs. Jazz
Strengths: For a franchise that has been known for its steady veteran leadership for years, the Spurs actually enter Orlando with a cast of exciting young players and a commitment to play them. In a story on NBA.com, Spurs leadership stressed that although the team's playoff streak is important, developing young talent is the bigger priority in Orlando.
That means expect to see Dejounte Murray, Derrick White, Bryn Forbes and Lonnie Walker IV play prominent roles. That news should be exciting to spurs fans – Walker IV, in particular, has been a talent fans have wanted to see more of all season. Walker has been in and out of the rotation all season, but the one time he did receive more than 30 minutes – December 3 vs. Houston – he responded with 28 points on 10-for-18 shooting.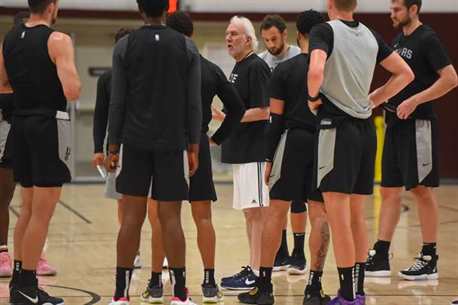 Weaknesses: Strangely, the veteran presence for the Spurs is the shakiest entering the bubble. Former All-Star LaMarcus Aldridge opted to have season-ending surgery, so he won't play. The team signed veteran Tyler Zeller as a replacement.
Leading scorer DeMar DeRozan will play, but he has been vocal about the stresses caused by the environment, calling it "stressful" and "overwhelming."
X-factor: In a contract year, Bryn Forbes has quietly put together a strong season – and a chance at a big raise in the offseason. Forbes made himself into a NBA player. Seen largely as a specialist as a college player at Michigan State, he was undrafted, played in the G-League, and added dramatically improved ball-handling and defense to his elite three-point shooting as a Spur. He's still a young player, but might be a bit old if the Spurs are truly committed to a youth movement. So a strong performance in Orlando could get him a lot of attention on the free agent market.
Outlook: The Spurs open against competitors for the eighth seed in the Kings and Grizzlies, so how they perform in those games will likely seal their fate as contenders for the playoffs or move them close to elimination if they don't come away with wins.
Phoenix Suns
Losers of five of their last seven games and trailing the Grizzlies by 6 games for the final playoff spot, the Phoenix Suns have the distinction of being the biggest longshot to make the Orlando bubble. The Washington Wizards in the Eastern Conference just edged them out, trailing the Magic by 5.5 games in their playoff race.
But do the Suns have what it takes to prove their doubters wrong and make a Cinderella run to the playoffs?
Here is a look at how the Suns stack up heading into the restart.
Schedule: July 31 vs. Wizards; Aug. 2 vs. Mavericks; Aug. 4 vs. Clippers; Aug. 6 vs. Pacers; Aug. 8 vs. Heat; Aug. 10 vs. Thunder; Aug. 11 vs. 76ers; Aug. 13 vs. Mavericks
Strengths: The Suns have an All-Star, and that's a start. And he's a hungry one at that.
Guard Devin Booker has been shouting from rooftops over the last two seasons, demanding recognition as one of the league's best shooting guards. He was even initially a snub from the All-Star Game this year, before making it as an injury replacement.
Though Booker will never be confused with a defensive dynamo, he is one of the best offensive threats in the league. He averages 26 points, 4 rebounds and nearly 6 assists per game while shooting 49 percent and making 36 percent of his three-pointers.
The Suns are also bolstered by a collection of complementary veterans. Ricky Rubio and Aron Baynes both defend their positions well, and Dario Saric provides a stretch big role. In theory, Phoenix should be better than its record. It'll get one more chance to prove that in Orlando.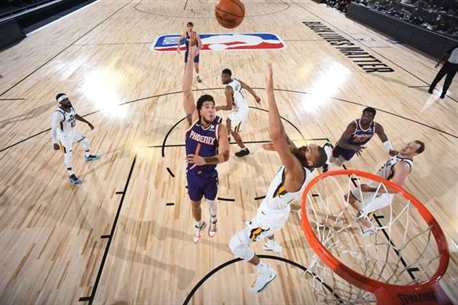 Weaknesses: The Suns have been inconsistent all season, and will have to play in the bubble without Kelly Oubre Jr. Oubre was quietly having his best season and gave the Suns a reliable second option next to Booker. Replacing his 18 points per game will likely fall to rookie Cam Johnson or second-year player Mikal Bridges. Both are good three-point shooters (though Johnson is slightly better at 39 percent), but neither replaces Oubre's defensive abilities.
X-factor: Deandre Ayton is hardly a bust, but the former No. 1 pick was selected ahead of Luka Doncic and Trae Young, who have already made All-Star teams, and Jaren Jackson Jr., who has helped lead the Memphis Grizzlies to the lead position in the playoff chase. Add in a lengthy suspension he served for testing positive for a banned substance, and it's fair to say Ayton hasn't had as dynamic a start to his career as some of his peers. Still, his numbers are outstanding – he's averaging 17 points and 11 rebounds per game over two seasons and shoots 57 percent from the field. A strong performance in Orlando can help him stop being overlooked in his draft class.
Outlook: The Suns are a longshot to get into the playoffs, but a silver lining is they can focus on the play-in tournament. They don't have to catch Memphis, they just have to get within four games of the Grizzlies. If they do, they can force a play-in tournament. In that scenario, it just takes two victories to overtake whoever is holding onto the eighth spot in the playoffs.