A week ago, the Phoenix Suns and star Devin Booker got attention for something they had nothing to do with.
Golden State Warriors forward Draymond Green, always known for speaking his mind, was a guest on TNT's NBA coverage on August 7. The topic of the Suns came up, and Green didn't hold back, suggesting that Booker would be better off seeking a trade away from the franchise.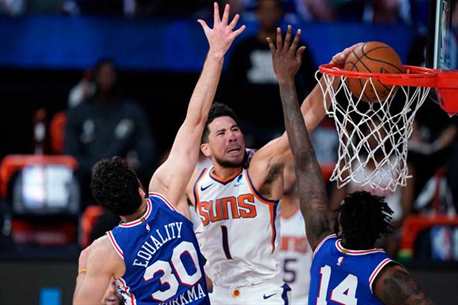 It's not the first time Green has been critical of the Suns' franchise, either. The Warriors had a lousy season, but a bright spot was the play of reclamation project Marquese Chriss, a former lottery pick of the Suns. Chriss certainly had his development hampered by the instability of the Suns' franchise, and Green didn't mince words last year when addressing that, telling NBC Sports, "No one ever blames the situation, though. It's always the kid. No one ever blames these s--tty franchises. They always want to blame the kid. It's not always the kid's fault."
So, how did the Suns players respond to those shots taken by Green? They wrapped up the most impressive performance any team had during the NBA's seeding games, finishing 8-0 after blowing out the NBA's best team, the Milwaukee Bucks, on Thursday. That's the longest winning streak for the franchise since 2010, and more importantly, it is a result of growth from several players not named Devin Booker.
Rookie Cameron Johnson scored in double figures in six of eight games and was nearly a 50-40-90 shooter over that stretch. Mikal Bridges turned into a versatile playmaking wing, shooting lights out from the perimeter and playing good defense. Those two players stepping up their performance was of particular importance, as Phoenix had to play without starting small forward Kelly Oubre Jr., who was out for the season due to injury. Oubre had been the team's most consistent secondary option on offense until his injury this season.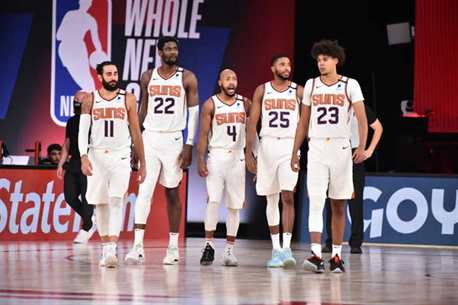 The point guard position also suddenly evolved into a strength. Suns starter Ricky Rubio has long been one of the steadiest point guards in the league as an unselfish passer and pesky defensive player. But Rubio has never been a consistent perimeter shooter, and Cameron Payne, signed before the restart, hit more than 50 percent of his three-pointers in a backup role. Second-year player Jevon Carter also had a strong performance.
The Suns fell just short of making it into the play-in game for the Western Conference's final playoff spot, but they did everything in their power to get it. They entered the bubble with the toughest path to the playoffs, and needed teams in front of them to falter. The Memphis Grizzlies nearly obliged, entering their final game with a 1-6 record. But they pulled out a second win in that final game, which was just enough to send the bubble's most exciting team home.
The Suns – and many of the teams without championship aspirations – were playing for something bigger, though. The chance for their players to participate in a meaningful playoff race under stressful circumstances. The experience their team got not only improves their chances for improvement next season, it figures to dramatically improve their shot at keeping Booker in Phoenix long-term.