Coming back from a 3-1 deficit in the NBA playoffs is a pretty rare accomplishment, so needless to say, the Denver Nuggets doing it in back-to-back rounds is highly impressive.
But in the Western Conference Finals, they face a Los Angeles Lakers team that is the No. 1 seed, a stronger defensive team than they've faced so far, and a rare team that actually has talented enough big men to bother Nuggets star Nikola Jokic.
Jokic dominated the Clippers in round two – Jokic averaged 24 points, 13 rebounds, and nearly 7 assists per game while making 35 percent of his threes. The Clippers had no one with the combination of size and speed to disrupt Jokic's polished, diverse offensive repertoire. The Lakers, though, have three players who can. JaVale McGee and Dwight Howard were limited to cheering from the bench for much of round two against Houston. The Rockets play small, and the Lakers preferred to limit the use of their bigs in order to keep pace with the Rockets. McGee and Howard became creative cheerleaders from the bench, and now get their chance to reclaim their spots in the rotation and take turns bothering Jokic.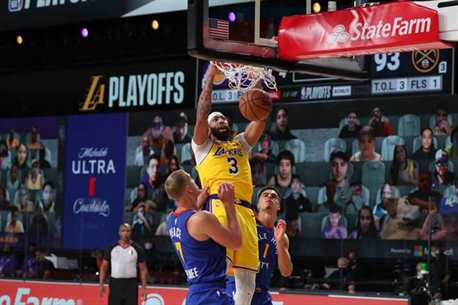 Add in Anthony Davis, an MVP contender and one of the best defensive players in the league, and Jokic should find things a lot more difficult offensively. Plus, when the Lakers go small and shift Davis to center (their best lineup), Jokic will be forced to guard Davis, which is a severe mismatch defensively. Look for the Lakers to go to Davis often in those scenarios to get Jokic in foul trouble.
Denver will have a collection of players to throw at LeBron James, but Gary Harris, Torrey Craig, and Jerami Grant will likely spend the bulk of the time on James. Veteran Paul Millsap could also spend time guarding him. He's physical enough, but likely not fast enough, to provide much resistance.
The Nuggets will also need a third option to emerge in the series. The Lakers have multiple bigs to throw at Jokic, and multiple competent perimeter defenders to throw at Jamal Murray. The Lakers can typically survive if one of their stars has a quiet game, but Denver is extremely reliant on its two stars for offense.
Against the Clippers, the Nuggets turned that series around, in part, because Michael Porter Jr stepped up his play off the bench. If Porter is able to dominate the Lakers second unit, Denver will have a chance of making this another competitive series. But if they can't find an additional scorer to take pressure off of Jokic and Murray, the series could end pretty quickly.
Prediction : Lakers in five