The Los Angeles Lakers have two of the five best players in the NBA. What they have beyond that is up for debate, though.
The Lakers wrapped up the best record in the Western Conference this week, and the team definitely has strengths. LeBron James and Anthony Davis are both nearly unstoppable in ways that are different enough to create matchup nightmares for opponents but complementary enough to play exceptionally well together. Davis, JaVale McGee, and Dwight Howard give the team's defense three of the best rim protectors in league history. Danny Green has long been a shutdown perimeter defender, and Kentavious Caldwell-Pope, Alex Caruso, J.R. Smith, and James are all good to great defensive players as well. Smith and Dion Waiters offer potential instant offense off the bench, and although he's struggled this season, a healthy Rajon Rondo in the playoffs gives the team a veteran distributor to ease some of the burden running the offense from James.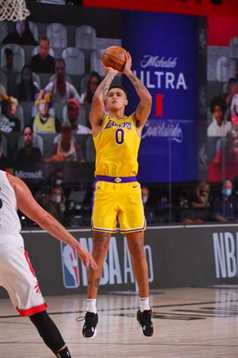 But, even with a collection of capable role players, one glaring question remains – who can consistently go get a bucket if James or Davis are out of the game for any stretch of time? That question is particularly important now, as James has sat out a game to rest an injured groin.
The easy answer to that "who is the third star?" question, in theory, is Kyle Kuzma. But it's complicated.
Kuzma is the lone remaining player from the Lakers' brief flirtation with a rebuilding with youth project. He was once part of a young core that included D'Angelo Russell, Brandon Ingram, Josh Hart, Julius Randle, Jordan Clarkson, Larry Nance Jr., and Lonzo Ball, among others. All of those players are now gone (many of them in the trade for Davis), and when Kuzma remained – and was spotted hanging out with James and Davis at last season's Las Vegas Summer League – it was easy to envision the former MVP of the Rising Stars game emerging as a bona fide third star in short order.
Kuzma has shooting range, size, and craftiness around the basket. He has shown an ability to score efficiently in the past without being ball dominant. And yet … this season, the fit hasn't seemed right.
Kuzma missed time early in the season with an injury. He hasn't always looked comfortable with coach Frank Vogel's defense-first approach. And he had a probably overblown but still analyzed social media dustup when his trainer appeared to take a shot at James. There's also reason to question how much room for improvement he has – at 25, he's at an age where prospects start to plateau and become what they are as NBA players.
"I'm starting on most teams in this league and everyone knows it. It just so happens I'm playing behind the two best players in the NBA"

Kyle Kuzma
But Kuzma has been one of the most talked about Lakers inside the bubble. His commitment to improving defensively has been noticeable and drawn praise from Vogel. He's struggled with his three-point shot for two straight seasons, shooting 30 percent last year and 31 percent this year. But his stroke has looked great in Orlando. In four games, he's hit 50 percent of his threes (11-for-22).
Those two things alone – defense and consistent shooting – should be enough to get him big minutes for the Lakers in the playoffs if he keeps it up. And if James has to miss more time, no player has a better opportunity than Kuzma to step up and show the Lakers were right to have faith in him.