When pitcher Yu Darvish signed a 6-year, $126 million contract with the Chicago Cubs in 2017 right after the team had won a World Series, it was supposed to be a signing that started a dynasty.
Instead, Darvish's struggles with injuries combined with Chicago management becoming noticeably stingier and less aggressive in adding to its roster, had made the signing seem like a poor investment up until the start of this season.
The Cubs have gotten progressively worse each year since that championship, losing in the NLCS in 2017, the Wildcard round in 2018, and missing the playoffs entirely last season.
Darvish has also struggled, starting just 39 games with the Cubs prior to this season, winning only seven of 18 decisions, and having an ERA above four in those starts. He also led the league in home runs allowed last season.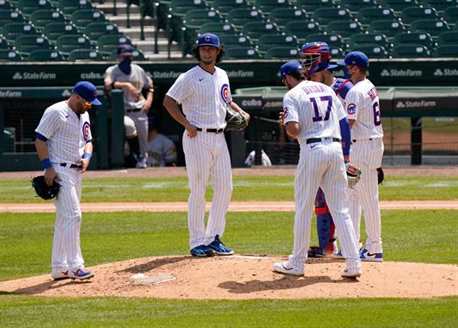 Things have changed this season, though. Darvish won his sixth straight start for the Cubs last week. He has a 6-1 record, a 1.47 ERA, and has allowed just two home runs in his seven starts. FanGraphs says that Darvish would be the favorite for the NL Cy Young Award if the season were to end now, based on his performance so far.
The Cubs have also had an improved performance, currently leading the NL Central by three games with a 19-14 record. Pitching has been particularly important to that start as the Cubs' offense doesn't produce many runs. The team has just a 151-147 run differential this season, so the pitching staff has little margin for error. That run differential of four is the smallest of any division leader in baseball.
A huge key to Darvish's success has been his ability to limit walks. He had a career-high walk rate his first season with the Cubs and averaged 2.8 walks/9 innings last season. This season, he has cut that number to 1.7/9 innings, which will be a career-best mark for him if he keeps it up for an entire season.
Darvish missed the 2015 season while recovering from Tommy John surgery, and pitchers often take multiple years after that procedure to regain their form – and in some cases, they never regain it. The Cubs have been careful with Darvish since signing him, and that approach might finally be paying off in year three of his contract. What once looked like a poor signing could now be one of the best value contracts in baseball if Darvish continues his elite production, and it could also lead the Cubs back to the playoffs.