The Washington Nationals are trying to avoid a distinction that has happened to only two other World Series champions since 1990: going from a championship to last place in their division. The last time it happened was 2012, when the San Francisco Giants followed up a World Series with a last place finish in the NL West. The only other team to do it was the 1997 Florida Marlins.
The Marlins purposely dismantled their team to slash payroll, and the Giants had significant bad luck with injuries. The Nationals were certainly not copying the Marlins' model of rebuilding right after triumph, but they have lost key pieces from last year's team. Namely, Anthony Rendon took his bat to the Angels in the offseason, depleting Washington's offense.
They've also mimicked what the Giants experienced – catastrophic injuries. Ace Stephen Strasburg is out for the season with a hand injury.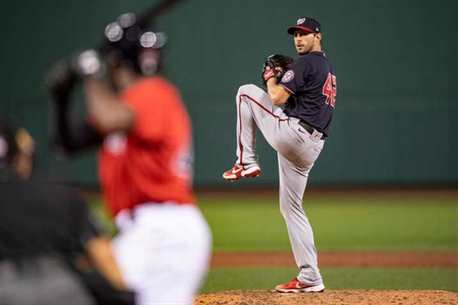 But while the Marlins and Giants entered their seasons with little hope, the Nationals still have a chance to turn things around. At 12-20, they're last in the AL East, but teams in front of them aren't exactly running away with things. They're just two games behind the Mets for fourth place in the division – moving up to fourth would at least let them avoid the first to worst distinction. But they're actually only five games out of first place, with time to still turn things around.
One sign that the Nationals are better than their record suggests is run differential. They've only been out-scored by one run this season. The other last place teams in each division have all been out-scored by 16 or more runs. In their own division, the Nationals have a better run differential than the Marlins and Mets.
Although they lost a lot from last year's roster, they still do have a strong pitching staff led by Max Scherzer. Scherzer continues to move up the baseball all-time strikeout list, and the 3-time Cy Young winner now has a 3-1 record after starting the season slowly. Washington is also hoping a recent good start from Annibal Sanchez is a sign that he's coming out of his early season slump.
The key, though, will be offense. Only five teams in the National League have allowed fewer runs than the Nationals, so their poor record suggests they've been the victims of some bad luck. But with a shorter season, bad luck won't even out over the course of a long season the way it does in normal seasons, so Washington has to straighten out its deficiencies quickly to be one of the eight NL playoff teams and have a chance to defend their championship.