Perhaps no sport has more hallowed, beloved single-season records than Major League Baseball. Baseball is clearly a team sport, but the opportunities for individuals to reach immortal status in the game's legacy by achieving certain rare statistical marks is unlike any other professional league.
Roger Maris spent nearly 40 years as the league's single-season home run king, as his record of 61 in a season stood until 1998. The initial chase of that record, between Mark McGwire and Sammy Sosa, was a feel-good story that was later tainted by McGwire and Sosa both being outed as steroid users. Barry Bonds, who would later set the single-season mark, was also eventually accused of PED use. None of the three players who beat Maris' record are in the Hall of Fame, and baseball largely avoids talking about what was once one of the league's most fun records.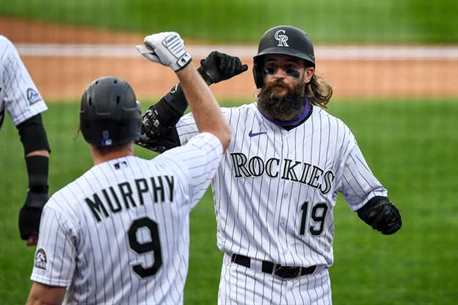 Charlie Blackmon of the Colorado Rockies is chasing an even more unbreakable record, hitting .400 in a single season. No player has done it since Ted Williams in 1941. And if Blackmon does it this season, it will no doubt be impressive – and full of controversy.
None of that is Blackmon's fault, of course. He – and all players – have the misfortune of chasing records in a season that has been shortened to 60 games due to the COVID-19 pandemic. Blackmon is hitting .446 through 21 games this season, so he's well over the mark with only 2/3 of the season remaining. And it's not like he isn't a fun story – he's 34-years-old, so he's getting close to the point in his career where his production should be sliding. He's also recovering from testing positive himself for coronavirus earlier in the summer.
He's helped lead the Rockies to surprising start. Most media outlets picked the Rockies to finish last in the National League West and be among the worst teams in baseball. Instead, they're 13-8 and trail the star-studded Los Angeles Dodgers – and their league-leading payroll – by just two games.
Under normal circumstances, there would be massive investment in Blackmon's chase, and there still might be – it will be a fun storyline should he actually come close to catching it. But what if he actually breaks the record? Well, according to USA Today, the Elias Sports Bureau will treat his 60-game .400 season exactly the same as it would treat a 162-game .400 season.
Every league has dealt with pundits talking about adding an "asterisk" for certain team or individual accomplishments during shortened seasons played under unprecedented circumstances. In most cases, those circumstances make things more difficult – playing without live crowds, for instance, is a major adjustment for athletes used to playing in front of thousands. But in the case of statistical records, particularly in a sport like baseball where a long season can typically wipe out anomalies or hot streaks. But even if the official stats don't contain a disclaimer, the way an accomplishment like hitting .400 for a season is remembered during a shortened season will certainly be different.