The NL West will once again be top-heavy, with the Los Angeles Dodgers making the splashiest move of the offseason. The Dodgers will likely run away with the division again, but the Padres, Diamondbacks, and Rockies all made improvements that should make things more competitive. Here's a look at how teams in the West fare heading into the season.
Los Angeles Dodgers
The Dodgers added star power to an already loaded lineup when they acquired Mookie Betts from the Boston Red Sox in the offseason. However, another big part of that trade – former Cy Young winner David Price – has elected not to play this season. Price is no longer the ace he was, but he still would've been an important part of the Dodgers' rotation behind Walker Buehler and Clayton Kershaw. Depth is hardly a problem, though, even without Price. Along with Cody Bellinger, the Dodgers now have three former MVPs on the roster and a fourth outfielder in A.J. Pollock signed to a $55 million contract and would be a starter on most teams. Thanks to the shortened season's "all teams will use a designated hitter rule" though, Pollock should find an everyday spot in the lineup. The Dodgers routinely spend more money to secure talent than any team other than the Yankees, but are still in search of it paying off with a World Series title – they haven't won one since 1988.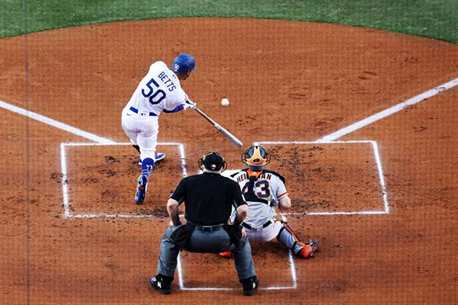 Arizona Diamondbacks
The Diamondbacks came within four games of a Wild Card spot last year and left nothing to chance in the offseason, signing former All-Star Madison Bumgarner to pair in the rotation with Robbie Ray and Zac Gallen. That trio gives Arizona as good a top three as nearly any team in baseball. Offensively, new addition Starling Marte and holdover Ketel Marte – who hit 32 home runs last season – should anchor a potent lineup and provide plenty of runs for the pitching staff.
San Diego Padres
The Padres relied on young talent last year, resulting in a last place finish. That strategy should result in drastic improvement this year, though, as San Diego has some of the most well-regarded prospects in baseball who all figure to improve this season. Fernando Tatis Jr. hit 22 home runs as a rookie, starting pitcher Chris Paddack struck out nearly 30 percent of the batters he faced, and three more elite pitching prospects should be ready to contribute in the rotation and bullpen soon. Veterans were added to complement the young talent as well – Tommy Pham and Trent Grisham should help solidify the outfield and Zach Davies should strengthen the starting rotation until some of the young prospects are ready.
Colorado Rockies
The Rockies have one of the best players in baseball in Nolan Arenado, but that's about all they have going for them at the moment. The team made no major offseason moves to improve a roster than struggled much of last season. Arenado expressed public displeasure with the team's inertia, and Colorado is locked into several bad contracts for free agent signings from last year who didn't pan out as expected. The team's rotation should be strengthened by a healthy season from Jon Gray, whose standout season a year ago was cut short due to an August injury. The team also hopes former star Wade Davis can return to some semblance of his former self after struggling during his two seasons with the Rockies.
San Francisco Giants
The Giants lost Madison Bumgarner – a key part of their championship past – in free agency, and catcher Buster Posey – another key star on their championship teams – elected not to play in the restarted season because he and his wife just adopted twins who were born prematurely. The team still has a collection of talented veteran holdovers from their recent past as a contender, including Evan Longoria, Brandon Belt, and pitchers Jeff Samardzija and Johnny Cueto. But, unless those players have career resurgences on the downward ends of their careers, the Giants will have a hard time contending within its star-studded division.