Rays vs. Jays
The Toronto Blue Jays were already the underdogs against the Tampa Rays in the first round of the MLB Playoffs, and also have momentum working against them. In a short series (first round series in the expanded MLB playoffs are best-of-three format), Toronto plays a Tampa team that has won four straight games.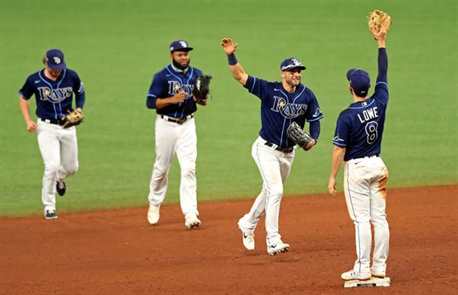 The Jays haven't exactly been slouches – they've won four of their last five games entering the playoffs. But they also haven't played particularly well against their division rivals this season, losing six of 10 to Tampa.
The series will feature some of the game's biggest young stars. Tampa has a talented pitching staff that was among the league leaders this season in runs allowed. Blake Snell, Charlie Glasnow, and Ryan Yarbrough lead a formidable starting staff and the Rays have a great bullpen anchored by closer Nick Anderson.
That pitching will be vital against a Jays lineup with a lot of power potential. Tampa scored the second fewest runs of any team in their division, and the Jays scored the second most, so if Toronto's hitters get going, it will be hard for the Rays to generate enough offense to keep pace.
Vladimir Guerrero Jr and Cavan Biggio get a lot of attention because of their famous names, and they've both had good seasons. But the emergence of another star, Teoscar Hernandez, has added even more pop to an already potent lineup.
Toronto's pitching staff has struggled this year. The Jays gave up more runs than they scored this season, so if their hitters are cold, a pitching staff as deep as Tampa's should be able to shut them down in a short series.
The Blue Jays hadn't made the playoffs since 2016. The Rays lost in the division series last season.
Prediction: The Jays are exciting, and making the playoffs is a big accomplishment for a young squad. But Tampa wins this series 2-0 – they're a more complete team right now.
A's vs. White Sox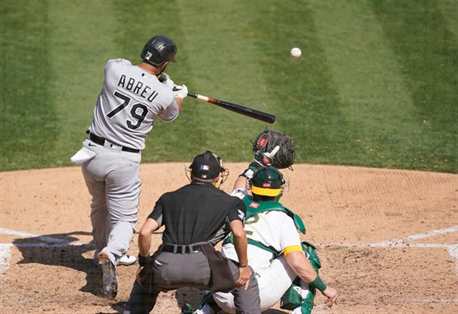 The Chicago White Sox ended a long playoff drought by making it back to the MLB playoffs for the first time since 2008. The Oakland A's, on the other hand, have turned into a perennial playoff contender. The more important question for them: can they finally win a World Series?
The A's have been one of the league's model franchises for decades – and their method of team-building on a budget was so intriguing a successful movie was made about their team and front office. But despite several iterations of talented A's teams being assembled over the last 20 years, the team hasn't made a World Series appearance in that stretch.
They also enter the expanded yet condensed playoffs (this year's first round series are best-of-three format) struggling a bit, losing five of their last eight games. In true Oakland fashion, traditional stats don't do their offense many favors. Their leading hitter is batting just .246. But several players excel at getting on base, and Matt Olson provides power in the middle of the lineup.
Their pitching staff is led by Chris Bassitt, among the league leaders in ERA this season.
They'll face a White Sox team that has arguably the most young talent in baseball, but has also had a lot of ups and downs this season. A hot stretch in August got them into the race for the AL Central title, but they've lost eight of 10 entering the playoffs.
MVP candidate Jose Abreu and Tim Anderson lead the offense, while Lucas Giolito and Dallas Keuchel are among the most formidable 1-2 combinations in any starting rotation.
The teams did not face each other during the regular season.
Prediction: The A's are tired of being playoff afterthoughts, but unfortunately, they don't have enough to overcome and White Sox team that is making the first of what should be many playoff runs in the coming years. Chicago wins 2-1.
Twins vs. Astros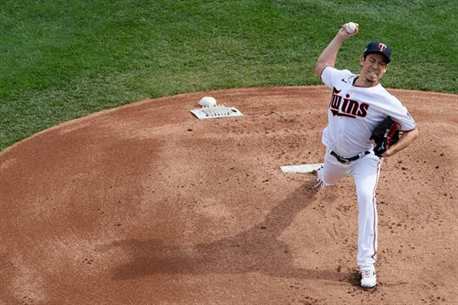 The Houston Astros sign stealing scandal seems like forever ago, and perhaps no team benefitted more than avoiding hostile road environments this season that a Houston team that would've been sure to hear it from opposing fans all year.
Now, they'll face a Twins team making its third playoff appearance in four years, while the Astros hope there is enough experience left from their years of playoff runs to make one more.
The Twins may have had success making the playoffs of late, but they haven't had success winning. They've lost 16 straight playoff games dating back to 2004. Minnesota does have the pitching to end that streak, though. The Twins were second in all of baseball in runs allowed this season, and a top three of Kenta Maeda, Rich Hill, and Michael Pineda is as formidable as anyone's.
On offense, veteran Nelson Cruz continues to provide pop in the middle of the lineup and Eddie Rosario and Miguel Sano are also power threats.
The Astros kept their postseason streak going, but they won't look much like the perennial title contender we've gotten used to. Justin Verlander is out with injury, and Jose Altuve struggled this season.
George Springer led the team in home runs this season, and Michael Brantley hit .300 to lead the offense. Top starters Framber Valdez and Zach Greinke are certainly capable of shutting teams down, but both had inconsistent seasons.
The teams did not play each other in the regular season.
Prediction: Dusty Baker did a good job in difficult circumstances managing the Astros back to the playoffs, but the Twins have too much pitching. Minnesota wins 2-0.
Cleveland vs. Yankees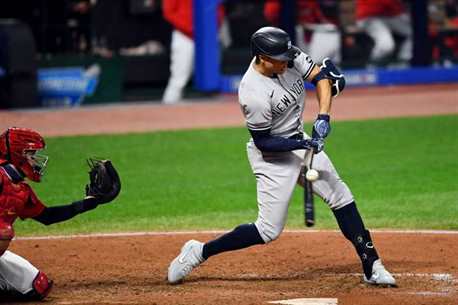 The New York Yankees have now made the MLB Playoffs 22 of the last 26 seasons and have one of the highest payrolls in baseball, so seeing them in the playoffs was a given. But which version of this year's team will we get against Cleveland?
The Yankees started the season 16-6 and had a 10-game winning streak at one point this season. But they also had a 5-15 stretch mixed in, and since star sluggers Aaron Judge and Giancarlo Stanton returned to the lineup earlier this month, the team has been up and down. They're 5-5 in their last 10 games.
Power hitting and strong starting pitching are the team's clear strengths. However, Judge and Stanton haven't found their home run stroke since returning in mid-September. Since September 15, they've hit just one home run between them.
The top of the pitching staff makes the Yankees formidable in any series. Gerrit Cole, Masahiro Tanaka, and J.A. Happ are as good a top three starters as any in baseball. In a short series, a team having to face those three plus Deivi Garcia would be no easy task.
Cleveland has made the playoffs in three of the last four seasons, and Jose Ramirez and Francisco Lindor give the team two offensive threats capable of steering any series in their favor. Shane Bieber and Carlos Carrasco are as good a top two as anyone's, and if the Yankees can't get their offense going, it will be extremely difficult to beat those two in a short series.
The teams did not play during the regular season.
Prediction: The Yankees somehow wake up their bats and win this 2-1.
Dodgers vs. Brewers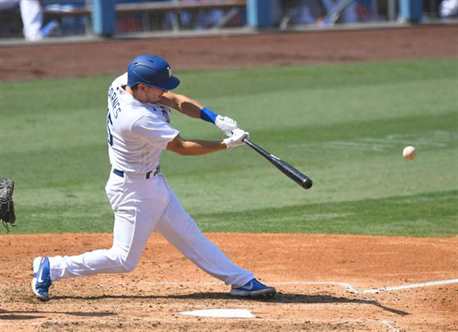 The Dodgers won their eighth straight division title this season, an impressive feat and also one that is ultimately meaningless for a Dodgers franchise that has been searching for a World Series title since 1987.
Los Angeles breezed through the regular season, leading the league in runs scored and giving up fewer runs than any team in baseball. They have three recent MVPs on their roster, a pitching staff that should have no issue in a short three-game series, and two star hitters who present very different challenges to opposing pitchers in Mookie Betts and Cody Bellinger and a third player who put up even better numbers than both of those guys this year in Corey Seager.
Clayton Kershaw, Dustin May, Julio Urias, and Tony Gonsolin give the team an exceptional top four, and they'll only need three of those guys at most in round one against Milwaukee.
The Dodgers have it all, they are heavy favorites, and yet none of it matters until they actually break through and win a championship. They've been favorites before.
The Brewers have lost five of eight entering the playoffs, and are significantly overmatched. Their –17 run differential is the second worst of the 16 playoff teams.
Milwaukee does have a former MVP on its roster in Christian Yelich, though Yelich struggled this season with a .205 average.
Despite the significant talent gap against the Dodgers, MLB Playoffs are known for upsets moreso than in other sports. The Brewers have two starting pitchers in Brandon Woodruff and Corbin Burnes capable of shutting down even potent offenses. In a three-game series, all it takes is two strong starts to pull of an upset.
The teams did not play during the regular season.
Prediction: The Dodgers have been locked in all season and should win this easily, 2-0.
Braves vs. Reds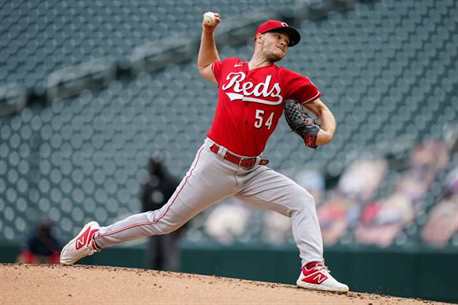 The Braves have won three straight division titles, but when they play the Reds they'll try to do something they've failed to the last two seasons: win a playoff series.
Freddie Freeman, Marcell Ozuna, and Adam Duvall lead a potent offense that was second to the Dodgers by only one run for most runs scored this season.
That group of versatile hitters is complemented by a pitching staff that has Max Fried and Ian Anderson – both have ERAs below 2.30. That twosome would terrify any team in a short series where only two wins are needed to advance.
The advantage for the Reds is they've essentially been playing playoff baseball the last several weeks. The Reds had to win 11 of their last 14 games just to sneak into the playoffs after struggling much of the season. The team's offense was anemic at times. Joey Votto, Eugenio Suarez, and Nick Castellanos were the three best power hitters on the team, but all three hit below .230 for the season.
The pitching staff has carried them back into the race. Trevor Bauer, Luis Castillo, and Sonny Gray are arguably the best top three any team will face in the compressed first round. Getting two wins against that group will be exceptionally difficult.
The teams did not play during the regular season.
Prediction: Look for an upset here. The Reds have been playing lights out and have starting pitching on par with Atlanta's. Reds win 2-1.
Cubs vs. Marlins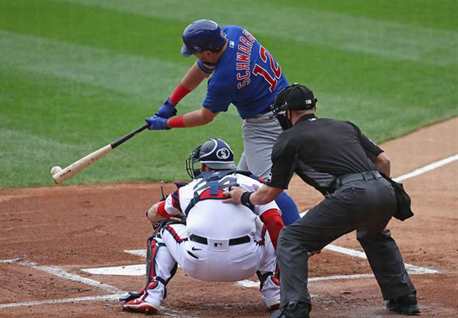 The Chicago Cubs have returned to form – and the playoffs – after several years of decline after winning the 2016 World Series. They'll face a Miami Marlins team that no one expected to make the playoffs this year. Or maybe even next year for that matter.
The Marlins haven't made the playoffs since 2003, and hadn't even finished .500 since 2009. Their postseason appearance is not without other oddities as well – their -41 run differential this season is easily the worst among the 16 playoff teams and was one of the worst in baseball this season.
But the Marlins are scrappy and find ways to win games. Brian Anderson and Jesus Aguilar haven't had All-Star level seasons, but they've provided solid production on offense. Pablo Lopez, Sandy Alcantara, Sixto Sanchez, and Daniel Castano all provided reliable starts during the regular season.
The Cubs held off the Cardinals and Reds in a competitive NL Central race, but have struggled a bit of late, losing six of their last nine games.
Although their numbers have been off, the Cubs do have veteran offensive talent that could get hot at any time in Javy Baez, Anthony Rizzo, Ian Happ, and Kyle Schwarber.
The team also has a veteran pitching staff, led by Cy Young contender Yu Darvish. Darvish is finally fully recovered from Tommy John surgery, and has looked like his old self this season, with a 2.01 ERA and 93 strikeouts. He's complemented in the rotation by Kyle Hendricks, who has a 2.88 ERA.
The teams did not play during the regular season.
Prediction: The Marlins are a nice feel-good story, but Darvish and Hendricks are too formidable of a 1-2 duo to overcome. Cubs win this 2-0.
Padres vs. Cardinals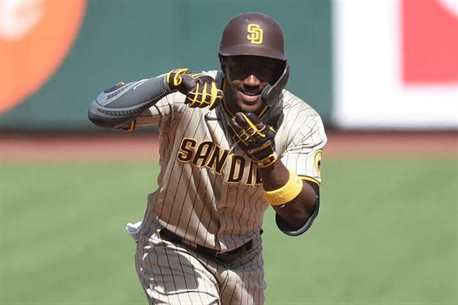 The San Diego Padres weren't quite supposed to be here yet. They undeniably have young talent, but conventional wisdom was that they were a year or so away from being among the league's elite teams.
Well, a breakout performance by Fernando Tatis Jr later, and suddenly the Padres are one of baseball's most must-watch teams.
The Padres had not made the playoffs since 2006. They did so this season on the strength of a potent offense and stingy pitching staff that didn't just have them competing for the playoffs, it had them very competitive with the star-studded Dodgers for the best record in the National League.
Tatis hit 17 home runs this season, and fellow star Manny Machado had 16 and led the team in hitting at .304. Center fielder Will Myers also had a big season, with a .288 average and 15 home runs.
The pitching staff is led by Zach Davies and Dinelson Limet. The Cardinals will likely have to face those two pitchers – who both have ERAs below 2.75 -- in a three-game series.
The Cardinals made the playoffs for the second straight season after missing them for three straight before that. They lost in the NLCS last season.
St. Louis struggles to score runs (their 240 are second lowest of any playoff team, although they did play two fewer games than the other team due to COVID-19 cancelations). Their main issue offensively is a lack of power – their leading home run hitter this season was Brad Miller with just seven.
The pitching staff is solid, though. Young pitchers Kwang-Hyun Kim and Dakota Hudson with veteran Adam Wainwright give them a top three that should keep them competitive in a short series with the Padres.
The teams did not play during the regular season.
Prediction: The Cardinals have a history of finding ways to work postseason miracles, and the Padres are inexperienced, but San Diego has far more talent and should win this 2-1.