Miguel Cabrera has hit just 31 home runs in his last 304 games, so there is little reason to expect that he could hit the 23 he needs to reach 500 for his career even in a normal season, let alone the 60-game sprint Major League Baseball teams are about to start this week.
Cabrera is one of his generation's greatest players, a former MVP and Triple Crown winner, a World Series champion, and a player who made the ball jump off his bat with ease from the second he emerged as a precocious teenager on a Florida Marlins team that came out of nowhere to win a World Series in 2003. Cabrera hitting a home run off of Hall of Famer Roger Clemens in game four is a pretty incredible early-career highlight, and it set the tone for what else he would achieve after getting traded from Florida to the Detroit Tigers.
But, as age and injuries have caught up with Cabrera, his production has deteriorated. He's struggled to stay healthy the last three seasons, and stuck on a Tigers team that is expected to be among the worst in baseball for the foreseeable future, there hasn't been the added motivation of chasing a late-career championship to help will him toward some personal milestones that are within reach. Along with closing in on 500 home runs, he's also 185 hits short of 3,000.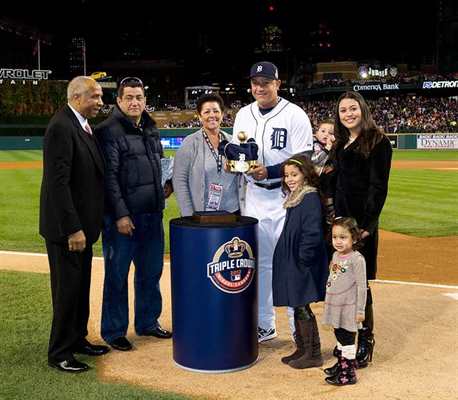 And yet …
Even before the COVID-19 outbreak forced the suspension of Spring Training and a delayed start to the season, there were signs that Cabrera was all in on those chases. Cabrera showed up to camp in February in shape. Tigers hitting coach Joe Vavra told The Detroit News that Cabrera had, "left half his body in Miami."
But that motivation didn't wane when Spring Training was shutdown. When workouts resumed in Detroit this summer, Cabrera had maintained his slimmer physique. That, combined with an extended amount of time off, should have his various injuries fully healed. He hit .345 and had three home runs in the team's brief Spring Training schedule.
Sixty games might not be enough time for Cabrera to reach either milestone this season, but a healthy and productive 60-game spring could definitely make them both reachable next season. As MLB.com notes, Cabrera has started the last few seasons hot at the plate.
The last time Cabrera had the 185 hits or 23 home runs he'd need in a full season was 2016 anyway, so it was unlikely at age 37 even with good health he would've done it. But with a strong season combined with the Tigers successfully developing some of their highly regarded young prospects this season, Cabrera could have a chance to eclipse those milestones next year and do it on a team that is much more competitive.