Yankees vs Rays
The New York Yankees face a familiar opponent in the American League Division Series when it starts on Monday – they Tampa Rays.
The teams played 11 times this season, with the Rays winning eight of those games en route to winning the American League East division title and No. 1 overall seed in the expanded American League playoffs.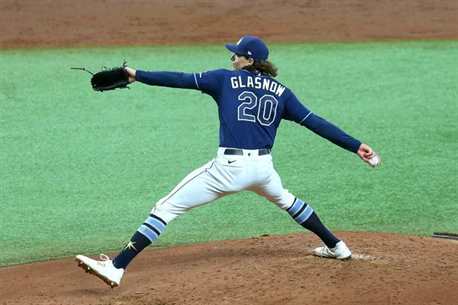 Both teams managed two-game sweeps in the first round, and will two a five-game series format in round two, so three wins will be required to advance to the American League Championship Series.
The Yankees suddenly found some offense against their first-round opponent, Cleveland. New York scored 22 total runs and hit seven total home runs in the two games. Giancarlo Stanton had two home runs in the series, a positive sign for the Yankees as the slugger hadn't homered since September 17. Aaron Judge also hit a home run in the first round. Judge's home run-less streak had been even longer – he hadn't hit one since August 11.
The Yankees hit over .300 and had an on-base percentage over .400 as a team against Cleveland, which was needed because they didn't get particularly sharp pitching, especially in game two when they gave up nine runs. Ace Gerrit Cole had a strong performance in game one, giving up just two runs with 13 strikeouts in seven innings, and he should be rested enough to start game one against Tampa on Monday. Beyond Cole, the Yankees will be searching for some consistency from their starters.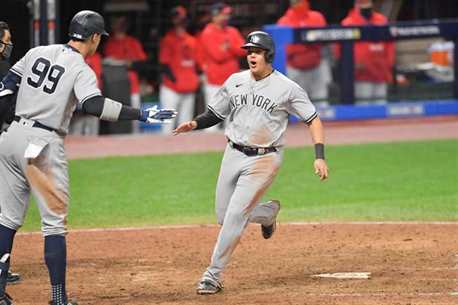 Tampa, on the other hand, got to the playoffs on the strength of an elite pitching staff and that held true in round one. They gave up just three runs in two games to the Toronto Blue Jays, another high-powered offense. They'll need their pitchers to have similar success against a difficult Yankees lineup.
Tampa had hit just .254 with a .301 on-base percentage against Toronto, so if they give up a lot of runs to the Yankees, it's doubtful that the offense can keep pace. Tyler Glasnow and Blake Snell had strong starts in the series, and only pitched 6 and 5.2 innings respectively, so both should be ready to go early in the series against the Yankees. The Rays are one of the best in the league at effectively using their bullpen, so they'll rely on that depth against New York.
Prediction: The Rays have been consistent all season, but postseason baseball is often about who gets hot at the right time. The Yankees finally looked like the Yankees in round one. New York wins this in four games.
Astros vs A's
The Houston Astros were considered a longshot to continue their recent run of contending for championships after mass defections of key players and personnel, fallout from the sign stealing controversy, and injuries to key players like Justin Verlander.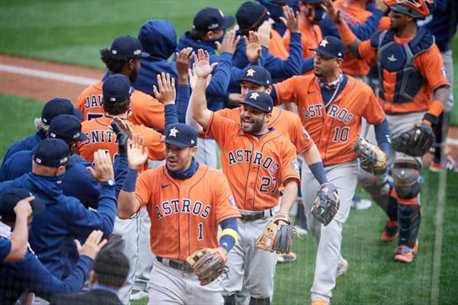 But Houston made the playoffs and pulled off an impressive 2-0 sweep of the No. 3 seed Minnesota Twins in round one. And … oh yeah … now they face an Oakland A's team in the AL Division Series that they've had a pretty heated rivalry with. Former Astro Mike Fiers, now a pitcher for the A's, was one of the early whistleblowers on Houston's elaborate sign-stealing operation. The teams have had multiple players hit by pitches, bench-clearing incidents, and heated words throughout the season. Oakland went 7-3 in 10 matchups with the Astros in the regular season.
A lot of focus will be on what Houston doesn't have anymore. But what they do have is pretty good. Their core of Carlos Correa, George Springer, Jose Altuve, and Alex Bregman has led them to three straight AL Championship Series appearances. That experience against an Oakland team that has been notoriously unable to break through in the playoffs for the last two decades will be a huge advantage.
Oakland beat the Chicago White Sox in three games in round one. After dropping the first game, Oakland regrouped and rode strong pitching to and timely hitting to two straight wins. The team only hit .194 in the series, but Sean Murphy's bat was hot. The catcher hit .375 with one home run in three games.
Reliever Liam Hendricks struck out eight batters in 2.2 innings, and Oakland's entire pitching staff from rotation to closer Hendricks is formidable.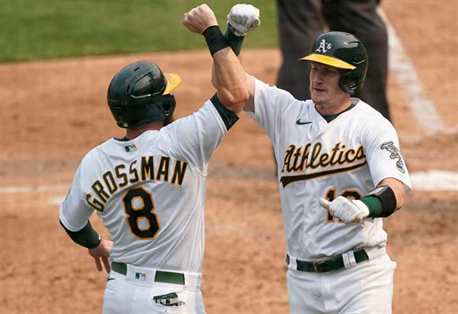 The Astros swept the Twins in round one on strong pitching of their own. They gave up just two runs total in the two games and their starters didn't get worn out. Framber Valdez and Zach Greinke started games one and two and pitched just nine combined innings, so both should be plenty rested when the ALDS starts on Tuesday.
Offensively, the team didn't need much behind their lights out pitching, but Correa provided more than enough. He hit .500 over the two games, with one home run and a .625 on-base percentage. If he's able to continue getting on-base like that, he'll make it easier for the team to break through against a tough A's pitching staff.
Prediction: Houston has the experience, but this is Oakland's best shot in years to finally end talk of their playoff curse. The A's win in five.