Perhaps no team gains more from a shortened season in fan-less stadiums than the Houston Astros, who were sure to be raucously booed in any opposing venue they played in throughout the season as a result of fallout from the sign stealing scandal. Still, the Astros remain one of the most talented teams in baseball, even in a more competitive AL West. Here's how the division stacks up.
Houston Astros
The Astros lost Gerrit Cole in free agency, and Justin Verlander is coming off of groin surgery earlier this year, so their starting pitching staff has more questions than they have in recent years. But the rotation could be bolstered by the return of Lance McCullars Jr., who is coming back after missing a year after Tommy John surgery, and the lineup still includes stars Alex Bregman, George Springer, and Yordan Alvarez. The team should still have plenty of pitching and offense to make a run at a division title.
Oakland A's
Oakland is looking for its third straight playoff appearance, but is still trying to shake a reputation it's had the last two decades – an inability to perform once they overachieve and get to the postseason. The A's have been one of the most successful regular season franchises over the last 20 years, but haven't been able to translate that into playoff success. They should be well-positioned to get there again this year, though. Plus, an already solid starting rotation should be improved thanks to the additions of top prospects Jesus Luzardo and A.J. Puk. If both of those arms perform as expected, the A's could finally have what it takes to win a playoff series.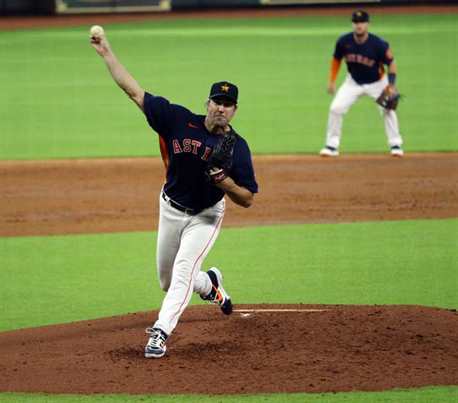 Los Angeles Angels
For much of his career, Angels star Mike Trout has flourished without much protection in the lineup. What would Trout look like next to a legitimate star hitter? We'll find out this year, as the Angels signed All-Star Anthony Rendon to bolster their offense. The offense should improve dramatically, but the Angels will have to make something out of a pitching staff that has an abundance of solid but not star starters. The team hopes two-way star Shohei Otani can return to the pitching staff at some point as he recovers from Tommy John surgery.
Texas Rangers
The Rangers had some of the worst starting pitching in baseball last year, and they made significant upgrades, including bringing in former Cy Young winner Corey Kluber. Kyle Gibson and Jordan Lyles were also added, and should be big improvements for a staff that struggled to find reliable starters last season. Offensively, Texas relies on Joey Gallo but has question marks around him. They're hoping a stable pitching staff will help them improve enough to compete for a wild card spot.
Seattle Mariners
The Mariners barely avoided 100 losses last year, thanks in part to a freakish 13-2 start to the season before the wheels fell off. They could not, however, avoid another season completed without a playoff appearance – they haven't made the postseason in 18 years, more than any other major pro sports franchise. This season, a 60-game schedule at least gives them a chance to contend if they can replicate that unexplainable hot start from a season ago. A bright spot this season could be Shed Long, an infielder/outfielder whose speed makes him an exciting player to watch.