In a year full of offspring of former baseball stars making their own names in the league, San Diego Padres shortstop Fernando Tatis Jr. might be the first one to breakthrough to superstar level.
As a rookie last season, Tatis played just over half a season. In those 84 games, he hit 22 home runs, stole 16 bases, and had a .969 OPS. That performance got him Rookie of the Year consideration despite the fact that he didn't play the full season in the Major Leagues.
Those numbers certainly impressed and put him among the league's best young players. This season, though, you might as well remove the "young" descriptor. Tatis has hit nine home runs in 23 games, leading the National League. He's also improved his already strong on-base percentage and slugging percentage from last year.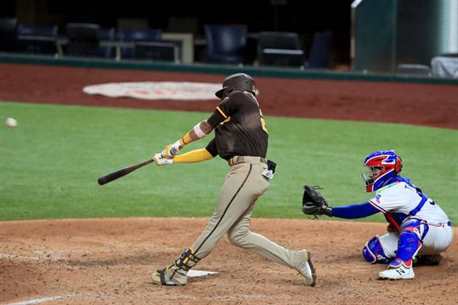 His production is obviously the most important part, but don't overlook his charisma as a critical part of his star power. His bat flip game is already strong, as is his celebratory dancing.
As FanGraphs pointed out, Tatis has already had a historic impact too. He hit 30 home runs in his first 100 games, tied with Yankees star Aaron Judge for the seventh best power performance through the first 100 games of a career ever. His family lineage is no stranger to unique records, either. His father Fernando Tatis wasn't a superstar, but he had some great seasons but is better known for a likely unbreakable record. In 1999, he hit two grand slams in the same inning.
He's already beloved by his teammates, too. Veteran Eric Hosmer told ESPN that Tatis is already "the face of the franchise," quite the praise for a player that hasn't even played a full season worth of games yet. The Padres are also exceeding expectations, led by Tatis. They're currently 11-12, and with MLB expanding its playoffs this season, they'll have a shot at sneaking in and performing on an even larger stage.
Major League Baseball has long lagged behind other major pro sports in its ability to create and promote new stars. Tatis is leading a new crop of young players, including Vladimir Guerrero Jr. and a collection of sons of former MLBers on the Blue Jays.
With fans unable to attend games, a shorter – and theoretically easier to follow – season, and plenty of people home during quarantine watching live sports, this is a great opportunity for TV-ready stars like Tatis to move to the forefront of the league's promotional efforts.