The NBA and NHL have, cautiously, had successful re-launches of their seasons using a "bubble" model that contains players and essential personnel in confined areas to limit exposure to COVID-19.
Major League Baseball started its season with a riskier format – essentially having mini-bubbles in each Major League city (except Toronto) and hoping that a reduced schedule with more limited travel would prevent significant spread of coronavirus into clubhouses. Under this model, there were always going to be cases. The key would be stopping them from becoming full-blown outbreaks that could jeopardize the season.
Two weeks into the season, the limits of that model have already been exposed. The Miami Marlins and St. Lous Cardinals have both had outbreaks among players and team personnel, causing games to be canceled. Those outbreaks have also spurred MLB to already make changes to its new format. MLB and the Players Association approved playing 7-inning double-headers to be able to fit more games in. The Marlins will already get a crash course in that format, playing seven games in five days with the Phillies to begin making up games that were missed as players recovered.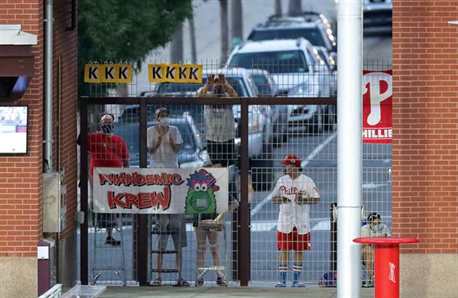 MLB commissioner Rob Manfred warned after the outbreaks that the season would be in jeopardy if players and team personnel don't begin exercising more caution. He later walked back those comments, instead saying that players need to be careful, but suggesting the league would continue to adapt to circumstances as they arise.
The good news is that players have shown they can adapt. The biggest change is simply playing in empty stadiums. But, as ESPN reported, clubhouses are now different with no couches and social distance guidelines enforced among teammates. Players are spitting less, first basemen are wearing masks when runners are on base, and teams are even traveling using more buses than normal to allow players more space to spread out.
Plus, the disruptions in the schedule are causing other oddities. Along with stretches like the Marlins and Phillies will play mentioned above, teams that face opponents who suddenly have to cancel games will go longer than normal stretches without playing a game.
The re-launched MLB season itself is a sprint, with 60 games that are likely to fly by. But the fast pace of the schedule is still at the mercy of the COVID-19 pandemic and will continue to cause players to make new adjustments.