Canada's decision to reject Major League Baseball's return plan – which essentially created "bubbles" in each MLB city – put the country's only team in peril. The Blue Jays are unable to host games in Toronto (or anywhere in Canada) and have been forced to make a mad scramble to find a temporary home in the United States.
Pittsburgh was an option until the city declined, and now Toronto might be forced to be a traveling team with no home park. During a global pandemic.
The plight of the team is unfortunate, because the Blue Jays will be one of the most intriguing teams to watch in baseball this season. They won't be "good" necessarily – they're in a division with three contending teams ahead of them in the Yankees, Rays, and Red Sox. But they're young and fun.
That youth starts with Vlad Guerrero Jr. Guerrero is already a fan-favorite because of the bombs he's capable of hitting (like this one in Boston on July 22). Every at-bat for him is must-watch, and he's also transitioning to a new position this season. After playing third base, Toronto will use him primarily at first base and designated hitter.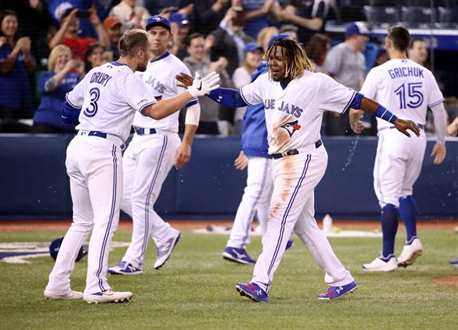 Guerrero is one of three sons of former Major League stars on the team. Second baseman Cavan Biggio, son of Craig, has also shown flashes of star potential. He's also emerged as a young leader on the team and even thinks Toronto could surprise teams and make a playoff push.
"I think we have a lot of guys that are going to take a lot of steps forward this year, and a lot of guys that are underrated," he told MLB.com.
Biggio's game resembles his dad's, too. He did a bit of everything for the Blue Jays last season, getting on base well (and showing some speed there to be a base-stealing threat) and hitting for power with 16 home runs.
Bo Bichette, son of Dante, adds another famous name to the mix, one capable of adding to the team's powerful collection of young bats, and most importantly, a young player who has already emerged as a leader. The Toronto Star reported that Bichette was instrumental in texting and checking in with teammates to make sure they were working out and staying healthy during quarantine.
The Blue Jays are projected to finish fourth in the division (ahead of only Baltimore, one of the league's worst teams) by most publications, and they probably don't have enough pitching depth to compete against loaded staffs of New York and Tampa. But their youth, famous names, and power potential make them imminently watchable, no matter where their home is this season.