The American League East is as potent as ever, with the New York Yankees, Tampa Bay Rays, and Boston Red Sox all coming off of winning seasons and the Toronto Blue Jays as full of potential young stars as any team in baseball. Here's a look at how the division should shake out when Major League Baseball's 60-game season starts on July 23.
New York Yankees
Well, the Yankees are gonna Yankee. The team won the division and made the playoffs last season, but in true "never satisfied" fashion, the Yankees went out and spent over $300 million to sign former Houston Astros ace Gerrit Cole to anchor the pitching rotation. Masahiro Tanaka, J.A. Happ, and Jordan Montgomery should also figure prominently into the rotation, and the team benefits from the delayed start to the season in terms of improved health. Aaron Judge and Giancarlo Stanton were both hampered by injuries early in Spring Training, but could be ready to go now. The Yankees also have one of the best bullpens in baseball, anchored by closer Aroldis Chapman, but also including Zach Britton, Chad Green, and Tommy Kahnle. The bullpen depth will be huge, as the prolonged time off and sprint of a season will likely put stress on starting pitching staffs, so the Yankees figure to be in good shape early as teams get game-ready. The team could be without second baseman DJ LeMahieu when the season opens as he recovers from a positive COVID-19 diagnosis.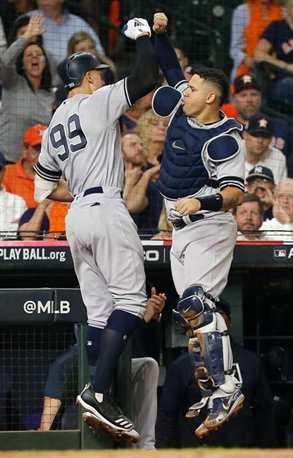 Tampa Bay Rays
As surely as the Yankees will always spend money to acquire talent, the Rays always seem to find and develop it, and the 2020 season will be no exception. Tampa enters the season with good pitching depth and a starting staff that includes six good potential starters -- Blake Snell, Charlie Morton, Tyler Glasnow, Yonny Chirinos, Ryan Yarbrough, and Brendan McKay. Add to that some absolute flamethrowers in the bullpen, including Jose Alvarado, Nick Anderson, and Diego Castillo, and it almost doesn't matter how much offense the Rays produce with a staff capable of shutting down any lineup.
Boston Red Sox
Boston traded away former MVP Mookie Betts and former Cy Young winner David Price in the offseason. Although they still have talented position players, including J.D. Martinez, Xander Bogaerts, and Rafael Devers, there are gaping holes in their lineup and pitching staff that will make competing with the more complete Yankees and Rays teams difficult. Boston will look for a bounce-back season from another former Cy Young winner, Chris Sale, who was shut down last season and had the worst ERA of his career.
Toronto Blue Jays
The Blue Jays might not be quite ready to overtake the elite teams in their division, but they sure are ready to mash some home runs. Vladimir Guerrero Jr., who is moving from third base to first base, hit 15 home runs after his call-up last year and plays the game with the same exuberance that made his dad a star. The Jays also have sons of two former major leaguers in the lineup – Bo Bichette (son of Dante) and Cavan Biggio (son of Craig). They'll continue to develop those young position players this season, hope Guerrero continues to ascend as one of the game's top young power hitters, and hope a few veteran signees hold their pitching staff together.
Baltimore Orioles
Well … the bright side for the Orioles is that a 60-game season means they can't lose 100 games for a third consecutive season. The Orioles have a few top prospects in their minor league system that probably won't reach the Major Leagues this year. In the meantime, they're going to rely on some borderline prospects to develop into useful everyday players, including outfielder Austin Hays, third baseman Ryan Mountcastle, and catcher Chance Sisco.