After a nearly four-month delay, the 2020 Major League Baseball season is finally here! This will be the most unique season in the sport's history, featuring a 60-game schedule that's filled with divisional and regional matchups and one-time rule changes, like the National League adopting the designated hitter.
Besides these formal changes, some teams will also be without some significant players who decided to opt out of the 2020 season due to concerns over the pandemic – mostly either they fall into a high-risk category or concern over infecting their families with the virus. High-risk players can still get paid, while others who opt out will forfeit their salary and service time for 2020.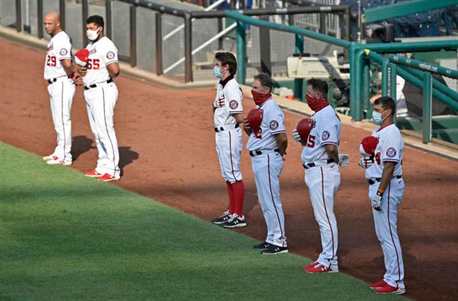 Here are the players who have decided to take a pass on playing baseball this year.
Arizona Diamondbacks
Mike Leake, Pitcher – Leake was the first player to opt out of the upcoming season, saying that he took countless factors into consideration, many involving him and his family.
Atlanta Braves
Felix Hernandez, Pitcher – King Felix, who was a six-time All-Star and Cy Young Award winner in Seattle, signed a minor league deal to try and make the Braves rotation in 2020, announced in early July that he didn't feel comfortable playing in 2020 with the COVID-19 threat looming.
Nick Markakis, Outfielder – COVID-19 hit the Braves hard, and while Markakis wasn't infected, the positive cases in teammates Freddie Freeman and Will Smith were reportedly a factor in the veteran deciding to take a pass for the 2020 season.
Boston Red Sox
Collin McHugh, Pitcher – McHugh was not able to get ready to go after offseason elbow surgery, so he has decided to stay at home for this season and be healthy for 2021.
Chicago White Sox
Michael Kopech, Pitcher – Another pitcher coming off of surgery missed the start of preseason camp in July and subsequently informed the White Sox that he would opt out this year.
Colorado Rockies
Ian Desmond, Shortstop/Outfielder – Desmond wrote a lengthy social media post explaining that he would not play this season and rather stay home with his pregnant wife and four kids. He cited COVID-19 concerns and the current racial unrest in the United States as his reasons to sit.
Los Angeles Dodgers
David Price, Pitcher – After being acquired by the Dodgers in a trade with Boston that also brought superstar Mookie Betts to LA, Price will spend his first year under Dodgers control on the sideline, saying it's in the best interest of his and his family's health that he does not play this season.
St. Louis Cardinals
Jordan Hicks, Pitcher – The Cardinals closer was likely to miss most of 2020 anyway while recovering from Tommy John surgery last year, but he cited his Type 1 diabetes as the reason for opting out of this season.
San Francisco Giants
Buster Posey, Catcher – Posey, who is entering his 11th season with the Giants, will not be playing after he cited family concerns. The three-time World Series winner and 2012 NL MVP said that twin girls he recently adopted were born prematurely and would be high-risk to COVID-19 complications.
Washington Nationals
Joe Ross, Pitcher – Ross announced in June that he wouldn't be playing this season; a move that was supported by Nats GM Mike Rizzo "100 percent." Ross's father is a doctor and mother is a nurse.
Ryan Zimmerman, Infield – Zimmerman, one of the longest-tenured stars of the Nats, is sitting out due to family concerns, including a newborn and his mother is high-risk.
Welington Castillo, Catcher – The Nats' backup catcher was the third person on the team to opt out of playing in 2020, also citing concerns because he has young children at home.
Free Agents
Tyson Ross, Pitcher – Ross, brother of the Nats' Joe, is also sitting out this year. Ross played for the Padres in recent years before catching on with the Giants, but he was released in spring training. He'll regroup and try for a fresh start in 2021.